Type services: contextual advertising!
Subject: interior fireplaces, stoves, biofireplaces, accessories
Region: Ukraine
Duration: November 2015 to present
Ad budget: UAH 1,053,867.28
Tasks:
• Increase traffic from contextual advertising
• Increase lead volume
• Increase market share
The main goal is to increase market share in retail in order to get the maximum number of leads.
Initial data:
The old account was set up by another contractor.
The period of operation of the old account is 5 months from 04.2015 to 10.2015. Expenses per month – 4-7 thousand UAH.
Semantic core – 4131 pcs. Unique keywords – 297. AdWords account with the simplest possible structure, broken down by city.
Reach rates on that base semantics:

Identified issues as of November 2015:
1. The main part of the keywords is wide, as simple as possible. Minimum brand requests.
2. Breakdown of campaigns by city, but the geotargeting settings were not adjusted, and many impressions were from other cities.
3. There are basically 1 ad in the group.
4. Low quality score on keywords.
5. Remarketing had a small reach and did not work effectively.
6. Full lead capture is not configured.

For promotion in contextual advertising, we used:
1. Search advertising campaigns
2. Remarketing
4. Video ads (launched in 2017)

What was done:
• The account structure has been redesigned according to the product groups on the site. Extended semantics.
• In the process of 24 months, semantics were constantly updated, new products were constantly selected. We faced a problem when new/old products were removed/added on the site, but the team was not notified about it. I had to set up the process of updating data in my account.
• Added new brands, product categories.
• The semantic core has been worked out to the maximum, negative keywords have been selected. Competitors are being monitored.
• The structure of the account is built so that it can be conveniently and quickly scaled at any time without loss of time and efficiency.
• The cross-backing track is constantly being adjusted for maximum coverage. Not only low-frequency queries are taken into account, but also keyword quality indicators.
• Each group has at least 3 ad options, one of which (at least) with dynamic insertion.
• Constant a/b testing of text ads.
• Various formulations, USPs, benefits and features are being tested.
• Also separately formed DPO campaigns, where branded traffic by the name of the store is excluded, but other queries are included.
• Search remarketing set up.
• Fixation of almost all leads is configured. We fix calls through Binotel, transactions through the site are a small share. The bulk are calls and site forms.
What was done: REMARKETING
• A regular remarketing was created with an emphasis on the fact that users were on a site with a certain theme, leveled remarketing (where we have been testing the audience all these months and divided it by the time of making a purchase decision, by the length of the sequence, by micro conversions, macro conversions, even in terms of bounce rate.)
• Dynamic remarketing has been launched, which is one of the main lead generators on the site.

• During all these periods, promotions for Black Friday, New Year, Christmas, March 8 and other holidays have been held more than once.
• Remarketing is constantly being updated and changed. Setting up remarketing for an audience that has bought certain products, for example, consumables are constantly needed, such as fuel, various accessories.

What was done: Banner advertising
• The main task of media campaigns is to generate new users who have not been on our site for a certain period of time (you can, after all, launch an advertising campaign on those who have not been on our site for a whole year or less).
• Also, by launching a media campaign for certain keywords, it made it possible to show ads to the audience that does not click on advertising results, but is actively looking for the necessary products in SEO.
• In addition, advertising was actively launched on competitors through keywords, by interests, and also in GMAIL advertising. This made it possible to cover the audience that visited or bought goods from competitors.

What was done: Video advertising
• The main task of video advertising was to form the recognition of certain new products and brands, as well as the recognition of the online store itself.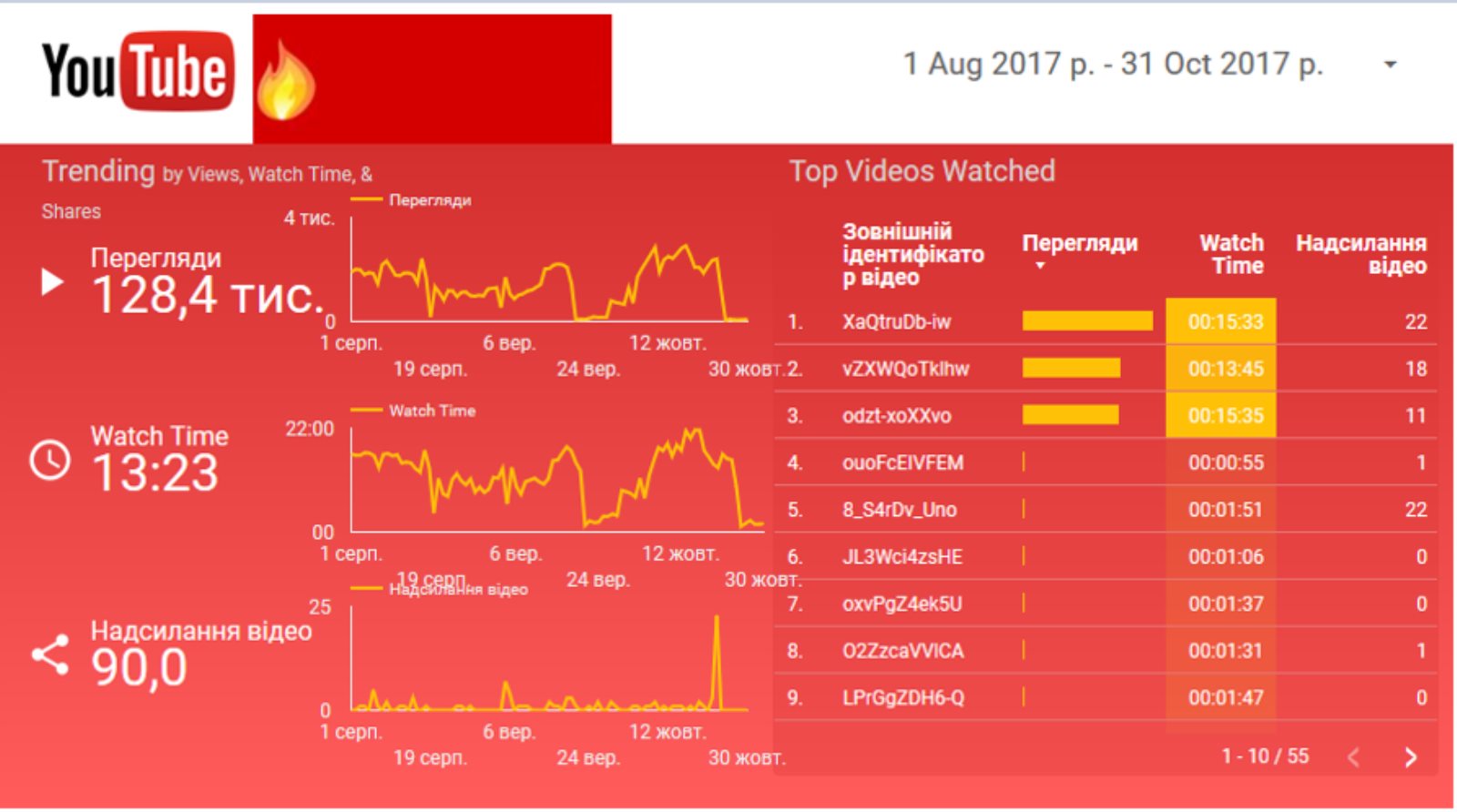 What is the result:
• Increased the volume of traffic from contextual advertising at times.
• Let's compare the same time intervals from January 01 to October 31, 2016, and 2017.

• The number of leads has been increased from 417 to 2082.
• The number of sessions increased by 45.05%, new users by 33.66%.
• Yes, we have a bounce rate of 56.70%, but given the bulk of calls in leads, the bounce rate is within the acceptable range.

More detailed results for search campaigns:
376% increase in lead volume compared to 2016. Growth of sessions by 25.91%. The conversion rate increased by 278.27%.

And also for display campaigns:
Growth in lead volume by 511.27% compared to 2016. Growth of sessions by 98.32%. The conversion rate increased by 208.22%.

This graph shows the volume of leads in the last year 2016 compared to 2017. The number of calls increased so much that I had to buy additional phone numbers in order not to lose customers.

Chart by leads received + price for this lead from September 2017 to October 2017

Paid traffic brings a significant portion of conversions. But other than that, it helps other sources with assisted conversions. Let's consider separately associated conversions for search campaigns.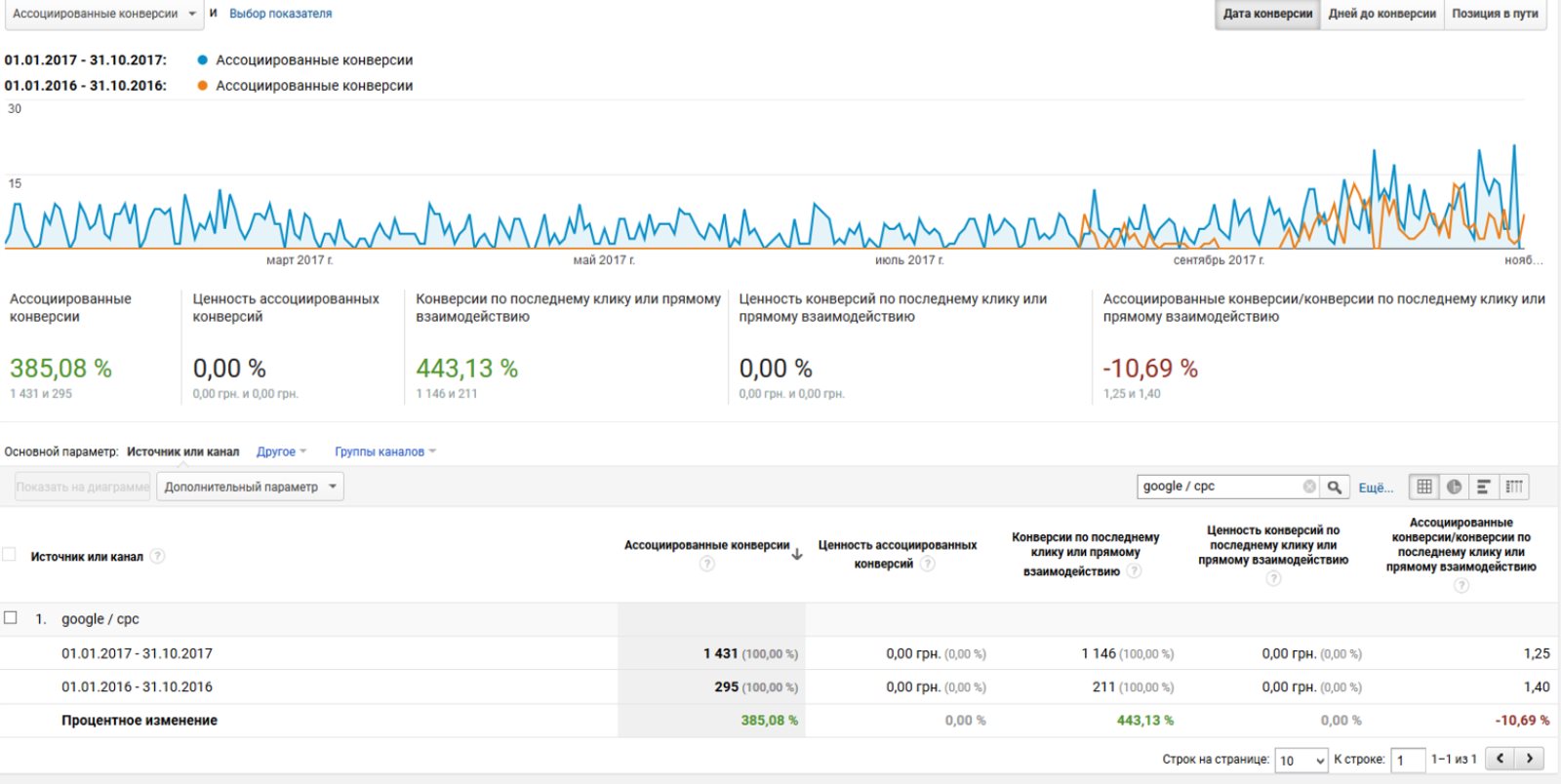 Assisted conversions by display campaigns.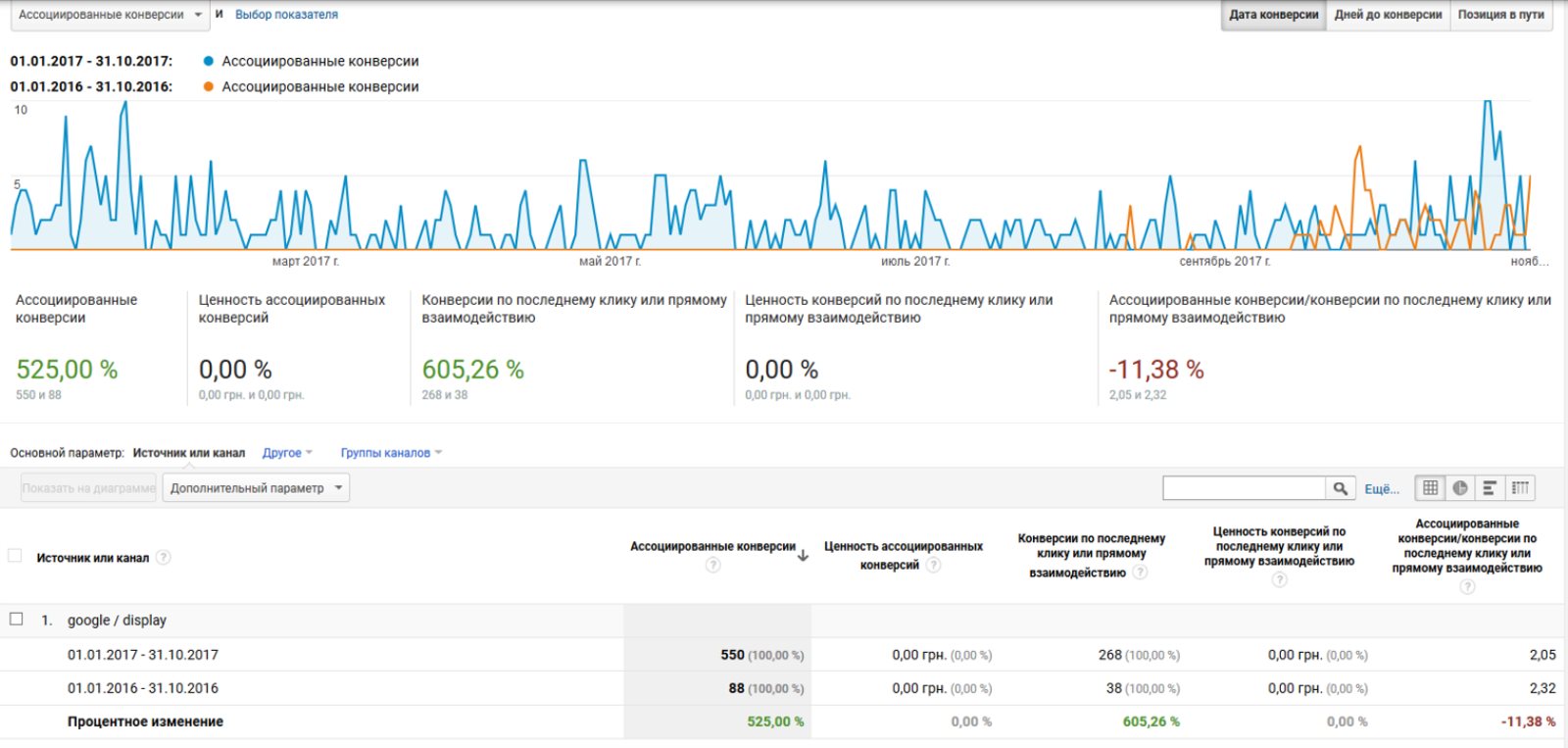 Also, paid traffic significantly affects the growth of brand queries in general. So below is a screen of Google Trends indicators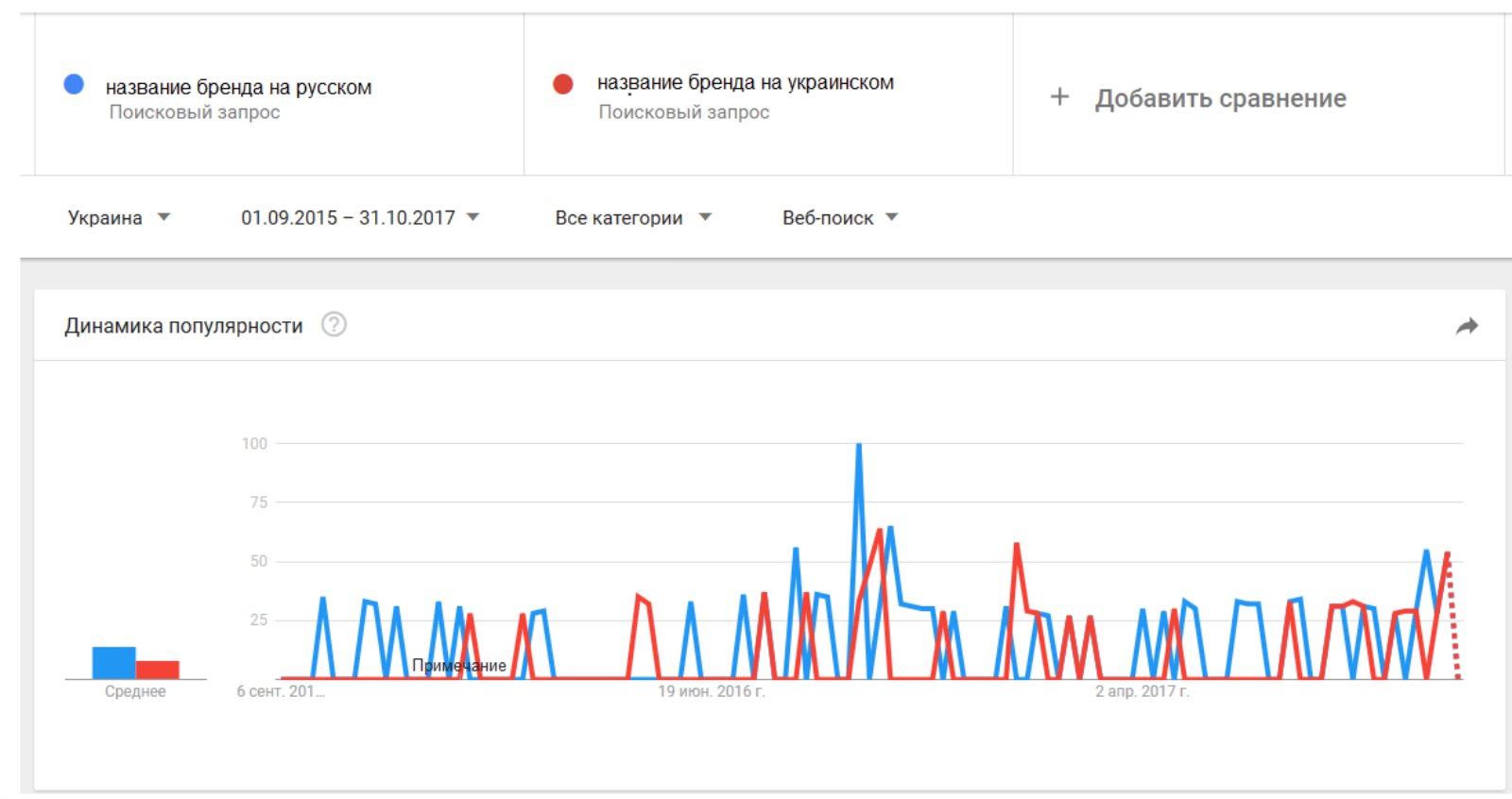 Let's add a trend line to the Google Trends indicators and get an increase in brand traffic, which positively impacts not only direct sales, but also customer loyalty in general.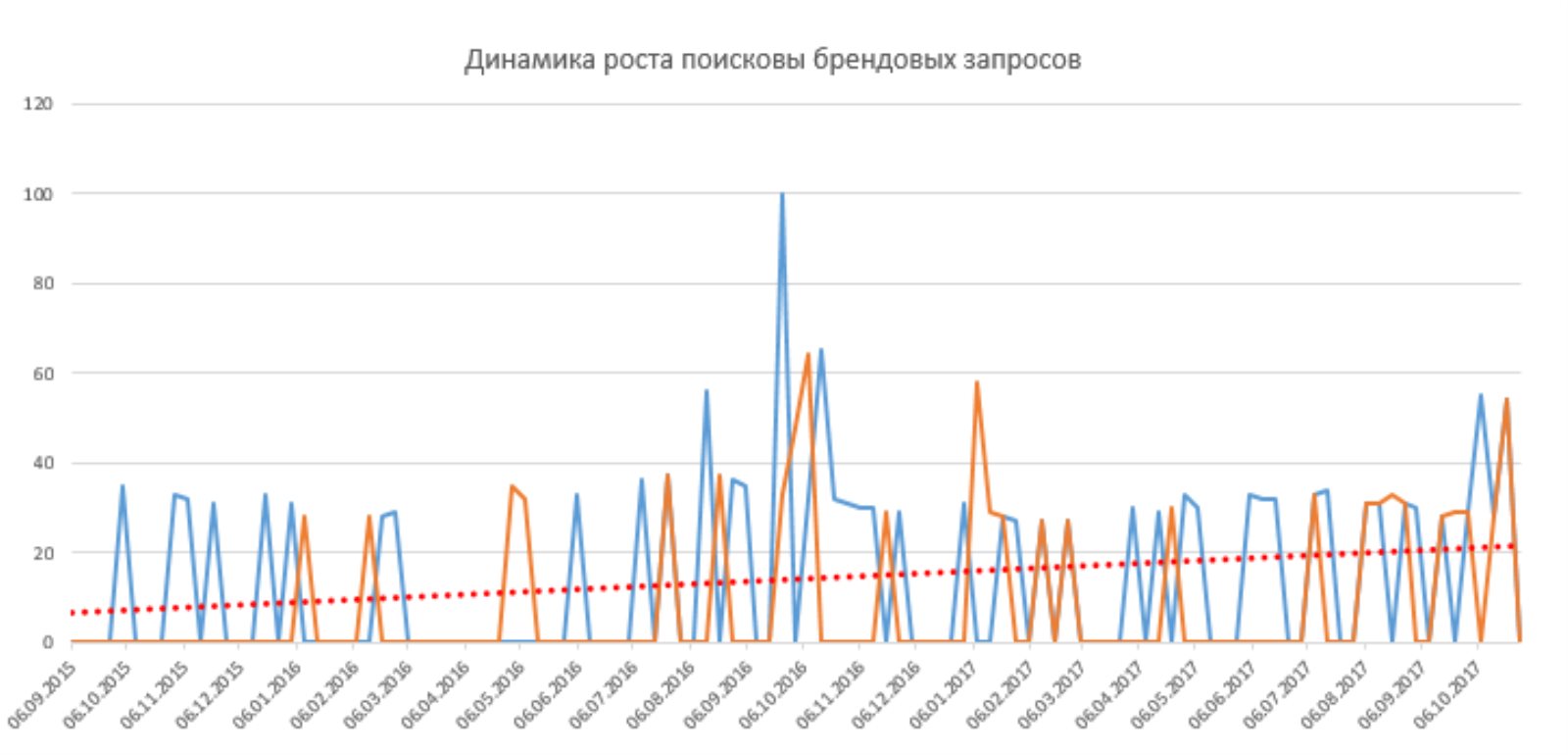 Plans for the next accounting period:
• Increase in market share by another 30%
• Informing potential customers about the benefits of buying from an authorized dealer.
• Reducing the cost of a lead by 15-20%.
• Testing new targetings in display campaigns.
• Introduction of a system for evaluating the value of all leads that enter the sales department.