France is the second-largest economy in the European Union after Germany, with a population of 65 million people. The per capita GDP of this economically developed country is $45454.
The high standard of living of citizens and the relatively large population of France make this country interesting for investment and starting a business. Therefore, contextual advertising in France and other areas of Internet marketing are in great demand.
Features of contextual advertising Google Ads in France
Before setting up contextual advertising in France and developing an advertising strategy, it is very important to identify the portraits of the target audience. It will depend on what advertising tools we will need to use and what to consider when creating an advertising campaign.
High cost of advertising
Traffic from Google Ads in France is expensive. The cost of a click in a particular topic, in comparison with Ukraine, can differ significantly. That's why a competent analytics setup is very important – we must spend the budget economically, avoid non-targeted clicks.
For online stores, use shopping campaigns and Smart Shopping tools. They allow you to get clicks at a better price compared to regular search, and the conversion of such advertising is much higher (due to the fact that the user sees the photo of the product and its price in the search results).
It is most convenient to use product ads when plugins on your site allow you to upload a ready-made data feed with information about products directly to the Google Merchant Center. Some plugin options also allow you to update the current stock in real time and periodically send an updated feed to the Google Shopping systems. It is important that the information on the site and in the Merchant Center match, otherwise the likelihood of product rejection increases.
Tourists
A significant part of business in France is focused on tourists. Every year, many travelers from other countries visit Paris, the Disneyland amusement park located 35 kilometers away, and the Mediterranean coast of France – the Cote d'Azur.
Given this fact, when setting up Google Ads for France, you should consider these users if your business is related to their interests. For example, you can set up ads with geographic targeting on the territory of an international airport. You can show ads of your hotel or restaurant to guests arriving in the country from other countries. It is also a great way to attract new customers for the taxi service.
Google Ads Local
If you have a local business, try using local advertising campaigns. This tool allows you to display ads that are relevant to users in Google search, on sites from the display network, Google Maps service, YouTube video platform.
When choosing an audience for displaying ads, the system takes into account user search queries, whether they contain the prefix "near me", specific geolocation, the device from which the search was made, the location of your outlet, and much more.
Also, for this kind of business, it is important to create and fill out a profile in the Google My Business service. Ask your customers to write reviews of your company in this service. Some users study them before deciding on a restaurant or hostel.
Cost of setting up contextual advertising for France
In addition to the cost of a click, the price of contextual advertising in France is also affected by the commission of the agency that carries out the work on setting up an advertising campaign.
The cost of advertising support will depend on the region in which the company operates, the number of languages in the project, the categories of goods and services promoted using Google Ads.
For online stores, only the number of categories of promoted products is important, but the number of products within a category can be almost anything. To get the exact cost of the work, leave an order on our website, we will study your project and prepare a commercial offer with a specific price.
Below is Google Ads CPC for France. It's taken from Popular Search Keyword Planner:
washing machine repair – $1.02;
ventilation cleaning – $1.27;
Plumbing services – $1.22;
beauty salons (manicure) – $0.80;
carpet cleaning – $1.11;
permanent makeup – $1.00;
dentist – $1.01;
refrigerators – $0.98;
Korean cosmetics – $1.02;
shelves for cats – $0.62;
dog food – $1.13;
fertilizer for flowers – $0.81.
Warning! The actual cost per click depends on many related parameters and may differ from the one indicated above by up to 40%, both up and down.
Our PPC specialist can help you launch an advertising campaign on your own, answer your questions and analyze traffic growth points for your site. To do this, please contact us for a consultation in video format. To clarify the cost and possible time of the consultation, leave a request on our website.
Interesting facts about the online advertising market in France
Out of a total French population of 65 million, 59.47 million (91%) are active internet users and 49.60 (75.9%) use social media regularly: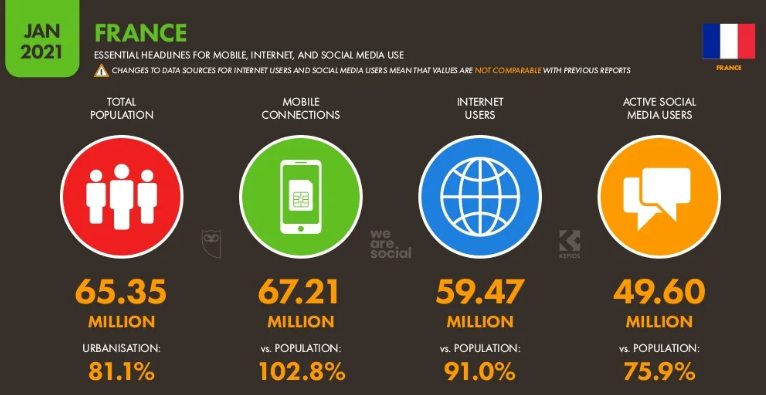 The average age of a French Internet user is 42.4 years (adult and solvent audience):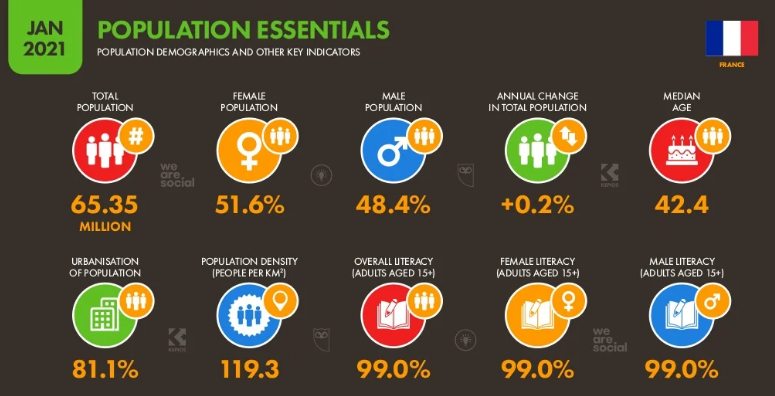 All of this makes France a very interesting market for online advertising. This is already actively used by many local and international companies – digital advertising spending in France in 2021 amounted to 8.36 billion euros (which is a whopping 11% of the entire European digital marketing market).
The most popular search engine in France is Google. Its share in the total number of all search queries in the country is 90.76%. In comparison, its closest competitor, Bing, is chosen by only 4.86% of the French, while Yahoo is used by 1.36% of the locals. The rest of the search engines have an audience of less than 1% in France.
Do you have any questions? Get expert advice.