Italy is the third-largest market in the European Union, with a population of 59.2 million. In addition, the country has a fairly high GDP per capita, this figure is $40,066.
All this makes starting a business in this country a promising solution, and contextual advertising in Italy is a profitable investment that should quickly pay off with the right approach.
Peculiarities of setting contextual advertising in Italy
Before setting up contextual advertising in Italy, as with any other country, it is important to understand the specifics of this country, its cultural and demographic features. This knowledge will help us to correctly determine the targeting and increase the effectiveness of the advertising campaign.
Specifics of the eCommerce market in Italy
One of the important features of the Italian e-commerce market is the high percentage of post-purchase returns, which can reach up to 15% of placed orders.
As a result, at each checkpoint for each category of goods, you need to control the share of returns and take this into account when allocating budgets for an advertising campaign. Otherwise, we risk subsidizing the losses of other categories at the expense of the profits of some individual product groups.
For online stores, it is important to build the structure of the advertising account in such a way as to categorize expensive and cheap goods into different groups. Cheap goods here include impulse purchases worth up to 30 euros.
It is on them that most returns are predicted. Calculate your margin on such products and decide whether to focus on them in advertising, or better to focus on more expensive products.
Geo targeting
There are two enclave states within Italian territory, San Marino and the Vatican. They should be included in geotargeting when setting up Google Ads for Italy, as an advertising campaign in these countries will not differ much from marketing activity in Italy.
Target audience
In 2017, the number of tourists to Italy exceeded 100 million people. This allows entire lines of business in this country to focus exclusively on tourists from other countries (cafes and restaurants, hotels and hotels, taxis, car rental, yachts, etc.).
Local business operates in Italy mainly due to tourists. It is very important for him to have reviews in Google My Business in different languages, the frequency of adding them. The rating of the organization on the maps must be higher than 4.5 stars. When setting up a Google Ads campaign, link your ad account to Google My Business, so you can connect your local campaign as well as Google Maps ads.
As in any other European country where there are many tourists and expats, when setting up Google Ads, the language settings in the browsers of such users are very important for us. Focusing on these indicators, we can weed out our non-target audience with low incomes. Conversely, focus attention and create separate advertising campaigns specifically for users from high-income countries.
Cost of contextual advertising Google Ads in Italy
Several factors influence the price of contextual advertising in Italy. The main ones are the cost of the work of a marketing agency or PPC specialist and the cost per click for a particular country.
The cost of setting up an advertising campaign depends on the selected service package (how many tools it includes), the number of portraits of the target audience involved, the number of categories of goods or services for which advertising is set up, the promotion region and the number of languages in the project.
The price of traffic from Google Ads is determined on the basis of an auction among competitors in your niche (direct and indirect) who are fighting for the attention of a specific target audience. Also, the cost of going to the site depends on the wealth of the target audience. Based on the fact that Italy is not a poor enough country, then the cost of a click here will be quite high.
Below are the CPC for Google Ads in Italy from Keyword Planner for popular lines of business. Using the cost per click and our online contextual advertising calculator, you can create an approximate media plan for the payback of your project for Italy:
washing machine repair – $0.96;
ventilation cleaning – $0.90;
Plumbing services – $1.01;
beauty salons (manicure) – $0.91;
carpet cleaning – $1.05;
permanent makeup – $0.99;
dentist – $1.24;
refrigerators – $0.91;
Korean cosmetics – $1.10;
shelves for cats – $0.94;
dog food – $1.17;
fertilizer for flowers – $0.88.
Important! The real cost per click for the keywords from the example above can be either lower or higher by 40-50%. It depends on many factors, including the age of the ad account, the quality of the landing page, and the relevance of the ad text.
If you want to set up ads yourself or already have a PPC specialist on staff, you can explore our video blog on YouTube channel and blog articles on our website for free.
If you need a paid online video consultation with an analysis of the growth points of your Google Ads account and answers to questions, as well as recommendations for increasing sales, you can leave a request on our website. The specialist will contact you and advise on the cost and possible time of the consultation.
Google share of total search traffic from Italy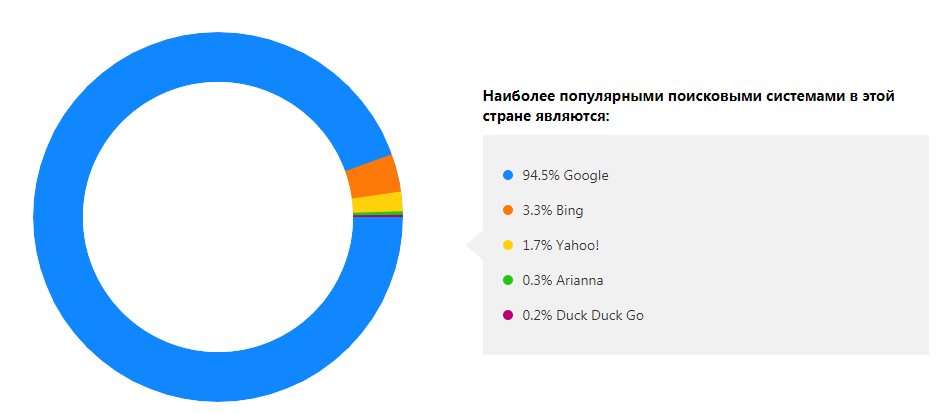 The Google search engine is almost an absolute monopoly in the Italian market. It serves 94.50% of search queries from this country. Google's closest competitor, Bing, is chosen by only 3.30% of Italians. Third on this list is Yahoo! with a share of search traffic of 1.70%. Other search engines are used by less than 1% of local residents.
This makes Google AdWords advertising a very profitable investment, because using it we can reach a very large target audience of users who are interested in our product or service.
Do you have any questions? Get expert advice.