Setting up YouTube video ads
Marketers say that video advertising is the most efficient and effective way to attract a client for almost any business. And it's hard to disagree with them – after all, advertising on video can involve 2 main channels of human perception (when watching a video, he simultaneously receives a visual picture and perceives what he sees by ear).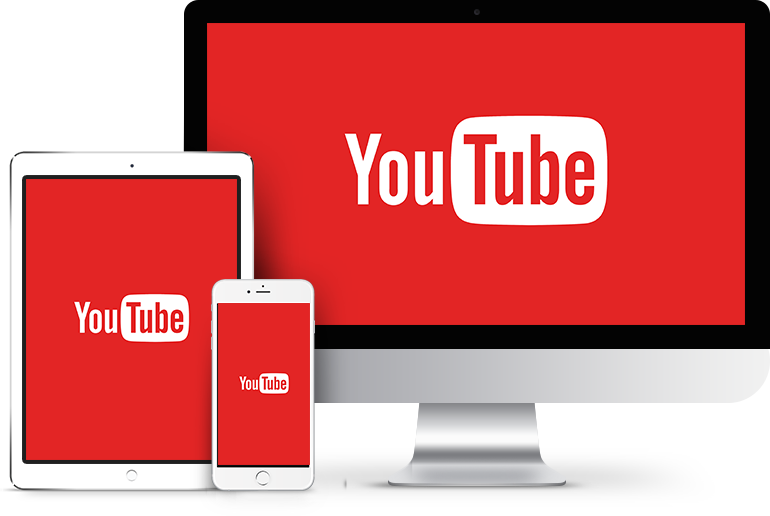 That is why advertising on television is so effective and in demand. But it doesn't cost a lot of money. However, today's business has a great way to get customers from video ads without serious costs – this is placement on YouTube.
YouTube is a popular platform for showing videos with a huge audience of 1,500,000,000 people. Among the residents of Ukraine, about 83% go to YouTube more than once a month, and about 60% do it daily!
A significant part of them (about 73%) are people aged 18 to 44 (a solvent audience that often makes purchases on the Internet). Such data allow us to conclude that by launching video advertising on YouTube, you will be able to attract a huge audience, some of which have seen other types of advertising for your product or service.
It is for these reasons that video advertising on YouTube is an effective method of attracting potential buyers, both as an independent tool of an advertising strategy and in combination with other channels. Its creation and placement involves flexible settings, the ability to segment the target audience, the time and frequency of impressions, targeted actions, and much more.
What types of ad placements are available on YouTube?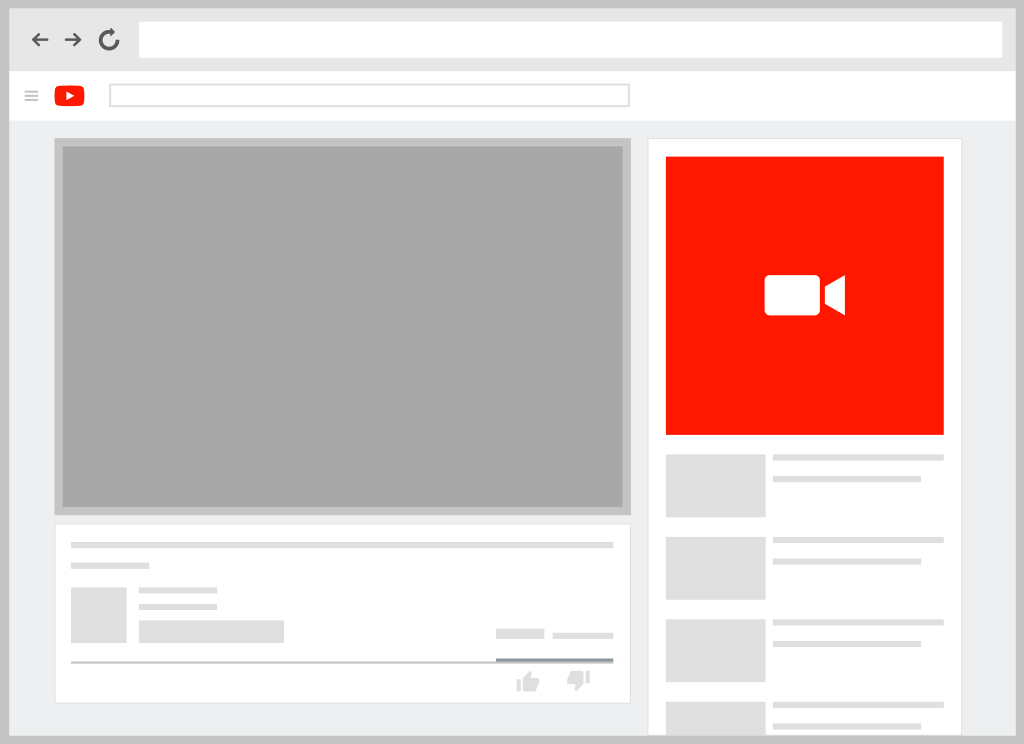 Display ads
Where they are shown: on the main page when entering YouTube; in search results on the site; when watching videos in the list of similar ones; on partner sites (VKontakte, Facebook, Megogo.net) and in applications that are part of the Google Display Network. Compatible devices: mobile devices, computers. Advantages:
Viewers of YouTube video hosting view only videos that are interesting to them. Thus, customers receive views of advertising for their products from interested people;
The cost per view of a video ad is set by the customer. Money is deducted for each video watched;
There are no duration limits. This allows you to provide the viewer with more information about the product.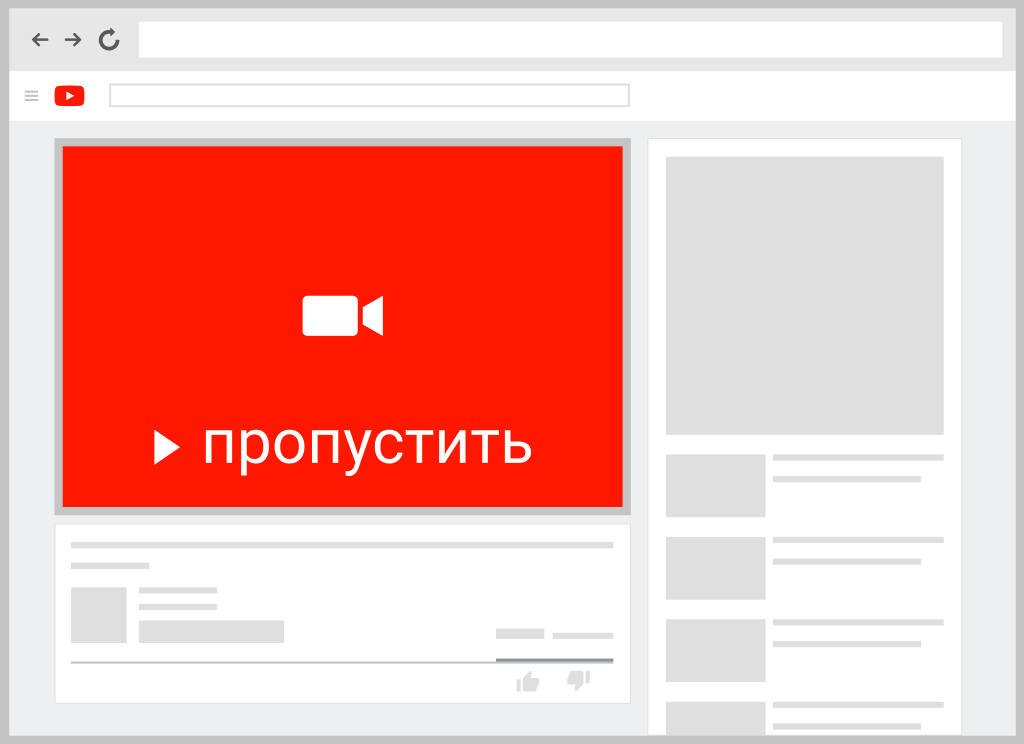 Skippable ads
Where they are shown: before watching another video, in some parts of it, or at the end of it. After 5 seconds of the ad being shown, the "Skip" button appears, by clicking on which the viewer can return to the main video. In this case, the fee will not be charged. Compatible devices: mobile devices; computers; game and TV set-top boxes. Advantages:
The cost of viewing when placing ads on YouTube in this format is low;
Greater audience reach;
Used as branded advertising for medium and large businesses;
Payment is charged for displaying 30 seconds of advertising or full video, if your video is shorter than the specified duration, as well as when the user interacts with it.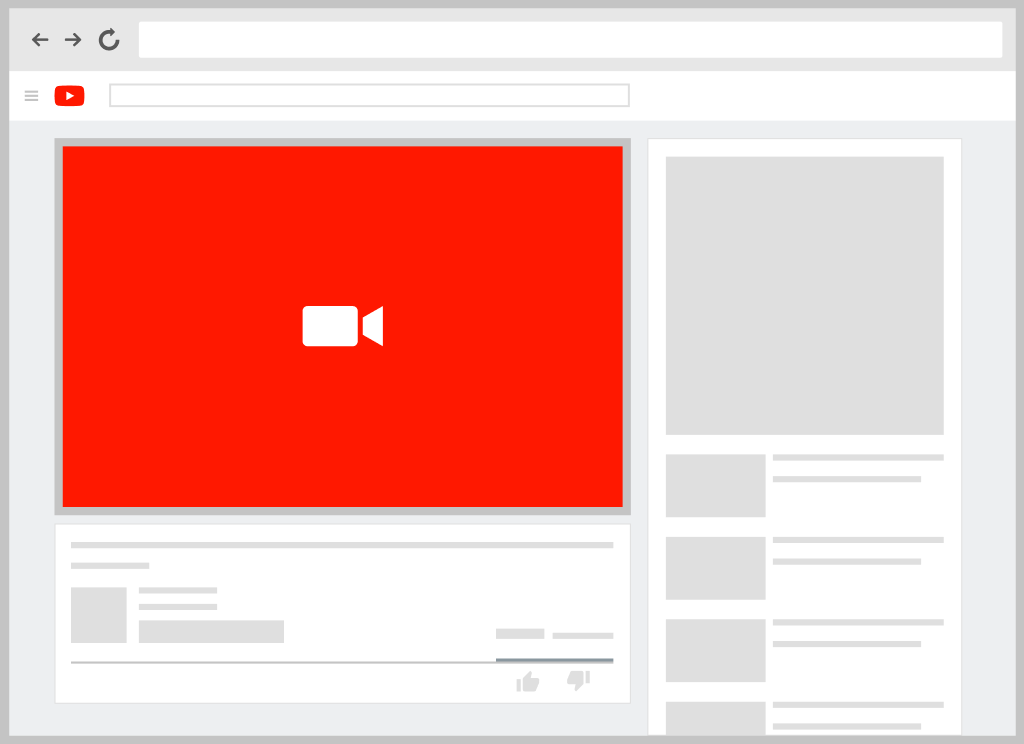 Non-skippable ads
Shown where: When watching another video, at the beginning, in certain parts, and at the end. Compatible devices: mobile devices; computers. Advantages:
Viewers can only return to the main video after watching the video ad completely;
The maximum video duration for this type of ad is 30 seconds.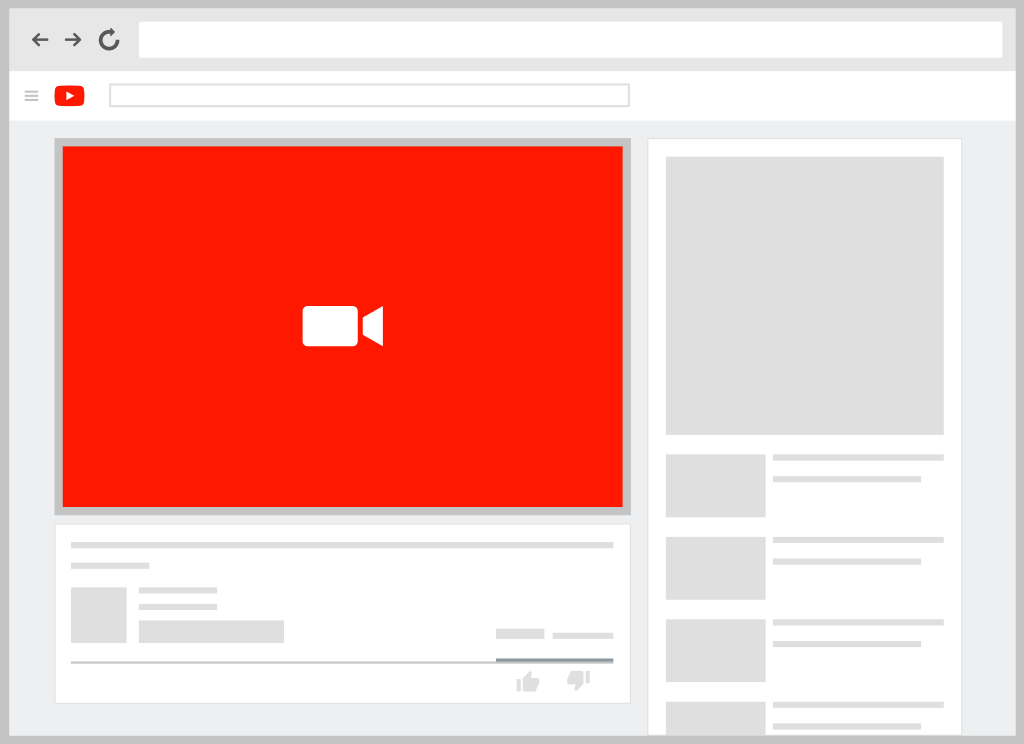 Splash ads
Where they are shown: before the main video. The duration of the advertising integration is 6 seconds. Compatible devices: mobile devices; computers. Advantages:
Can't skip video ads;
Intros help build brand awareness and increase overall audience reach.
The benefits of contextual advertising on YouTube for business
Contextual advertising on YouTube will be useful for almost any company. Why is this tool so important?
Benefit 1. Reach. YouTube.com is the most popular video site in the world. It is the second most popular search engine, surpassed only by Google search. Video advertising can be used and promoted in different resources – on the pages of your website, in social networks or on your personal YouTube channel. Recent trends show that people are more likely to watch videos than read text because Video information is perceived better than text.
Benefit 2. Efficiency. Statistics show that the presence of a video increases conversion (% of clicks, transitions, view-to-click ratio, conversion from visitor to buyer) up to 80%. 42% of Internet users watch a video about a product before making a purchase, 64% look for product information on YouTube. A video on your website / landing page will increase the time spent by visitors, increase the number of orders, and reduce the average cost per order. This will allow the site to rise to higher positions in the Google search engine. YouTube's videos rise to the top of the search results on the main page with search results or on a separate tab.
Benefit 3. Cost, budget. One view costs you in the range of $0.005 to $0.02 for in-stream video ads. The budget to start a YouTube ad campaign can be as low as $50.
Benefit 4. Speed, reach over time, view duration. If a sales manager needs to first find a client, arrange a meeting, come to a meeting, spend several hours communicating, close objections, earn trust, then a video can do it in 1 minute! The video shows the product in action, relieves fears, creates a sense of an individual approach. And if you set up advertising correctly, then this effect can be increased many tens of times. The video works for your business 24/7.
Benefit 5. Transparent analytics. YouTube Analytics and Google Analytics systems collect statistics, on the basis of which you can calculate the return on investment. We set up analytics so that you can see where orders came from, how effective Google advertising on YouTube is, whether a particular video is working or needs to be improved.
What should a specialist consider when setting up a video ad?
To set up advertising on YouTube, a specialist will need to receive from the customer a ready-made video edited according to special requirements (not every video that the company has is suitable for its promotion).
Tool strength:
YouTube for the Ukrainian and Russian markets is a weakly competitive advertising channel, one view can cost only 0.1-0.15 UAH.
It allows you to work with the audience at the early stages of the sales funnel, generate demand, earn trust. A 1,5-minute video can answer the questions "what to buy?", "why buy?", "why buy from you?" and "why buy now?". Targeting is similar to Display Network by keywords.
Statistics show that having a video increases conversions (% of clicks, transitions, view-to-click ratio, conversion from visitor to buyer) by up to 80%. 42% of internet users watch a product video before making a purchase. 64% are looking for product information on YouTube.
A video on your website/landing will increase visitor stay time, increase the number of orders, reduce the average amount you need to pay per order.
Weak side of the tool:
Lower user interest in our product compared to regular search ads.
YouTube advertiser needs to do a lot of work with this tool to find targeted leads.
It's hard to get a business to make multiple test videos.
The results of those who have already ordered video ads from us
Currently, advertising in YouTube videos is one of the main online promotion tools and one of the most budgetary channels for attracting customers. By correctly setting up targeting, you will tell about yourself to those consumers who are interested in you. Video strengthens the credibility of your company and with its help you become closer to your audience. And as you know, long-term relationships are built on trust. You will be remembered better and when choosing a product, most likely, they will remember you, and not competitors. You can create and rotate different types of videos – training, presentations, sales or even entertaining videos that can have a viral effect. After all, emotions can only be conveyed with the help of video, thereby better involving your audience.
So, in the summer of 2018, our company launched and tested video ads for a medical services center. Out of 5 ads launched with the same format, one performed the best (with the center manager talking about their benefits) and brought 8 conversions. This is a good enough indicator for video advertising. The price of one viewing of a potential client ranged from UAH 0.12 to UAH 0.14. Their total number is, 47811. All videos up to 30 seconds were shown for free and were not included in the statistics.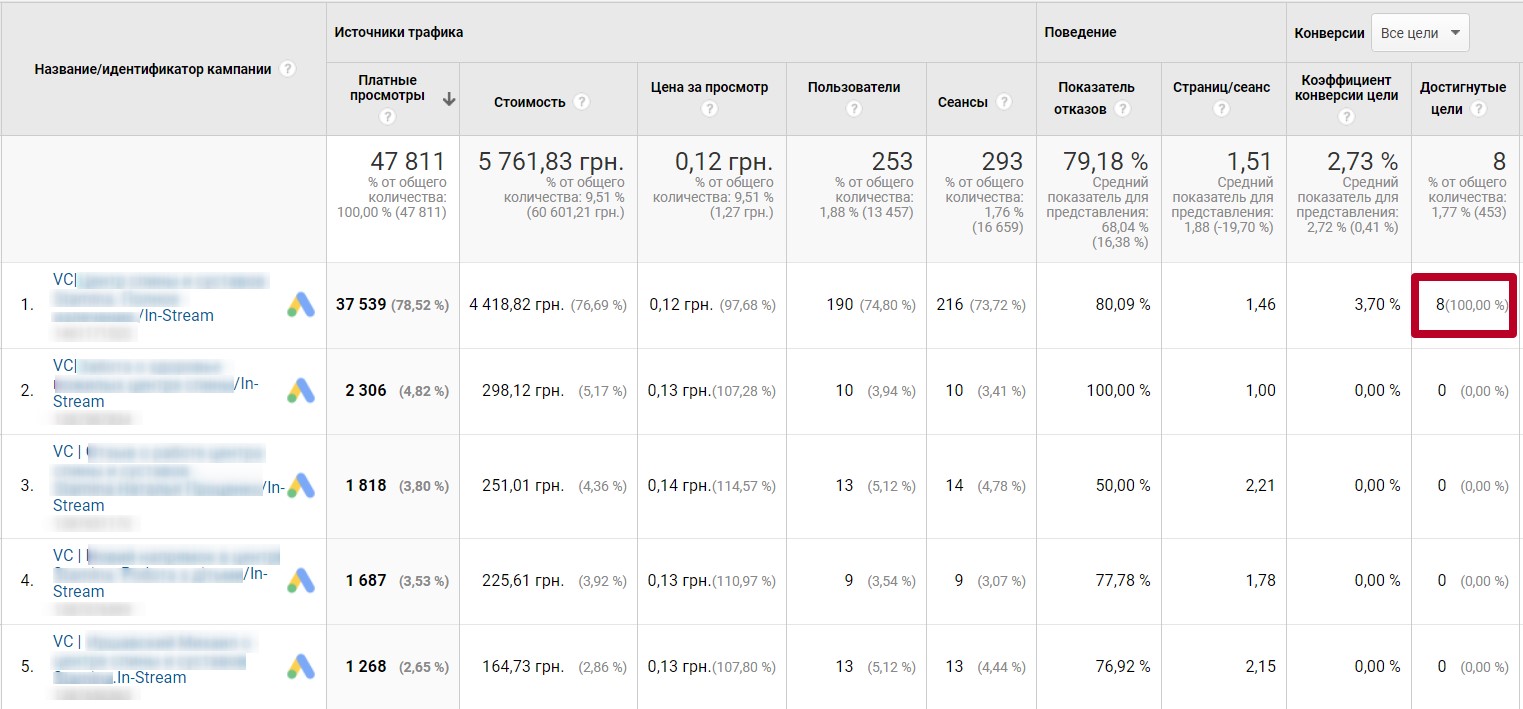 For another project in the field of car sales, promo videos were launched, the purpose of which was to sign up for a test drive. 3 of them worked well. The call-to-action video turned out to be the most effective. The cost of one viewing of a potential client ranged from UAH 0.21 to UAH 0.44. Their total number is, 99145. Impressions of all videos up to 30 seconds were free and were not included in the statistics. Entries for a test drive 6.
Note! It is important to understand that for privacy reasons, we did not include video ad conversions in these statistics. The data of the RK made it possible to significantly reduce the final cost for recording a test drive in the entire project as a whole, i.е. if we analyze only the video of the RK, then recording for a test drive is expensive, but if we analyze the entire project in a complex way, then it is beneficial for the customer (We analyzed separately Google Ads (search RK, all used GMS) for site users from organic, social networks or direct transitions.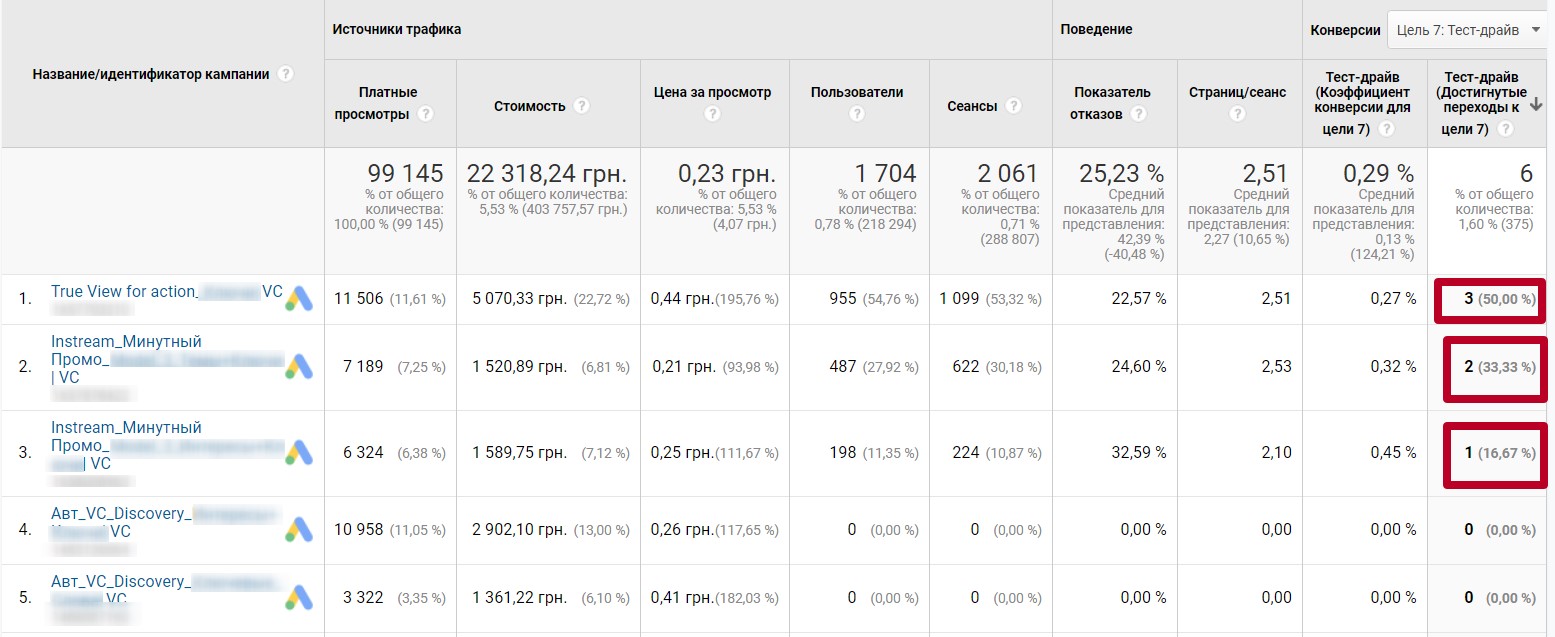 What do I need to order a video ad?
To launch advertising on YouTube through Google AdWords, you need to have a ready-made video and leave a request on our website adwservice.com.ua. We will promptly form an offer for you, select the best budget and methods of promotion.
Popular Questions
Yes, a Google account is required, video ads are configured through the Google AdWords interface. If you don't have an account, you can register it when you log in to YouTube.

YouTube is the most visited video hosting in the world and the second most visited site (after Google). On the site there is an audience with any interests, hobbies, of any age and profession. Every day, more than ten million people visit this site through the web interface or mobile application. Therefore, getting good coverage and targeted traffic from YouTube is quite simple.

This is possible. But it is worth remembering that many videos gain most of the views immediately after uploading, and then the interest gradually fades away. If the theme of a channel suits you, then it is better to target impressions on all its videos, just make sure that the content on it is regularly updated.

It is theoretically possible. But YouTube forms the cost of the transition based on the auction and free competition. This means that you will have to overpay a lot, and the idea may not pay off financially. It is much more efficient to show ads in videos on different channels that are watched by the right target audience.
Do you have any questions? Get expert advice.