Google Shopping shopping ads setup (now also in Ukraine)
Thanks to Google's new tool for creating advertising campaigns, product promotion has become easier and more accessible. Moreover, both parties benefit from the work of the Google Merchant Center tool:
When searching for queries, the buyer immediately sees the desired product, with a photo and price;
The seller receives the highest quality relevant traffic to the site at a price lower than contextual advertising.
Google shopping ads appear on the user's screen before organic search results and regular contextual advertising. Their essence is to provide a potential buyer with comprehensive information about the product being sold even before he takes any action. The block contains the name of the product, its price and appearance. The purpose of such a block is for the user to go to the page of the online store and make a purchase.
What product campaign ads look like on PC and smartphones: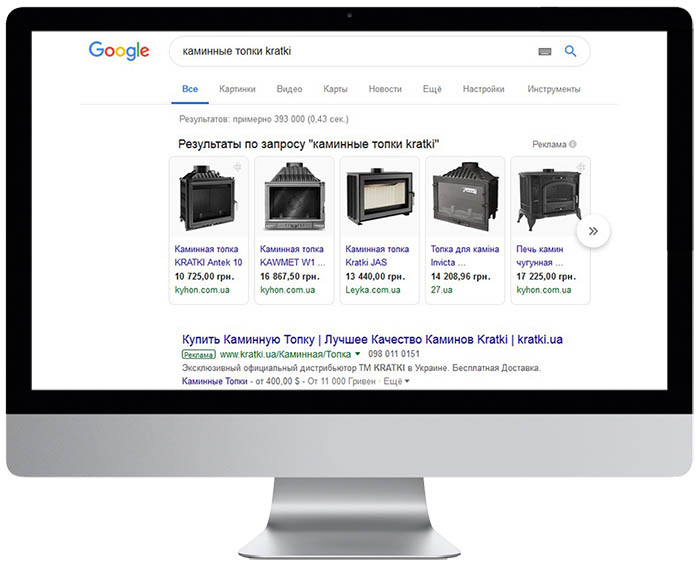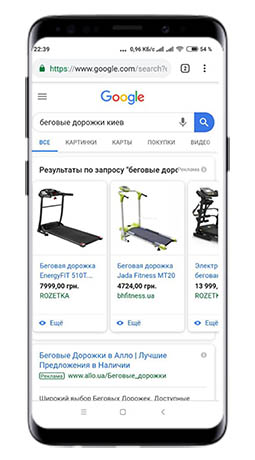 Cost of setting up Google Merchant Center in Ukraine
The cost of setting up Google Shopping depends on the type of advertising campaign you create, of which there are only two:
Simple (per product category) – the cost of setting up such a campaign will be from $50;
Complex (for specific commodity items) – the price of its creation is $100 or more.
The difference in price is due to the amount of work involved in launching a shopping ad, as those who have ordered the Google Merchant Center setup will need to exclude most of the general search queries that could potentially lead to a product category rather than a specific product page.
Main Benefits of Google Shopping
Let's list the main benefits that Merchant Center provides:
Attracting more potential buyers. As mentioned above, the product being sold becomes closer to the buyer, because the card already contains the primary information necessary for making a decision;
Reaching a larger interested audience. A search engine user may see several of your product ads in Google search, which significantly increases the chances of them taking the desired action;
Automation. If Google Shopping is set up correctly, all product items of the online store are included in the search results. It does not matter how many items you sell 100 or 100,000;
Very customizable. It is possible to advertise both individual commodity items and their categories.
Extensive analytics. As a result of the campaign, the user of the system is provided with a sufficiently large number of statistical reports that allow to identify its weaknesses and apply corrective actions to it aimed at improving the effectiveness of advertising in general;
Ad visibility. They are shown with the image of the company's products, which, of course, attracts more potential buyers;
Ad units are placed either at the top or on the right side of the page. This decision makes them more visible, and therefore more attractive;
Reducing the cost of an advertising campaign. Clicking on such an ad costs significantly less than clicking on regular contextual advertising.
What you need to know before ordering a Shopping ad setup
Tool strong point:
The probability of clicking on an image is higher than that of regular contextual advertising. Good for hot keywords, brand and model queries.
Product information appears in search results and is seen by tens of thousands of potential customers.
You can update your data at any time to only offer products that are in stock. After all, it is so important not to disappoint customers.
Also, shopping ads often generate lower conversions than regular text ads.
Weak side of the tool:
Weakly suitable for all other product categories (non-model and non-brand keys). Requires analysis and maintenance in the context of different groups of keywords or product groups. You need to test in each specific area. Cannot be used for auto, moto, real estate;
The site must comply with the requirements of Google (described below);
Requires scrupulous maintenance to get a favorable CPA for a specific group. (Example 1 it's one thing to sell a fireplace insert for $1000, it's another thing to sell a chimney to a fireplace for $20, we should have different prices for the sale and such groups should be accompanied in different ways);
The tool is displayed for search queries in Google, it is important to understand and take into account the promotion strategy: what keywords will Search RK work on, what Merchant Center should work on, etc. (Example 2 The cost of a conversion on Google Shopping for general queries "buy a fireplace" is one thing, and conversions for brand and model ones are another matter).
Site requirements for setting up Google Shopping Shopping ads.
To launch them, you need the following requirements for an online store (and the participation of a site specialist on your part):
The ability to prescribe mandatory attributes (TOR is given in the process of work);
https:// at least on payment pages. those. https security protocol must be set;
Pay by card here and now (through a payment service);
Delivery to an address throughout the country (the ability to specify the exact delivery address directly on the store page) if you are in Ukraine, then for Ukraine;
Shipping and return conditions must be specified.
Results of our clients in setting up Google Shopping:
Our company, as an official partner of Google, was one of the first on the market to start implementing this service in the accounts of its customers. The main advantage of this type of ad is that they effectively stand out against the background of text ads, thereby attracting more attention to the interested audience.
Thanks to the Merchant Center, users can quickly find the products they are interested in.
Example 1

As you can see in the screenshot of the results of one of our projects selling constructors and puzzles, Google Shopping is the leader in terms of the number of clicks received and efficiency (goals achieved) and is more than 2 times ahead of other campaigns.
Example 2
In the sports equipment project, Google Shopping ads were one of the leaders and accounted for 17.31% of total sales:

Popular Questions
Ads are displayed before search results in the form of a showcase with product cards (the ad contains the price of the position, photo and title). It is also possible to have impressions in the Display Network if you enable this option in the campaign settings.

Shopping ads work well for online stores to sell goods with a large share of branded and model traffic. For services, real estate, wholesales, etc. they don't fit.

No, the system automatically creates them based on the product feed , I pull up the picture, cost and description. No additional settings are required manually.

Conversely, shopping ads cost significantly less. In addition, it often leads to more targeted traffic and has a better conversion rate due to the increased relevance of this format to the user.
Google Shopping Learning Marathon:
Do you have any questions? Get expert advice.