Google Adwords Campaign Audit
The purpose of an ad campaign audit is to show you what works well in your account and where there is room for improvement.
After the audit, we can help you draw up a promotion strategy, taking into account the things that worked effectively in your account and those that have a huge resource for improvement. These data increase the efficiency of traffic costs by 1.5-2 times. At a minimum, you will receive a list of recommendations for improving the current account.
Account analysis will give you an understanding of your market share, where there are opportunities to increase the number of orders by 2.5-3 times and reduce their cost by 30%, as well as points for further growth.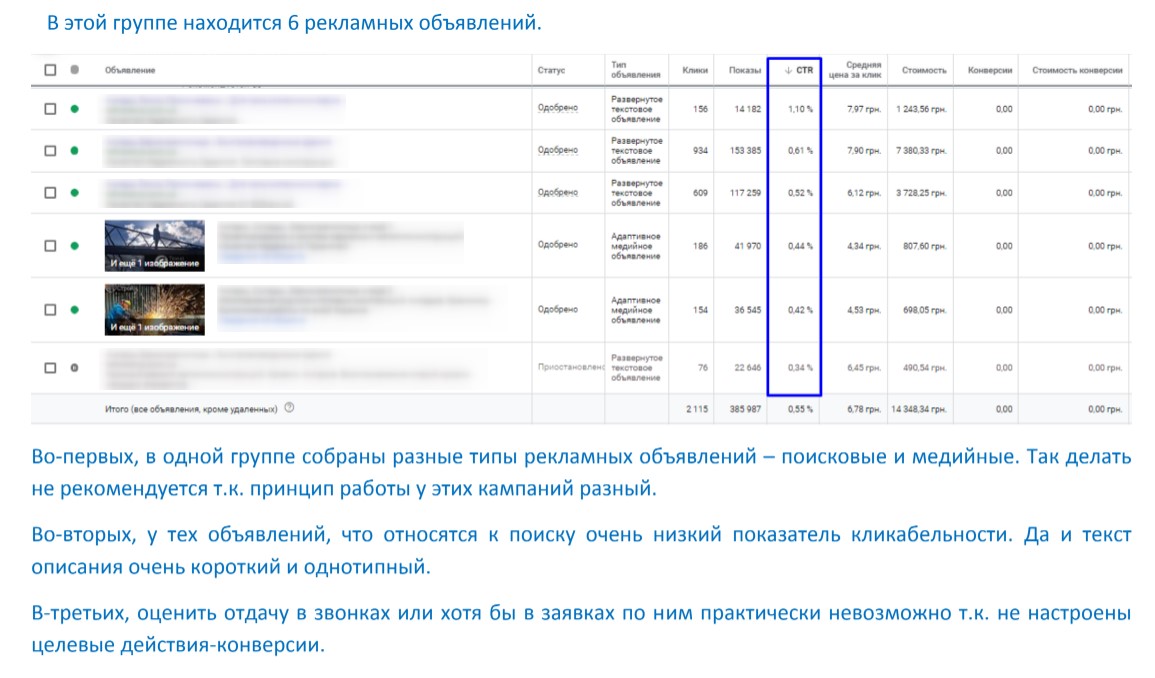 When you need to order an audit of an advertising campaign:
You think contextual advertising doesn't work for your business.
Ordered advertising setup from an agency/freelancer/employee, but its performance is not satisfactory.
Google Ads tweak was made by myself, and you are not sure how effective it works.
Your campaign budget is high, and you want to lower it.
You don't know the cost of attracting one client from contextual advertising, or you want to reduce it.
Don't know which keywords are useful and work, and which ones just waste your budget.
In all these cases, we recommend that you order an audit of contextual advertising. If your campaign is set up perfectly, there are no errors in it, we will honestly answer you that there is nothing to fix here.
What questions does a PPC audit help answer?
How many people contacted you (how many leads)? Where did how many orders come from?
How long do people think from the moment they first visit the site to the moment they first visit? How many times has a customer been on the site before making an order?
How to reduce the cost of an acquired customer? What does it depend on?
How many tools are configured and used in the account? (When we conduct an audit of contextual advertising in 2 out of 3 accounts, out of a possible 12 CR tools, 2-3 are used at best. Our team distinguishes not only search and banner advertising, but at least 3 search tools and from 7 types of banner ads).
What is your account structure?
To what extent are the ads within the account tailored to the needs of the client?
Does AB test ads?
What is your actual market share?
We will show the Potential for growth and give recommendations on how to improve the bounce rate, time spent on the site, browsing depth, customer engagement.
What % of leads does your Google Analytics capture? (for example, 100 people actually called, what % of them will you see in the reports?)
What is the ratio of hits (leads) to orders?
How are conversions and micro conversions set up in analytics?
What is the share of stalking ads in total orders?
What is the proportion of assistance/participation from one channel/traffic source to another traffic source channel?
Traffic quality by each channel;
The conversion rate of each channel;

Google Adwords Campaign Basic Audit
Do you have any Google Ads campaign?
Our checklist analysts can view the main settings – keywords, ads, negative keywords, parameters, structure, delve into Adwords statistics, check Analytics settings.
Result: You will receive a verbal list of errors with recommendations for improvement.
Artists:
Analysts of the AdwService Company agency;
Date 24 hours.
How we audit a Google Adwords campaign:
First, we will define the goals of your business with you. Select the desired type and source of traffic, the required number of conversions;
You will need information: what exactly does not suit the work of the advertising campaign;
We discuss your results and comments;
We formulate the purpose and objectives of the audit;
Let's proceed directly to the audit.
For the audit we will need: access to Google AdWords, Google Analytics.
What is the cost of Google contextual advertising analysis?
The audit service will be required if your advertising campaign is doing well according to the basic settings. In this case, a more detailed analysis is possible to increase the overall efficiency in all key parameters.
We will evaluate all the key phrases, deeply analyze the negative keywords and operators that are used in the advertising campaign, dig deeper into analytics, study the structure of the campaign. We will pay special attention to competitors, the requests for which they are promoted or advertised.
Result: List of required corrections with detailed arguments, recommendations and consequences; elaborated effective structure of advertising campaigns; a written advertising, maintenance and expansion strategy; other necessary actions to increase efficiency.
Artists:
Analysts of the AdwService Company agency;
Terms of holding from one to five days, depending on the workload;
Tariffs for a detailed audit
The cost of auditing an advertising campaign depends on the size of the account, the number of languages, targeting countries. We offer our clients the following tariff plans:
Basic – $270. Includes an analysis of the AC by key indicators and project growth points for increasing sales and / or reducing costs;
Advanced — an additional video that clearly explains all the conclusions of our experts with live examples;
Expert — all services included in other tariffs, plus 1 hour of consultation with a technical specialist, answers to your questions.
Prices for the audit of the Republic of Kazakhstan at the "Advanced" and "Expert" tariffs depend on the specific task and are calculated individually.
Google Ads basic audit example:
What indicators are analyzed?
When auditing a Google advertising campaign, we foremost pay attention to the following parameters:
Number of advertising campaigns in different promotion channels.
The total number of keywords in the account.
Adwords account structure.
Keyword match.
Number of keywords with low impressions' status.
Targeting settings.
Analysis of extensions, clarifications, additional links.
Quality scores for keywords and traffic. How targeted were the incoming requests.
Analysis of the quality of clicks from ads. The presence of inappropriate requests and "garbage" traffic.
What is the % loss of impressions. How much potential traffic to the site you have not received.
Allocate campaign budgets.
The ratio of costs to the obtained market share.
Account history.
Correct settings. Were the conversions and their cost recorded.
Which market position did you occupy in relation to your competitors?
What was the response to the advertisements?
Is there internal competition between tools.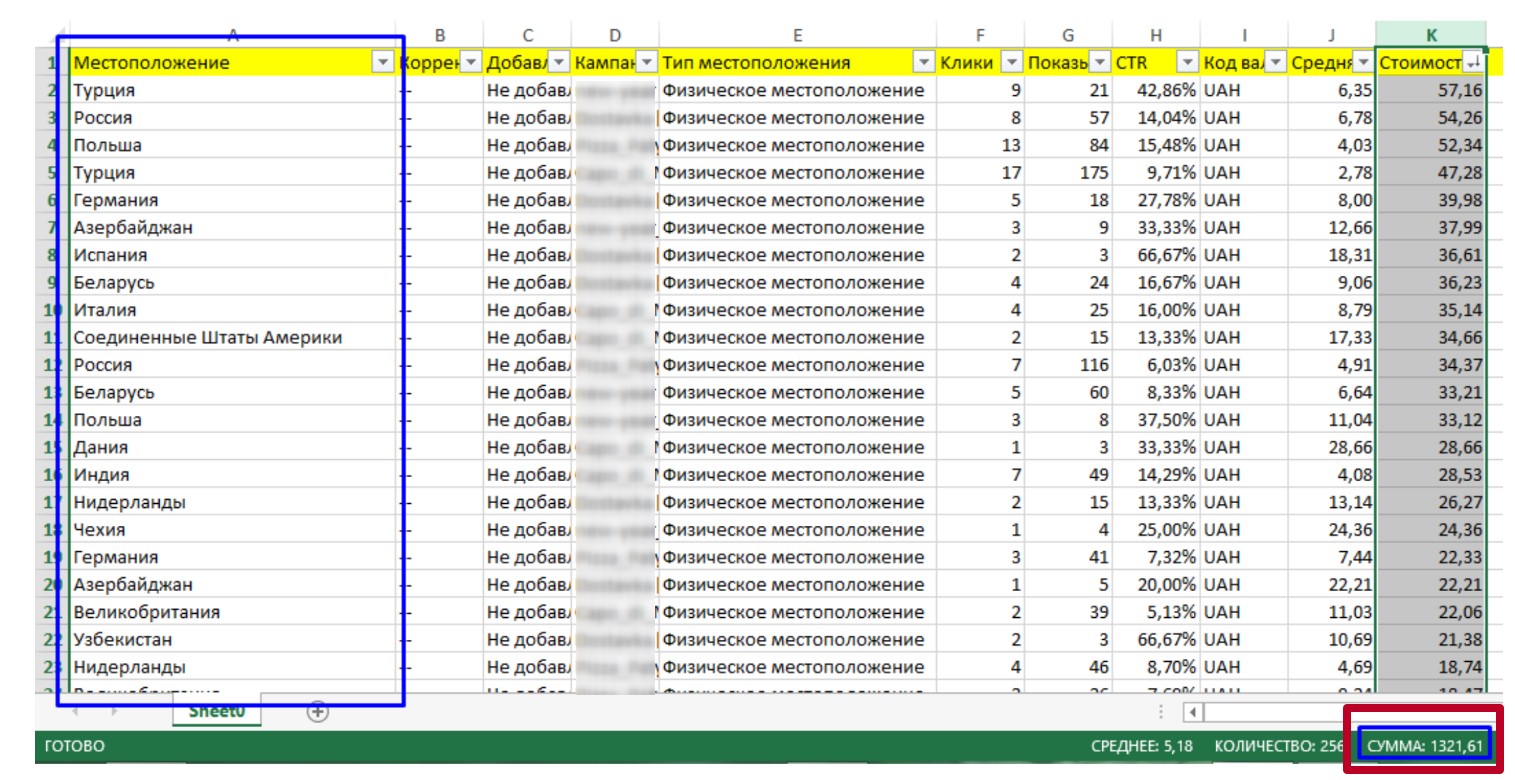 Benefits of auditing an advertising campaign by AdwService
The information provided shows options for optimizing your account and steps to improve the performance of your Google Adwords account. As a result, it is possible to reduce the cost of an attracted client by several times. You will stop wasting your advertising budget and maximize your return on investment. With this data, the efficiency of spending on traffic in the first month increases by 1.5-2 times. From our experience, when implementing optimizations after an audit of contextual advertising, Google is able to reduce the cost of a lead by up to 30%.
When discussing the audit with our specialist, you will receive an oral list of recommendations for improving the quality of traffic and a promotion strategy for your business.
Popular Questions
Order an analysis to get an independent opinion. If advertising is working well now and no improvements are required, you will receive confirmation of this. If errors are found, this may help to significantly improve the effectiveness of the advertising campaign.

We do an express audit within 1 day. It can take up to 5 days for a specialist to conduct a detailed audit.

The Google Ads system is constantly evolving, new tools are emerging, and old ones are being modified. What worked yesterday may not work today. Therefore, we recommend that you periodically (once every six months) conduct an audit of the advertising campaign to make sure that there is nothing to improve, only targeted requests are sent to the site at the best price, all semantics have been worked out and all possible tools to attract customers are used.

AdwService specialists can offer a basic analysis of key indicators. A more detailed report is evaluated individually depending on the tariff. The most advanced plan includes an hour-long PPC consultation with a detailed explanation and troubleshooting tips.
Do you have any questions? Get expert advice.