Setting up Google Adwords dynamic search ads
According to statistics, 54% of Google search queries are more than three words long, and 20% of queries entered daily are unique. This makes it much more difficult for specialists to select keywords for setting up and launching a search advertising campaign.
In order to identify the needs of the client and the most relevant search results, you have to perform a number of standard actions to select semantics. However, Google Ads contextual advertising does not stand still and now there is the possibility of using a new marketing tool – dynamic search ads (DSA). Next, we consider in detail its advantages and disadvantages.
What are dynamic search ads?
Google Adwords Dynamic Search Ads look like normal search ads and have the same structure (title, text, display link). The peculiarity is that they are created automatically by combining the content of the pages of the target website with the keywords of the users' search queries.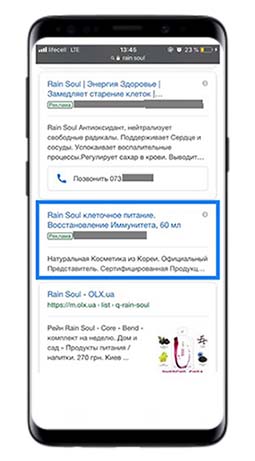 Such declarations have:
Dynamic title, which is formed taking into account the needs of the client and the most relevant page of the site;
Static ad text that must be entered manually. The content of the text should be universal, but attracting the user's attention.
Automatically selected target URL by the system.
The Benefits of Google Dynamic Ads
Quick setup and work in automatic mode. To launch a campaign, you do not need to analyze semantics and select keywords, and the amount of routine work is reduced. All that needs to be done next is to adjust impressions by adding negative keywords;
Additional coverage for low-frequency queries. Google dynamic search ads can be shown for queries below 10/month frequency, which is not available in other options;
A more relevant title. The system automatically generates a title for a specific search query. Sometimes the length of such a title may exceed the character limit for regular text ads, but this will only expand the display of the ad;
The ability to use add-ons. For DSA, as well as for regular search ads, all additional extensions are available (addresses, phone numbers, messages, sitelinks, etc.);
Not related to regular search campaigns. DSA does not affect or compete with search campaigns, they work independently, but if there is a regular search ad in your account for a query, it will be shown.
Weaknesses of dynamic ad campaigns
Headings are not perfect. Since they are generated automatically, there is a risk of sometimes getting incoherent and unattractive text. To fix this, you need to carefully work out the internal optimization of the site;
The need to add negative words. If you do not manually add negative keywords, then there is a high probability of attracting inappropriate and junk traffic to the site, respectively, the budget will be wasted;
Landing page indexing requirements. A dynamic search advertising campaign will simply not work if the site is poorly indexed, since the selection of target words is carried out automatically;
Not suitable for sites with a small assortment, the size of the site should be several hundred pages.
Tips for setting up dynamic search ads
Setting up Google dynamic search ads is fundamentally different from setting up regular search ads. The features discussed above allow us to formulate several provisions that facilitate this task.
Setting bids
To validate an advertising campaign, bids per click are assigned at the level of search campaigns, but the budget is allocated in the amount of 10-15% of them. DSAs tend to cost less than search ads, but response and conversions are higher.
Performance evaluation
Some time after the launch of the campaign, we create a report on the Automatic Goals tab. We analyze the information received, stimulate more successful categories, groups by increasing funding.
Impression control
We identify keywords that bring inappropriate traffic to the site and minus them. It is important to understand that this is the only way to cut off ineffective impressions and traffic.
Examples of successful turnkey setup in our projects:
Example 1

Example 2

Do you have any questions? Get expert advice.