Google Adwords Dynamic Remarketing
Remarketing is familiar to many Google Ads users, but what is dynamic remarketing? Many visitors, after viewing a particular product, leave the page and do not make a purchase. But advertising for this product appears in front of them again and again on different sites. The ability to show a person again the ad that he was interested in earlier is called dynamic remarketing. Such a tool is needed for online stores – with its help, a visitor can again go to a site he left a long time ago and still make a purchase.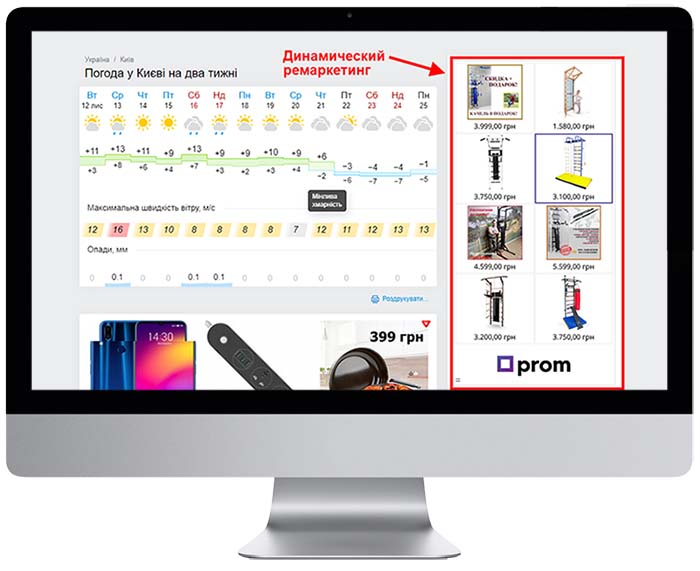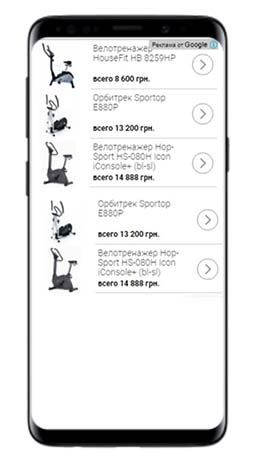 AdWords ad account has ready-made templates that allow you to create ads with dynamic remarketing. A user is more likely to buy a product or service that they have previously viewed if they offer a discount on it or are promised an additional gift when buying. In this way, you can lure customers to re-visit the site and order.
Setting up dynamic remarketing can bring a lot of benefits to a business because the conversion rate of regular search advertising campaigns and dynamic remarketing ads is almost the same. But the cost per click of the latter is lower, which means that the transaction itself is cheaper in the end.
How does dynamic remarketing compare favorably with standard remarketing?
Remarketing shows a standard ad to a recent visitor. And dynamic remarketing shows exactly those products or services that the user has already viewed before. This method of attracting customers to make a purchase is more personalized and effective.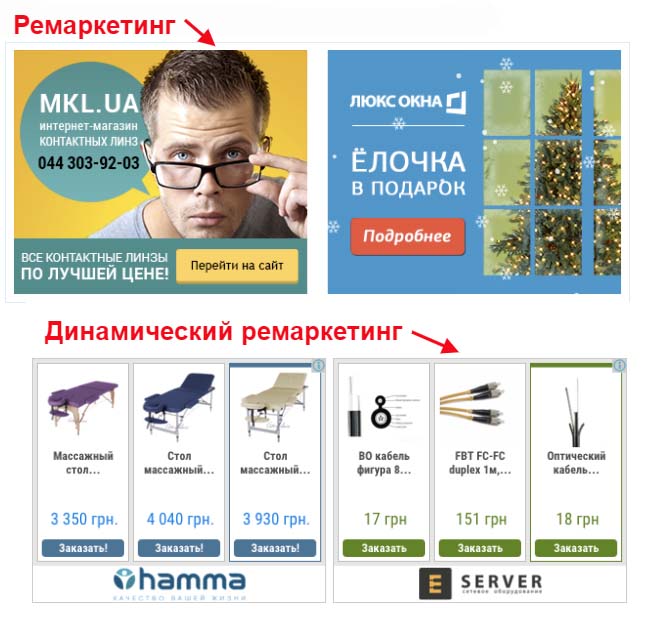 Ads for a product that a user dropped into a shopping cart but didn't buy will remind them of the purchase they didn't make and will often return the user to the store to complete the action. In addition, the benefits of dynamic remarketing include:
Works great for online stores. If the client has already viewed certain laptop models, then he will see exactly these products on the Display Network;
Complex and expensive line items are easier to sell with dynamic remarketing. Those positions fall into the category of complex goods, before the acquisition of which a person thinks for a long time. Examples of similar products: cars, branded clothing, jewelry and more;
The total cost per order is reduced. In the US and Europe, harassment advertising accounts for 30-70% of total bookings. This helps to return "dear" customers to the store from social networks. networks, display advertising and other sources. As a result, a person is more likely to buy a product, and the total cost of attracting him will be lower;
Advertising is updated automatically and there are opportunities for user segmentation. So, for example, you can create a group of users who sent the goods to the cart, but did not buy, or a separate group for those who were interested in expensive items, etc.
The main advantage is dynamic remarketing Google AdWords is the most conversion and effective tool in Google CMS.
When is Google Ads dynamic remarketing effective?
To determine whether Google Ads dynamic remarketing is effective for you, you need to go to Google Analytics and find a report that will show how much time has passed from the moment a visitor first entered the site to the moment of purchase. It is important to pay attention to what percentage of conversions occurs on the first day after visiting the site. If the indicator is less than 50%, dynamic remarketing will work perfectly. When you can use dynamic remarketing:
The user visited the store and got acquainted with the characteristics of the product;
The customer placed an order or sent an item to the cart, but did not make a payment;
A person was interested in the products that are on your site through a search engine;
A customer bought a product from you, but you can offer additional accessories for it;
The user has ordered an item that will soon need an update or additional service.
How is the setup done?
Setting up Google Dynamic Remarketing is as follows:
All products presented on the site must have a unique ID, which we pass to the remarketing code. In addition to the ID, the programmer can pull up the cost, the type of page the user left (an abandoned cart, a product card, and others);
Next, add the remarketing tag to the site code (after modifying it to pass all the necessary parameters);
We create a feed (uploading all the parameters of the product that the visitor viewed). It is important that the product ID matches in the feed and on the site;
Next, you need to load the feed into the commercial data;
With the help of ready-made templates for creating dynamic remarketing ads, you can create an advertising company that, after setting up lists, you can run.
How hard is it to set up Google Dynamic Remarketing?
Dynamic remarketing is proving to be a very effective tool and is often the most effective among other display tools. However, it also has one major drawback. Setting up Adwords dynamic remarketing is a rather complicated process that requires considerable experience and knowledge from a specialist. So, while working with this tool, the following difficulties arise:
To set up data transfer to a special feed, the help of an experienced programmer is required (because if the settings are not made correctly at this stage, then money will be spent on advertising, and there will be no sales);
It is important to constantly conduct analytics and, based on the data received, implement changes to the settings (for example, ads are shown on various sites in the Google media network, their effectiveness will be different and some of them may work out in the negative, so regular cleaning of sites is required);
The tool requires meticulous support in order to obtain a favorable cost per conversion for a specific group of products (it is one thing to sell a fireplace insert for $1000, and quite another to sell a chimney to a fireplace for $20, the cost per sale should be different in each case and such product groups should be accompanied in different ways).
Successful cases of our clients
In our projects, with scrupulous support, Google dynamic remarketing brings from 7% to 18% of site sales. At the same time, the cost of an application is 35% lower than with a search advertising campaign. So for the theme of selling musical equipment, the conversion rate of visitors who returned to specific products: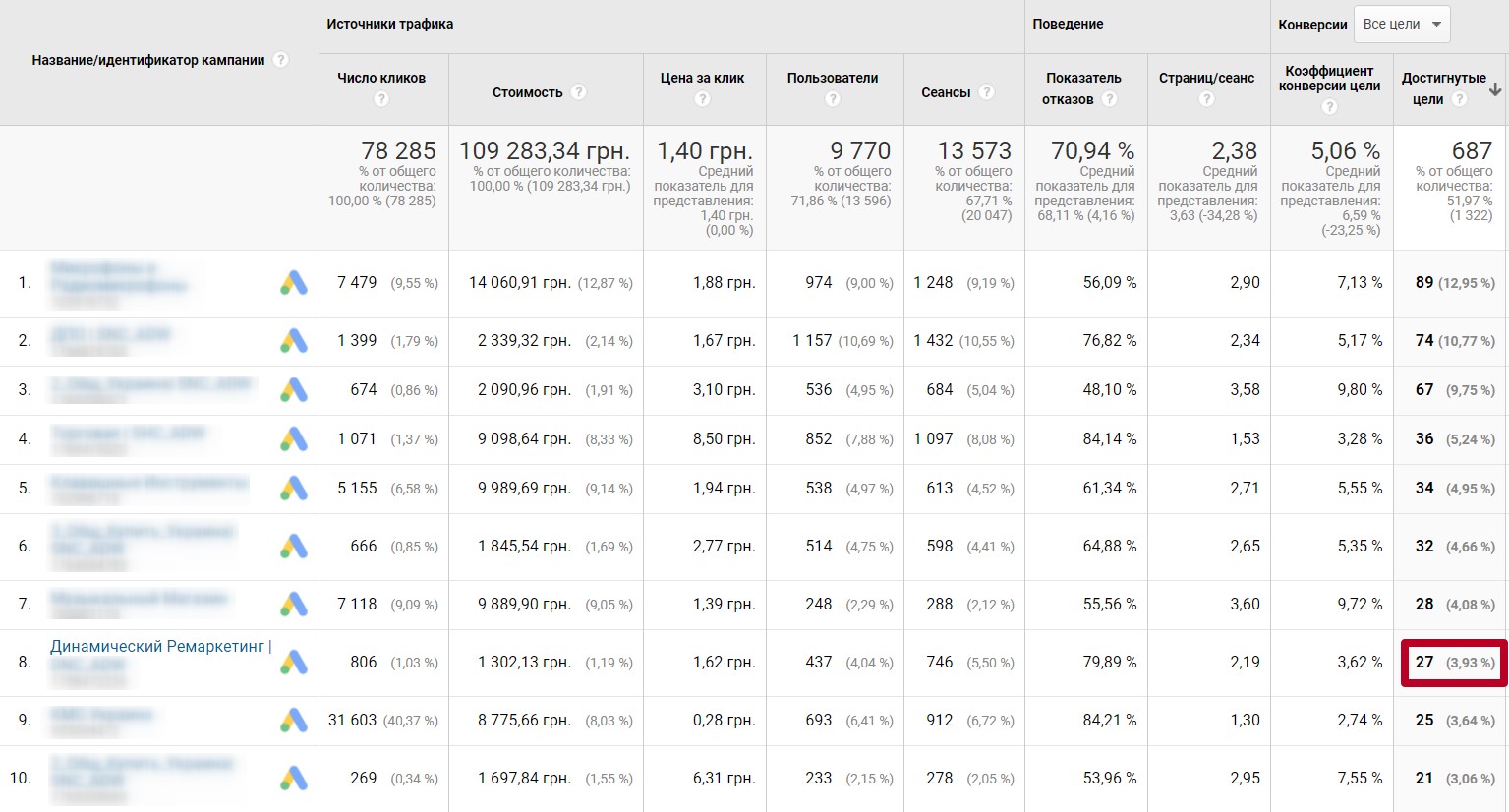 for the sale of toys and puzzles, the indicator was as follows: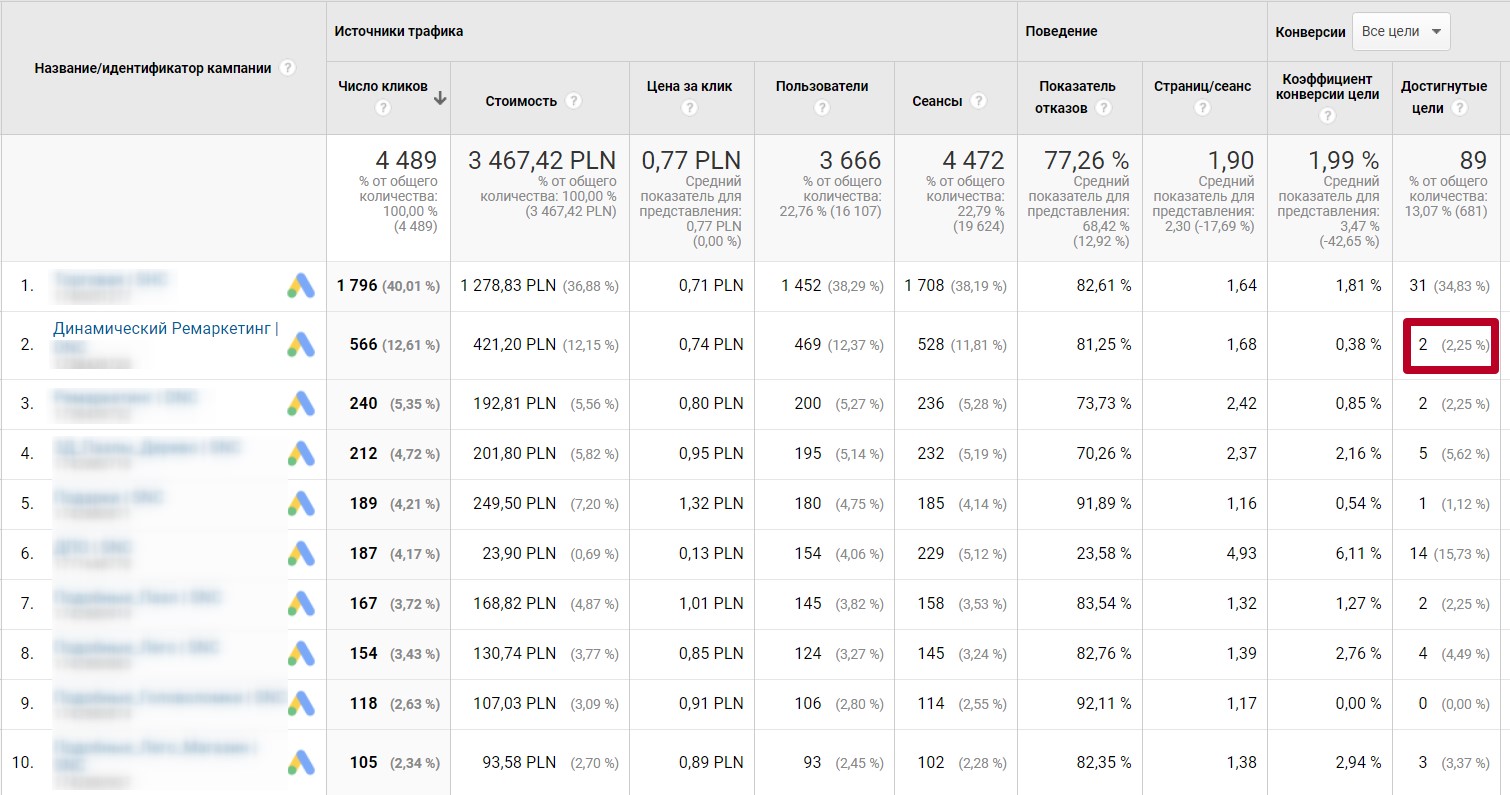 It should be taken into account that we are conducting these projects relatively recently and these statistics are only for 1 month.
Returning a website user with dynamic Google ad remarketing is cheaper than looking for a new user.
It is easier and cheaper to return a specific product with a price, description and product image than "general remarketing".
Total business benefit: 7% to 18% increase in project sales.
Do you have any questions? Get expert advice.