Armenia is one of the countries with a relatively small per capita GDP of $14,537 and a population of 3 million people. Therefore, the contextual advertising market in Armenia has relatively low competition, which makes it attractive enough to launch new projects and set up advertising campaigns in this country.
Peculiarities of contextual advertising Google Ads in Armenia
When choosing a new country to launch a project in the field of online advertising, like for any other country, Armenia has its own geographical, cultural, and political characteristics. Let's try to understand the main ones in the context of launching projects in Google Ads advertising.
Target audience
The tourism sector is very developed in Armenia. Every year, the country is visited by about 2 million tourists from other countries, who make up the bulk of effective demand in this country.
Therefore, when setting up contextual advertising in Armenia, we need to focus on this particular audience. Most of those who come to see the country start their journey from its capital – Yerevan. Most of the hotels, restaurants, and entertainment venues of the country are located here.
However, when setting up geographic targeting for a local business, it will not be enough for you to put a radius of 70 nearest kilometers around Yerevan (as you can do when setting up Google Ads for European countries). In Armenia, we need to take into account the road network (which mostly consists of narrow mountain roads) and the average speed of movement along it.
Local hubs
Most tourists enter Armenia through the airport, of which there are three in Yerevan. When setting up an advertising campaign, we can focus on this audience immediately upon arrival in the country (hotels, taxi services, excursions, food delivery, etc.).
Before launching a project in Google Ads, it is important for us to understand from which countries our target audience arrives, what language they speak, what level of income they differ in, for what purposes they visit the country. To do this, the PPC specialist or agency you work with must conduct a detailed study of the target audience before launching the campaign.
Having answered all the above questions, you can avoid wasting your budget and get more targeted leads and sales.
Promotion tools
Due to the focus on tourists, the most relevant for promotion in the country will be local businesses and services. Because:
Use local advertising campaigns. Google Ads allows you to set up ads for a certain radius around your establishment, target those who are currently 1-2 km away from the establishment and invite them to visit it. Such ads can be shown on search, Google Maps, on sites that are part of the Google Display Network partner.
Set up and populate your Google My Business account. Motivate customers to write you reviews and upload photos. Before visiting an establishment or ordering a service, most people open a Google map and study user feedback, as well as the rating of the place they plan to visit.
Search ads. With a limited budget, this is the best tool you can use. It allows you to attract the hottest purchase-oriented traffic here and now. Foremost, focus on queries focused on the brand and model range, keywords that include a specific geolocation, phrases that contain the prefixes "buy", "price", "order", etc.
Cost of setting up contextual advertising for Armenia
The price of contextual advertising in Armenia consists of two factors – the cost of a specialist and the budget for traffic in the Google AdWords advertising system.
The amount of work of a PPC specialist may also differ depending on the planned total amount of work on the project (the number of categories of goods or services on the site, the size of the site), what advertising tools will need to be used, etc.
The package of services is selected depending on the specific tasks of the project (expanding coverage, getting traffic, collecting leads, increasing campaign margins, etc.).
The price of a click on Google Ads advertising in Armenia is relatively low. This is due to the fact that the standard of living in the country is not as high as in European countries. Below, you can estimate the cost per click for Armenia in popular niches from the Google AdWords Keyword Planner for June 2022:
washing machine repair – $0.49;
ventilation cleaning – $0.72;
Plumbing services – $0.55;
beauty salons (manicure) – $0.63;
carpet cleaning – $0.67;
permanent makeup – $0.43;
dentist – $2.20;
sale of refrigerators – $0.88;
Korean cosmetics – $0.71;
shelves for cats – $0.14;
dog food – $0.65;
fertilizer for flowers – $0.78.
Notice! The actual cost per click for each query in a particular account can be 40% lower or higher than the one indicated in the forecast. It will depend on the quality of the settings and the period of operation of the advertising account, the relevance of ads, the quality of the landing page on the site.
Based on the cost per click and the margin of your product or service, you can approximately predict the payback period and the time to get a profit on the project using the contextual advertising calculator on our website.
You can also contact our contextologist for an individual consultation regarding the independent conduct of an advertising campaign in Armenia. To do this, leave a request on the site – the manager will contact you and advise on the price and possible consultation time.
What market share of search engines does Google occupy in Armenia?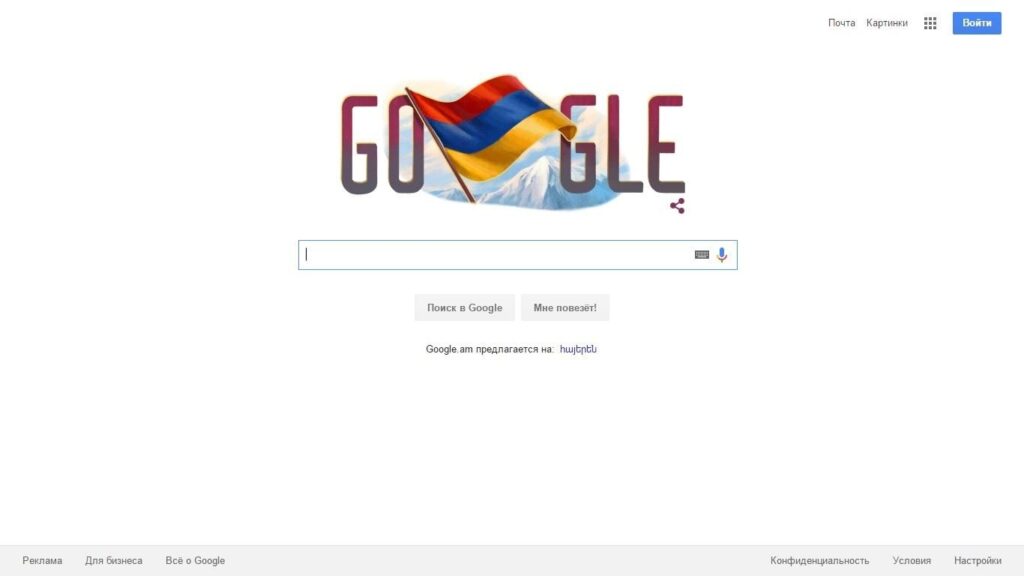 Despite the fact that Yandex takes a large share of search traffic in some CIS countries, this is not the case in Armenia. Google collects 92.6% of search queries from this country.
This makes launching Google Ads for Armenia very attractive in terms of return on investment (since Google has a virtual monopoly in this market).
Yandex's popularity among users from Armenia is low and amounts to only 4.84%. Another 0.92% of locals prefer Bing, and 0.75% choose Mail.ru.
Do you have any questions? Get expert advice.