Contextual advertising for the UK: features of DSA and search
Setting up contextual advertising for the UK opens up great prospects for advertisers. The United Kingdom is a country with a high GDP per capita (about $40,000), which allows you to sell goods and services with high margins and an average bill.
Having a high proportion of the middle class in the country, we end up with one of the most interesting markets in terms of purchasing power per capita in the world. To achieve high sales in this country, online stores and service sites can use Google advertising tools.
Important! The contextual advertising market in the UK is overheated due to high competition and many players. This can cause great difficulties for the advertiser when setting up the campaign on their own. Therefore, if you do not have enough experience in conducting advertising campaigns for highly competitive markets, it is better to use the services of an experienced PPC specialist.
What is the difference between contextual advertising settings in the UK and Ukraine?
The UK advertising market has 2 key differences from the Ukrainian one. This should be taken into account when setting up Google Ads for the UK:
High CPC. The advertiser market in the UK is quite aggressive. They are ready to spend much more to get one conversion compared to the Ukrainian market and even many EU countries. There is a struggle between advertisers for a solvent client who is ready to spend much more money on a purchase than in Ukraine or other countries.
The visual design of the content. User requirements for the visual design of the site, advertising banners and branding are much higher than in other countries. If an ordinary online store on the Prom.ua platform, which successfully collects sales from us, tried to enter the British market, then its conversion would be as low as possible.
Be sure to ensure that your page gives the maximum conversion if you want to enter truly competitive markets. For example, watch the video of Yana Lyashenko, where she analyzes the requirements for landing pages:
The landing page should reveal all the benefits of the product. A combination of several landing pages that complement each other and answer all user questions about the product will work well.
Important! The usual online store format with a short description of the product and the "Buy" button will not work here. From the point of view of a potential client, this approach will not distinguish the seller from competitors. This means that the conversion will be very mediocre.
Peculiarities of contextual advertising in the UK
Pendulum migration of the population. For large cities (especially for London), it is important to take into account the daily pendulum migration of people from the suburbs to London in the morning and in the opposite direction when setting up advertising. You must remember that people in the center of a big city may look for a service center in the suburbs, counting on the fact that they will come there in the evening after work.
The speed of implementation of changes from Google. Since we are talking about an English-speaking environment, beta tests and the introduction of new functionality in the Google Ads account appear among the first in the world (at about the same time as in the US market).
British Overseas Territories. It is important to consider that outside of the UK itself there are 14 overseas territories located around the planet. They also refer to the United Kingdom, but at the same time, there may be a completely different time zone, language and cultural characteristics, etc. If there are your customers among the residents of these territories, set up a separate advertising campaign for each of them. At the same time, keep an eye on your targeting settings by display time, languages, etc.
Example: many do not know that there are two British military bases in Cyprus, Akrotiri and Dhekelia, with a total population of about 15,000 people, which occupy 2.7% of the island's territory. IT companies that use such registration to optimize taxation, etc. may be located here.
What criteria must an online store meet to work in the UK?
Due to the high competition in this country, a certain set of requirements is put forward for online platforms:
Fast delivery. A certain part of the British, of course, are ready to wait 7-14 days for you to deliver the item, but the bulk will look for where you can order here and now and get it as quickly as possible. According to Google's criteria, delivery within 3 days is considered fast. If it is not possible to deliver the goods within these terms, then think about how to replace this shortcoming with some kind of gift for the client or a discount.
An abundance of payment methods. It should be convenient for the client to pay for your goods in any possible way. Payment cards, Payoneer, PayPal and others: the more payment methods you add to the site, the better.
Product photo. If earlier it was possible to sell furniture by adding only a couple of photos of the sofa to the product card, now you need to place photos in the interior, try to display the dimensions in the picture.
Video. Place a video of your products on the landing page. It can be a review where you demonstrate the product in action, all its pros and cons. Or, at least, shooting the product itself so that it can be viewed from all sides.
Attention! The more you stand out from your competitors, the higher your conversion rate. And, accordingly, the chances that the advertising campaign will not only pay off, but also make a profit.
How much does contextual advertising cost in the UK?
The advertising budgets of companies from the UK differ significantly from their counterparts from other countries. If, for example, in Poland a good budget for most topics is $1000/month, then in the UK market the minimum starting budget starts from £3000/month. The upper limit can be very different and depends on the niche and region. High budgets are driven by high CPCs.
Here is an example of cost per click in the UK for different business niches:
washing machine repair – $0.8;
ventilation cleaning – $2.15;
Plumbing services – $1.6;
sale of large household appliances (refrigerators) – $0.57;
beauty salons (manicure) – $0.62.
Advice! The product price in the UK (according to local law) must include VAT. This is very important to take into account – otherwise, there may be claims from Google about the discrepancy between the price of the goods on the landing page and in the basket when placing an order. The presence of such claims may lead to blocking of the advertising campaign, etc. Therefore, indicate the prices on the site only with VAT.
A case study on setting up Google ads in the UK from Adwservice
Hello. My name is Yana Lyashenko – Google Logistician. In today's video, we will figure out what can be done with the search for the UK so that it starts converting.
Let's start looking at the ad account. Let me remind you that the theme is the production of advertising and marketing gadgets. The ad account will now appear on the screen. You see, in principle, there was little traffic from the advertising campaign. Now I will add clicks. Some traffic. Just 112 clicks. Not enough. CPC PLN 2.18.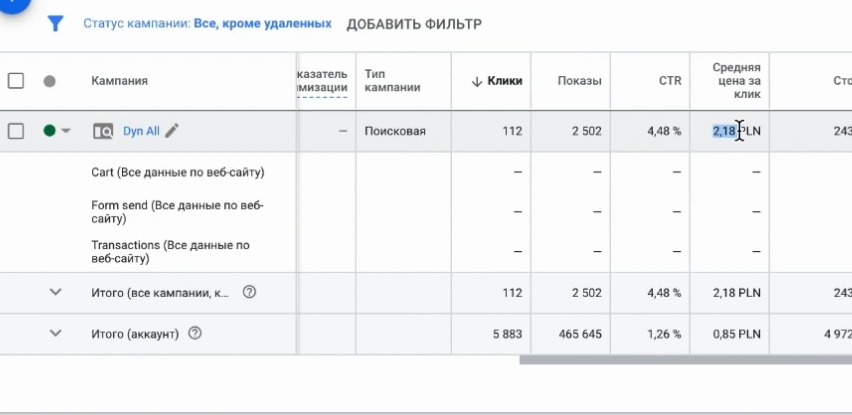 Features of contextual advertising for the UK
Who watched the previous video on DPOshka, where there was an advertisement for Poland – was 1 with something złoty. We immediately feel that Britain is a little more competitive than Poland. The UK is different in this. One must always remember that the UK is different from all European countries – that it is the oldest e-commerce market. Moreover, it is so old that its leaders, foundations, auction conditions, etc. have already developed there. Great Britain, it is not easy to enter conversions, as it might seem at first glance. Moreover, the UK is very diverse in decision-making. It would seem that Britain is not a particularly large piece of Europe. Comparatively, relatively. It is such a rich, diverse audience, making decisions in completely different ways, that sometimes you have to excel to the maximum. Ireland separately. Wales separately. In short, there are nuances, chips. I do not think that we will consider on the basis of this advertising account. If you need a similar video – I'm waiting for comments and like under the video, directly.
By the way, Britain is always different from the US market. This was asked. I don't know if this video needs to be compared and in what context it should be done. Of course, the British are a more converting audience than the Italians. Italians seem to be the least converting part of Europe. It has developed historically.
Analysis of the client's existing advertising campaign
We look. Here is one type of advertising campaign – DPOshka. Let's do a dissegmentation by types of conversion – we will see that for the period of time since April 25, for almost a month, it has resulted in only three targeted actions. Everything else is adding to cart. Most likely cards. Because of this, the cost per conversion increases significantly. We take 243. Let's divide 244 into three pieces. Already at 81 złoty, as you can see. The conversion is not particularly and the profitability is 2.06 at break-even, somewhere in the top five. Advertising works in the minus.

What should I do to start converting DPO? I remind you that dynamic search ads are a type of advertising campaign in which, in the main share, it selects keywords from the site or from the feed, depending on the setting.
Why are there no conversions from Google Ads?
What do we see? Why won't it convert? First, there is an add-to-cart in conversions. If this goal is the easiest to achieve – it will generate this goal. If we look at the cost of the cost per conversion, then it does not fit into this goal in terms of cost in the initial initial data on the target cost per conversion. If we add some micro-goal that is easy for the system to achieve, it will be optimized in the context of this goal only. The task is to receive money directly from the advertising account – all microconversions should be cut off immediately.
Unless you know how to boost ad accounts for microconversions. Not all advertising accounts have it. Not all specialists will be able and able to do it right, correctly. Usually these are some kind of tests, beta tests, from that it worked, it went by accident. Purposefully, few people can swing, and initially they would always swing on macro conversions. You can save quite a decent chunk of time.
There are few advertising accounts that can be used for microconversions. Plus, we see that the target cost per conversion is 8, and already 14, as if in fact. Already, a priori, Google does not reach the target cost per conversion. This means that the situation will only get worse in the future. How to get worse? There will be no return in three transactions. It will start to be optimized at 15, 20 zł in the context of this card system.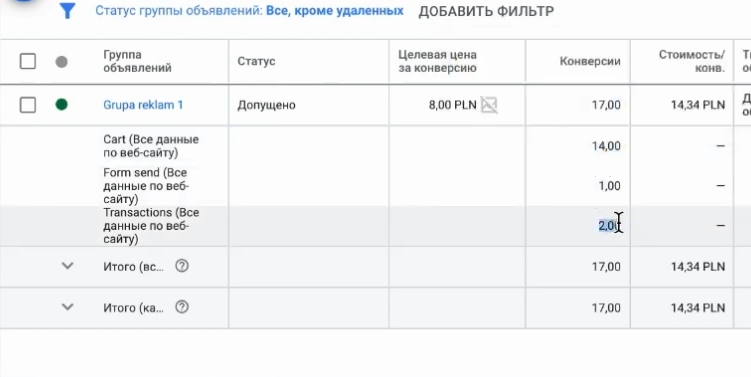 How can I improve the quality of dynamic search ads?
What needs to be done to improve the quality of working out a dynamic search engine? First, reconsider the goals of dynamic ads. With some other ad account where the same category works, they will not be able to proportionally bring the same result. Alternatively, you can test, see if they start converting at a given geographic point.
Let's see – different categories of products have different cost per conversion. In terms of optimization, each of the categories, if they are completely different, would be placed in a separate ad group. For each ad group, I would set a target CPA. If PLN 8 for this group may be the opposite of finding more conversions, then for the custom silicone wristbands category, this is already a fairly significant limiter. Conversion rate, wait a minute, 8.51.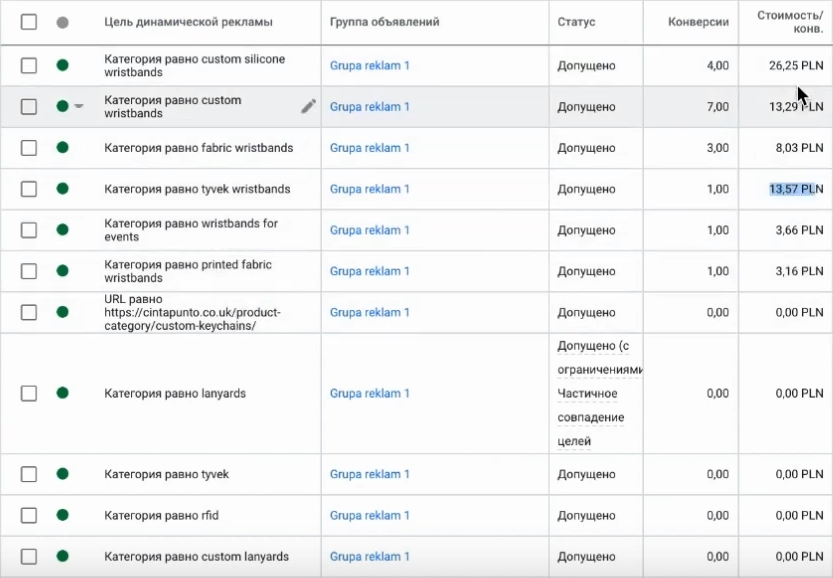 Of course, the downside is that there are a lot of micro-conversions, like a shopping cart. We won't be able to see it. On this page, of course, in this reporting, we will not be able to segment by type of conversion. This is the reason why you need to separate different categories of pages into separate ad groups. At the ad group level, segmentation is available for different types of conversions. Let's move on.
We see the difference. So you need to assign a personal cost per conversion for each category. Secondly, I would check whether we are shown in principle in the search results. To do this, we first look at the percentage of impressions received. I remind you where it is – in terms of competition. 10 percent. Ten percent is not enough. If we got three conversions at 10 percent, then at 50 percent we can get proportionally more results if we organize everything correctly.

We see a small percentage of drawdown. We look at the statistics of the auction, where we are. Quite a few competitors. The main one is this lancasterprinting.co.uk. A few more strong competitors, with whom, basically, the intersection in semantics goes with this friend. With him, basically, the shares need to be fought.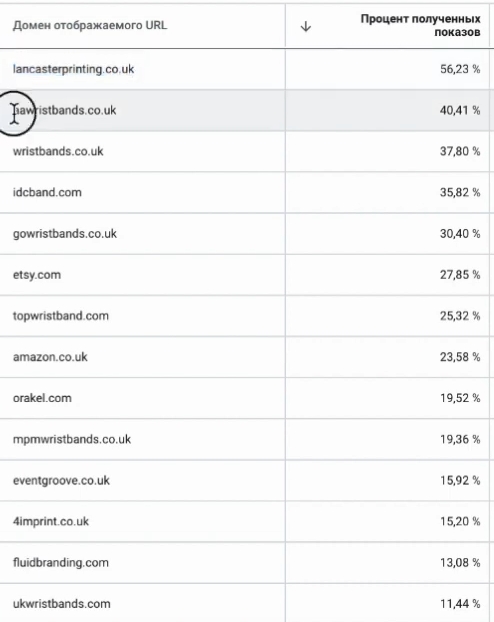 See listing now in the auction above – as easy as shelling pears. The question is to get a proportionally larger result. Let's go to our semantics and try to find it now by some request. We don't show up in tops anymore, unfortunately, we don't show up under organic content. Move on. I don't see us here. The main competitor was lancasterprinting.co.uk. He, the comrade, who devours traffic most of all. Unfortunately, 10 percent won't let us see us. It does not allow you to have the amount of traffic in the advertising campaign.
What can be done to improve the situation?
What do we do? First of all, if we remove the microconversion with fixation, if we focus on the macroconversion. Second moment. The main share of orders, more B2B history, is made through calls – you need to connect the call recording system as separate goals in Google Ads.
There are calls, not forms, but calls – it is important to fix their number in order to further swing the system to the target cost per call conversion. This transaction or "Form sent" – try to optimize on them, since there are very few of them. I would switch to manual CPC. I would separate all categories into separate ad groups in order to further track the effectiveness in the context of different types of conversions. To see which category brings more forms, which vice versa – transactions. Further on the manual cost per click, I would try to increase this percentage of received impressions. 85% – loss due to rating. We lose due to the limited target cost per conversion. Due to the fact that the system focuses more on micro-action.
Settings analysis. What can be improved?
Let's take a look at the settings. Interested in devices for Poland. The client usually put an adjustment minus on the device. There is no. Okay. We see that phones are a classic example of UK e-commerce. Phones – always a maximum of impressions. Always in tops. Many conversions come from them.
Pay attention here. 93, conversion – 18-28. I understand that this is an Add to Cart conversion. Cost per click is almost the same, how many more conversions.

Thinking about how to optimize the conversion of a landing page for certain geos – look at what device they are converting from. If mobile – make the process of placing an order through a mobile device as convenient as possible. You need to dig into this. The effect will come in a few months. It pays off. When considering boarding conversions, always look at personal computers. Now all conversions are made from mobile devices. Be very careful about this moment.
Want to understand what to improve first – speed on Safari, speed on mobile, mobile responsiveness, checkout experience, buttons. You can't imagine, there are most online stores where the button for clicking on a phone number or on some kind of "Send" button is so small that you can't get into it with your finger. It would seem that in 2021. Look at the checkout process via mobile. Where you can improve something, swap the location of some graphic elements to increase the conversion of your landing page.
If someone needs to parse the landing page on phones, write in the comments. Perhaps we will organize a similar analysis, using the example of some online store, directly.
There is no minus correction on phones. That's great. Otherwise, there was no conversion. So, let's go to the basic settings now. Watching – UK, Display Network. As far as I understand, there are no shows in KMSke. How to check if there are impressions? Above in other positions.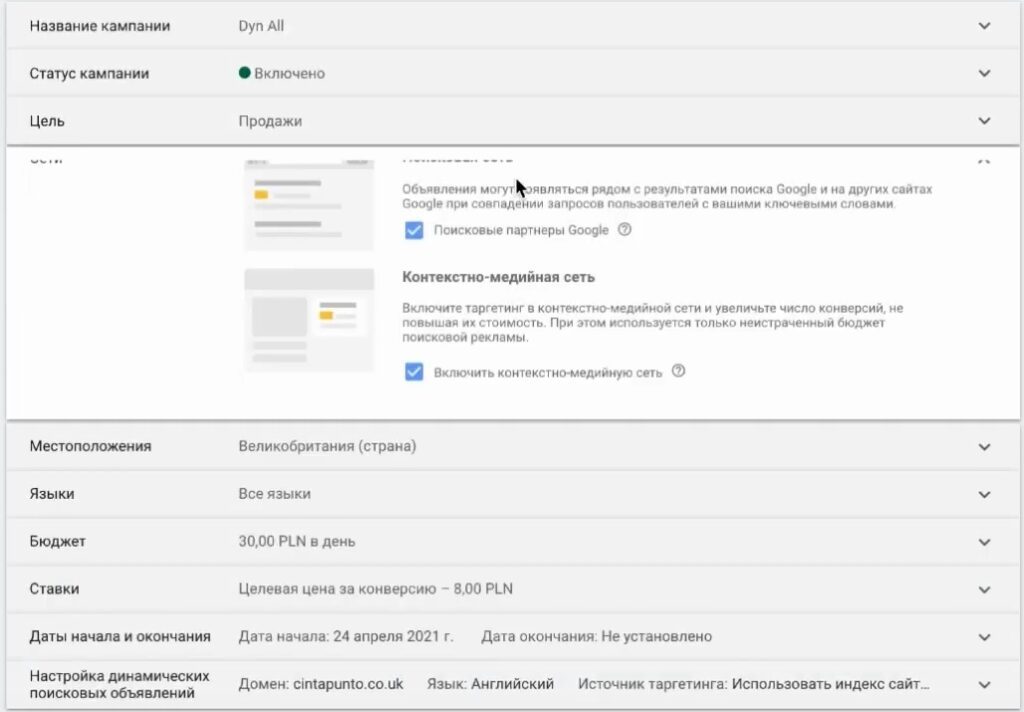 Similar story under organics immediately CTR – 1 percent. They didn't show up on the KMS. OK. OK. You will see that you generate a lot of impressions in the Display Network, but the CTR is small, and the cost per click is high – you can freely turn off the same analysis for search partners.
I'll say it again. You see that search partners show up a lot, but get few clicks or cost per click, but especially biting, but there is no conversion – you can freely turn off this type of targeting. Specifically, you won't be able to make any adjustment for plus or minus.

The target price was understood. Should remove and switch to manual adjustment of cost per click. Site index. OK. At the level. Optimization. All languages. The question for all languages is rather incomprehensible. All languages are used in the concept of this advertising campaign. It's not a minus that you target in all languages. You should always understand that ads can be clicked by non-native speakers. Whether they can buy products is questionable.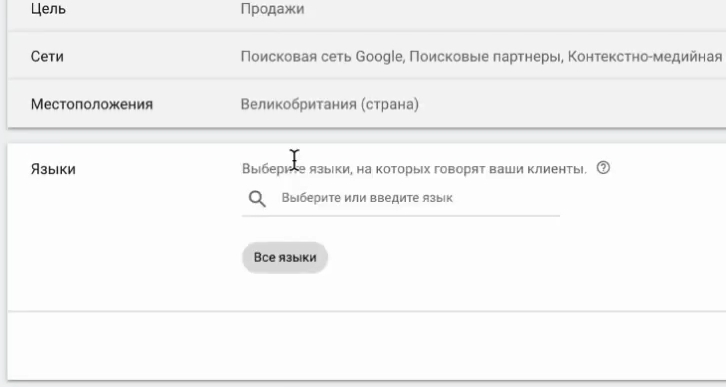 Campaign budget calculation
If you are selling some kind of B2B story, you know that the buyer speaks a certain language, managers, business, someone else – it is better to choose preferably those languages that your immediate target audience speaks.
The budget should, unfortunately, be increased several times. The cost per click is two zł. Conversion. How many did you count? 3 conversions. Clicks 112. 3 divided by 112. It turns out 2.67 conversion. Come on, 2.7 conversion. By the way, not too bad. If at ten percent the conversion is 2.7. Almost three percent. There is a rather tasty question on optimization and scaling.
What do we do? We calculate the number of clicks for which a conversion can occur. For every thirty-seven clicks. Now we multiply 37 by 2.18. It turns out 81 PLN – the cost of one conversion. 81 at this conversion rate. A very poignant story. At a minimum, it should cost not 30 zlotys, but 100 zlotys for manual adjustment of the cost per click.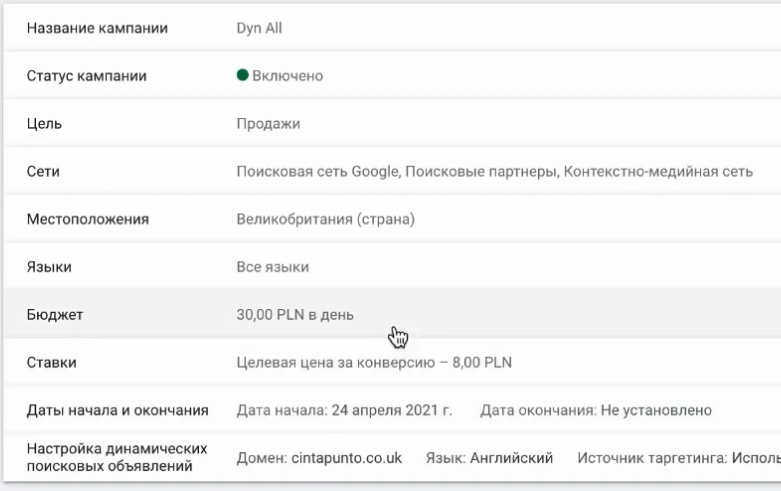 How to set CPC
Another important nuance. How to set a cost per click? You can set the cost per click based on marginality. There is a separate video on how to calculate the maximum cost per click based on the margin and site conversion. You can roughly take the average values that came out here according to the facts.
We calculate, the values are average – take a margin in some monetary equivalent. Let's say 50 zł. Multiply by 0.267 conversion. It will be 1.33. This is the break-even point in CPC where you break even. You give all the margin to sell this one and only commodity item. The plan is roughly clear, what needs to be done with the DPO? Understood.
Setting up UK Google Ads
Unfortunately, I will not give recommendations on ads. The ad is created automatically by the system itself. For extensions, I can give indicative adjustments.
There are no extensions. Sadly. Extensions are always added. Is always. In any search advertising campaign. Extensions are needed. What are they needed for? These guys, babes, extra clarification, structured, help boost ads. You get more ad space for the same price. You just need to add text. It's not difficult.
The second important point is that they increase the clickability of the ad. Especially on mobile devices where the conversions come from here in the UK. More announcement. We take up more space on mobile devices – it is more likely that they will click on us and buy. On mobile, browsing the pages is not particularly convenient, as we saw here, the main share of conversions comes from mobile.
What do we add? Additional links. Clarifications. How many pieces? Additional – at least eight. Refinements – at least 8. Structured – at least two. Phone numbers are of course optional. It is desirable to add that it is possible to call from a mobile device. Address, if there is any physical local point – I recommend adding it. It becomes possible in the future to launch a type of advertising campaign – local companies.
Local companies – ideally work for generating calls, laying a route, arriving at a physical location. I would recommend thinking about the physical location in Google My Business. This is a cool toolkit that expands, gives a lot of opportunities for any advertiser in a certain geographic location.
Prices. Optional. If they change frequently, don't add them. If there are any static prices, you can add them.
Promotion that is directly available here. If there are discounts, sales conditions, other. What is convenient? In promotions, their expiration dates of sales, discounts. If it is over, you do not need to remember to turn off this extension. It will automatically stop working.
Add everything to the maximum. Of course, there are no other types of extensions here. This becomes specific to a particular ad account or set of ad campaigns, depending on where they were created from
What should be included in sitelinks? In sitelinks, sew up what customers will be looking for. Wording spoken by customers. Clients need some kind of bracelets, rubber bracelets with inscriptions, slogans, logos. It needs to be written down. Terms of 48 hours, some discounts, promotions, conditions, special conditions, orders from such and such quantity, etc. More specific.
Don't make green, red, orange bracelets or any other type of product, figuratively speaking. To not be consistent. Order with logo, corporate order. B2B client – write directly in extensions – for B2B, retail, single orders, orders for such and such.
This is an additional link. It should be clickable. You can use it.
Clarification. These are texts that should describe the benefits of the business directly. Delivery, delivery time in a specific geographic location. Necessarily. People love numbers. In numbers, put pressure on logical hooks, on the basis of which, it is always possible to justify any, even the most strange, purchase with numbers. I say this – on the basis of some average values. Use the numbers to the maximum. Delivery times, where you deliver, what methods of payment, are there any discounts, some additional goodies, mainly, there are orders from a certain volume, production times, other, other possibilities that will be clogged with this minimum quantity – 8 pieces.
In structured descriptions, you describe two subtypes – types and convenience. Be sure to use them so that they improve the effectiveness of advertising campaigns.
For the rest, everything is quite free in filling, which should be. There is no extension. With the addition of an extension, the ad rating will increase. By the way, there is a similar error in the Polish advertising account. This video will be watched by the client. The client will be able to correct a question, a nuance, in himself and in his other advertising accounts.
Remember – the extension helps to increase the ad rank due to clicks. The higher the rating, the lower the rate, the higher we show. This is the only purpose for which we do it.
In principle, the plan is plus or minus, understandable. If anything – we clean the traffic, we swing the advertising account for macro conversion. We collect 50 target conversions for the last 14-30 days and can switch to the target cost per conversion. In this case, the strategy will start working almost perfectly.
One of the important points, life hacks in the DPO. If you see that a competitor uses some specific terms, features, advantages, what you know, and you know what you are doing better, you can do the following – you can start with the keywords for which the competitor is advertising, run standard classic search advertising for keywords in which to register an ad, focus on the pros through demonstrating the cons of other companies. This is especially true for B2B topics. This is a mini hack. Then look at the text of the ad, take into account as much as possible how you can differ, stand out. Actually people read it. Don't think they don't read. It is better to focus on this.
Look what a beautiful, tasty ad, for example, given what is. More precisely, with a clarification. These are additional links, price extension. Look, what a beautiful, rich ad. The top is a little trimmed than the bottom.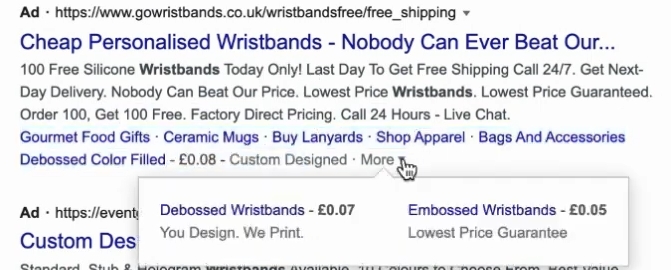 This advertiser has 100% the best CPC if I click now compared to other advertisers.
Well, what video is useful? I'm waiting for a like. If something is not clear, there are questions, you want to add something, expand it – I'm waiting in the comments. See you in the next issue.
Do you have any questions? Get expert advice.