Brazil is a Latin American country with a population of 207 million people. It is the largest economy on the continent in terms of size. GDP per capita here is $15,337, which makes contextual advertising in Brazil a very promising investment.
Setting up contextual advertising in Brazil
When setting up contextual advertising in Brazil, it is important to take into account that the income distribution of citizens is very large, and the main incomes are concentrated in the eastern part of the country on the ocean coast. Also take into account other features of local culture and economic activity.
Pendulum migration
Due to the fact that the country has a rather large population, there are as many as 17 million-plus cities in Brazil. In addition to the capital of Brazil, this list includes Sao Paulo, Rio de Janeiro, El Salvador, Fortaleza, Belo Horizonte, Manaus, Curitiba, Recife, Goiania, Belo Horizonte, Campinas, Sao Luis, Sao Goncalo, Maceio.
As a result, when setting up Google advertising campaigns for local businesses in such cities, it is necessary to take into account the pendulum migration of residents between city districts and between the suburbs and the center during the day. Another feature is that helicopter taxis are very popular among wealthy citizens of Brazil, which often reduce travel time between major cities. Therefore, the pendulum migration of wealthy people during the day and week for business purposes can cover much larger territories than, for example, in Europe.
Keep this in mind when setting up geographic targeting in contextual advertising. After all, a solvent target audience can look for a product or service in another city during the day, and fly to this city in a couple of hours to receive it.
Target audience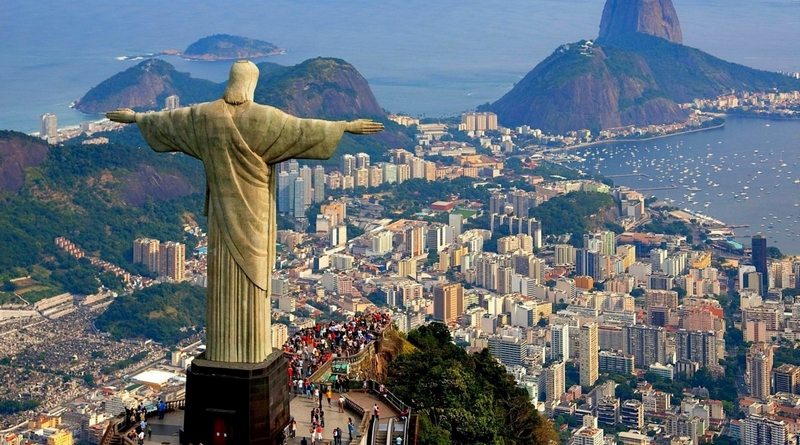 Not all Brazilians are our target audience when setting up Google Ads. The fact is that in the country there is a strong division by income level and social inequality is pronounced.
This is relevant not only in comparison between the east and west of the country, but also within different districts of the same city. There are pronounced poor areas ("favelas") where the laws of the country do not always work. Along with them, there are areas where only wealthy citizens live.
We should also highlight the huge number of skyscrapers in the business districts of large cities with helipads on the roof. When analyzing the behavior of our target audience before launching a project and determining the sales funnel, we need to take this into account in the targeting settings by geography, age and income level.
Promotion tools
Google AdWords offers advertisers a variety of marketing tools. Their choice depends on your goals when setting up an advertising campaign, as well as on the specifics of your business:
For any niche. It is important to note that clicking on ads in Brazil is quite expensive. Therefore, we recommend setting up search advertising for the most "hot" requests at the first stage. Users who use them have already decided on the choice of a product or service and are looking for where to order them. Such requests include commercial (contain "buy", "order", "price"), brand-model, geo-referenced key phrases.
Online stores. The most inexpensive traffic source for an online store is Google Shopping campaigns, Smart Shopping campaigns, and the new Performance Max tool. The share of conversions in e-commerce projects from Brazil obtained using these tools is usually up to 40%.
Local business. It is important for him to register an account with Google My Business. Encourage your customers to write reviews. It will be great if they are not only in Portuguese (the local language), but also in English, as well as Spanish. Although Google automatically translates the text of reviews into the language selected in the user's browser, such a translation will not be perfect and will not convey all cultural and linguistic features. Please also note that with the help of Google Ads, you can show ads to users directly in Google Maps. For local businesses, this is a particularly effective tool.
Google Ads contextual advertising cost in Brazil
The price of contextual advertising in Brazil consists of two components – the cost of setting up an advertising campaign and the budget for clicks in Google AdWords. The cost of setting up a campaign depends on how many categories of goods or services we connect to advertising, how many Google Ads tools will be set up, as well as on the number of languages in which ads will be created and the semantic core will be assembled.
The price of traffic from Google Ads for Brazil primarily depends on the purchasing power and GDP per capita in this country and the number of competitors in the topic. Below are examples of CPC for popular keywords in different business areas, taken from the Google Keyword Planner:
washing machine repair – $2.32;
ventilation cleaning – $2.75;
Plumbing services – $1.14;
beauty salons (manicure) – $0.85;
carpet cleaning – $2.87;
permanent makeup – $1.20;
dentist – $1.23;
refrigerators – $0.82;
Korean cosmetics – $0.91;
shelves for cats – $0.88;
dog food – $1.13;
fertilizer for flowers – $1.34.
Warning! The final cost of a click in your account may differ from the declared one, both up and down, by about 40%. This metric can depend on many factors, including the quality of customization and ad account age, ad relevance, and more.
Peculiarities of the online advertising market in Brazil
Brazil has the largest and most developed e-commerce market in Latin America and is ranked 15th in the world in online sales. This makes the country very attractive for launching projects in the field of Internet marketing. When exploring the online commerce market in Brazil, it is important to localize the site and translate all advertising campaigns into the "Brazilian version" of Portuguese, as it differs significantly from classical Portuguese.
The absolute monopoly among search engines in Brazil is Google. It accounts for 97.18% of all search traffic in the country. Its closest competitors, Bing and Yahoo!, are far behind, with market shares of just 1.85% and 0.73%, respectively. Therefore, the most promising platform for launching online advertising in Brazil is Google Ads.
Do you have any questions? Get expert advice.