Google Display Network Ad Cost
The cost of advertising on the Google Display Network (Display Network) consists of two main blocks:
The first block is the payment of the AdwService agency commission for creating, setting up and maintaining an advertising campaign. The price depends on which package of services you have chosen as a result of the commercial offer.
We recommend using Display Network tools in combination with other types of contextual advertising, as they will not work as effectively on their own.
To achieve the strongest effect, you need to use sets of different Display Network tools (by keywords, by intent, by interests, by site topics, by similar audience, etc.) combined with other Google search advertising tools, YouTube video ads and different types of tiered remarketing.
The price of display advertising on Google (payment for agency work) starts from UAH 8900. per month.
The second block is the cost of traffic. It depends on the cost per click in the Display Network of Google partner sites.
The average cost per click for 2019 for the Google Display Network in Ukraine is 2.45 hryvnia (from 1.15 UAH to 4.37 UAH), in the USA – 0 .37 USD (from 0.17 USD to 0.97 USD). The price tag strongly depends on the state and scope of your company.
Important! If your contractor in 2019 says that he can get clicks from the Display Network much cheaper, then there is a big question about the quality of the traffic and the professionalism of a particular contractor.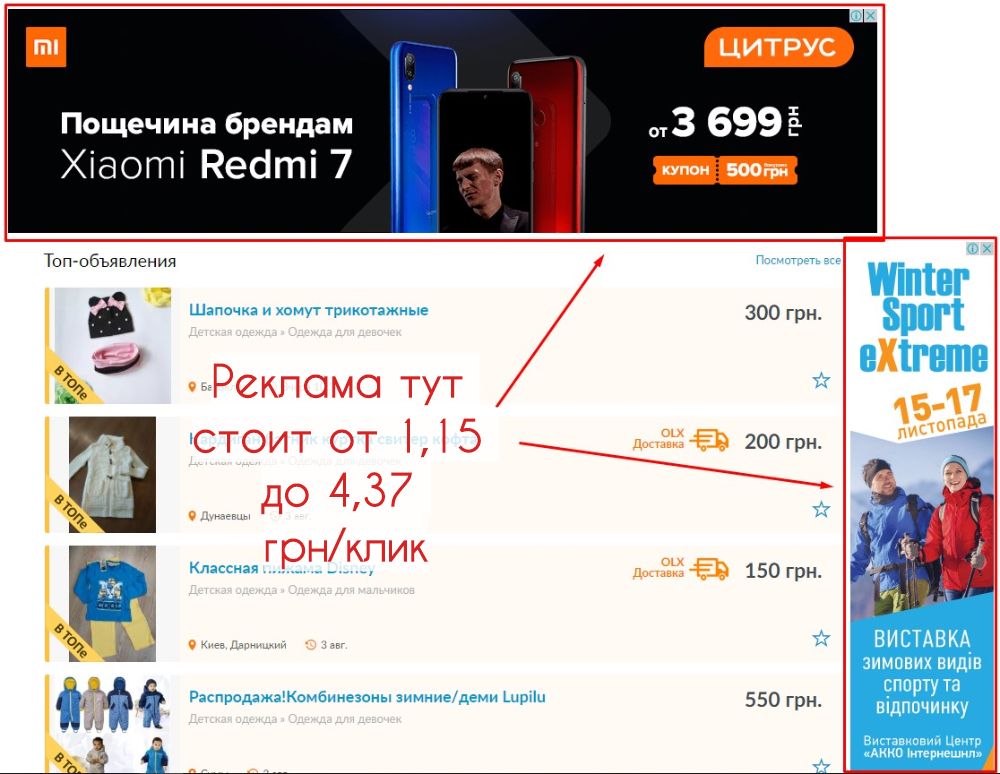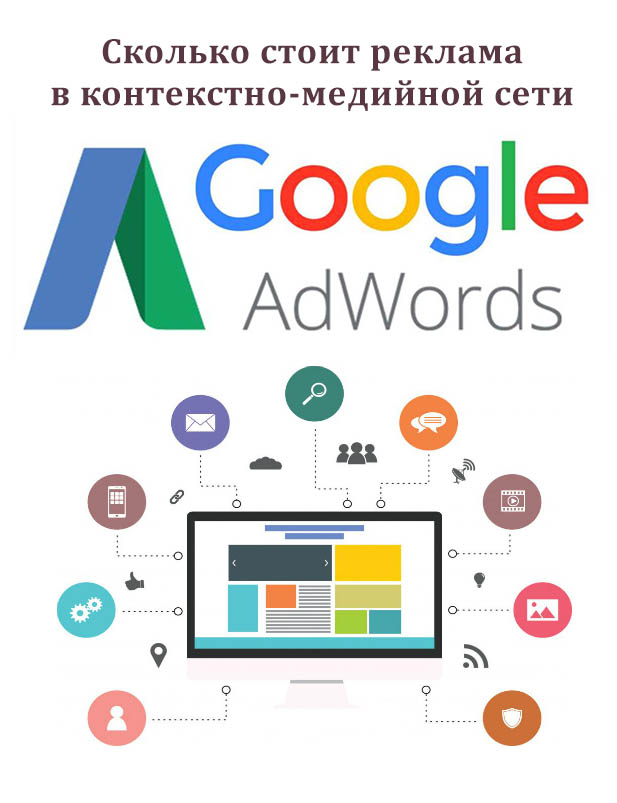 What affects the price of advertising on the Google Display Network?
Level of competition in your niche;
The "direct hands" of the contractor from whom you ordered project management: the quality of setup, support, correct analysis of the sales results obtained in different sections and the ability to make timely adjustments to advertising campaigns;
The level of wealth of your potential client.
How we work with the target audience to reduce the cost of conversion in media advertising:
Let's consider working with the target audience (CA) using a real example:
Product: French sailing yachts from $300,000
TA: select an audience to display interest-based ads in Google Adwords – "sailing yachting". We understand that our audience will fall into the audience (people who have enough money for an expensive purchase – let's call them "Category 1") and those people who definitely cannot afford it (let's call them "Category 2").
Let's see which users fall into each category:
Category 1 users (our target audience)
Who can be in Category 1?
TOP management of large companies;
Medium and large farmers;
Entrepreneurs who built their companies from scratch;
IT entrepreneurs.
Political embezzlers and business vacuum cleaner entrepreneurs of the old formation are not included in the portrait of this target audience, they, as a rule, buy motor yachts code-named "babovoz" and they have different motivations and tasks when buying.
What might Category 1 users look for during the day?
Wine of the "medium plus" and "expensive" segment;
Bicycles of the "medium plus" segment and above;
Mediterranean cruises;
Rest in countries and resorts from $200-300 per person per day;
Electric vehicles;
Auto from $60 thousand;
For farmers: studying agro-themed sites, fertilizers, seeds, buying and selling tractors, combines (manufacturer brands JOHN DEERE, New Holland, Claas, Sampo, etc.).
Which smartphones does Category 1 use?
As a rule, with a price tag of $500 and above (it is absolutely not necessary that it will be only Samsung from S5 and iPhone from model 5 and above – there may be premium Chinese phone models).
Category 2 users (not our target audience)
Who can be in Category 2?
Skippers;
Users who are into yacht modeling;
Those who are fond of small sailing on small yachts and catamarans;
Any middle-class person who has shown an interest in sailing.
What might Category 2 users look for during the day?
All the interests inherent in a middle-class person (the range is colossal): from an inexpensive pizzeria to fish hooks, from studying sites on the request "where to buy goods cheaper" and "do it yourself" to "Abramovich's yacht" or "Sheikh Hamdan's yacht" .
What devices can they search on?
The price segment of mobile devices from which the category 2 audience can access the Internet is very different. This is almost any device costing from $100 to $1000.
Conclusions: in order to find exactly your target audience, build a profitable strategy in Google Ads, and then maintain it at a good level, you need constant work with analysis and accompanying an advertising campaign in Google Display Network.
How does the price of banner advertising in the Google Ads Display Network affect the construction of a media strategy?
When compiling a media plan and strategy for the Google Adwords Display Network toolbox, the following parameters should be taken into account:
Forecast accuracy (should be above 70-80%);
Average cost per click for your country/region in the GCM;
The average cost of a click for your area in Google search advertising (it allows you to understand the level of competition / marginality of the area: for example, 2-3 UAH per click in search in Ukraine is low, 35-70 UAH is high);
Promotion strategy and what task should a particular tool perform in the overall idea of your project (to what next stage in the sales funnel should this ad take the user to your project in order to bring him closer to making a purchase of a product or service on your site).
An example of building an advertising strategy in Google Display Network
Product: fireplace inserts and stoves worth over $1000 each (net profit on each firebox sold over $150).
Terms for making a decision by the user: From an idea in the head to a purchase, it can take from 2 weeks to 6 months (sometimes up to a year).
Strategy: in this case, we work at the very top of the sales funnel with a cold audience.
Description of the target audience: people who have bought a house, plan to buy it now or are doing repairs, as well as those who are looking for an interior designer for their country cottage.
Advertisement: we can inform the target audience that there are ready-made solutions that create warmth and comfort in their dream home, bringing such users at a low cost per click (for Ukraine it is 1.25- 2.10 UAH).
Cost control: it is important to control the final price of the application so that it is possible to track whether it is profitable for the client or not.
I want a Google Ads audit with sales growth points (21 points)