Video ads are generally viewed with skepticism by business owners. There is an opinion that it is unreasonably expensive and ineffective, so it should only be used to promote the brand.
In fact, YouTube commercials not only increase brand appeal, but also help in finding new customers and have a positive effect on conversion rates. An additional advantage of such videos is precise targeting, which allows you to attract the target audience.
Important! In order for targeting to bring results, it must be properly configured. This affects the effectiveness of the entire campaign.
In this article, we will look at the main types of YouTube targeting. We will also focus on methods for customizing them.
What types of YouTube targeting are there?
To show video ads to a specific audience, there are the following types of YouTube targeting:
Per users. By setting up the display of videos with targeting by keywords, location, site topics, device type or user interface language, you can save the budget allocated for an advertising campaign. This way, you will attract only those visitors who are most likely to reach the closing stage;
At the audience. Here, interests, demographic characteristics, user intent are available for customization, as well as the selection of similar addresses. These parameters allow you to most accurately determine the target audience;
Remarketing. The tool is used when creating advertising campaigns aimed at those who recently clicked on banners, watched your video ads, visited a website or YouTube channel. You can also disable ads for these people on the contrary. Using the "Similar Audiences" item, it is convenient to launch impressions for those users whose actions on the Internet are similar to the behavior of the audience from the remarketing list;
By sites. It is used to limit the list of sites for displaying ads on a given topic or the content of pages of partner sites. It is possible to compile a list of certain pre-selected sites.
The listed parameters are set during the formation of ad groups when creating an advertising campaign.
How to target YouTube audience to users?
There are several ways to target an audience on YouTube:
By interface language. The choice of target users is carried out on a linguistic basis. If, for example, your web resource or video is intended for a Russian-speaking audience, then showing ads in France is useless: those whose native language is French will either not be able to understand it, or most likely will immediately close it;
By keywords. Before setting up ads with such targeting, you need to determine the phrases that users enter when searching for a particular video. For example, for advertising cakes, you can focus on the queries "yogurt cake", "Napoleon cake", "honey cake". When referring to baking recipes, it's helpful to use the key "how to make yogurt cake" and even add epithets to it ("how to make delicious yogurt cake"). True, there should not be too many epithets – a couple of pieces per phrase is enough. Sometimes additional verbs and nouns can be used ("how to make fruit yogurt cake"). Qualitatively selected key phrases are the key to the high effectiveness of contextual advertising;
By placement. We are talking about sites and content where video ads will be shown: YouTube videos, channels, online resources, applications in the Display Network. While setting up YouTube placements, you can add display ad impressions to Display Networks, and vice versa;
Geotargeting. When promoting a beauty salon in Kharkiv, there is no point in showing videos to those who live in Kyiv or Lviv;
By theme. In Google Ads, each topic combines several areas of interest. For example, the Leisure and Tourism block includes both tours to Egypt and sightseeing trips to Kyiv. And these are completely different interests;
By device type. A handy tool, for example, for stores that sell accessories for mobile gadgets. In the settings, you can specify only those devices whose owners will see ads. Within one advertising campaign, all types of targeting can be combined with each other, and it is convenient to use audience targeting to segment a selected group of users.
Types of YouTube audience targeting
Targeting on YouTube allows you to set the most accurate criteria for choosing an audience for displaying ads. To do this, you can use a selection by audience:
Affinity audience. Videos will be seen only by those whose interests match those specified in the campaign settings. The principle of operation of the tool is quite simple: it is extremely ineffective to advertise windsurfing equipment or holidays in the Seychelles to someone who is fond of needlework and arranging a summer house;
A special interest audience. This is a more stringent filter for additional features of the audience described in the previous paragraph. As an example: users enter certain words into the search box, go to web resources of a given topic, visit relevant places, or download specific applications. In this way, you can, for example, distinguish professional athletes from all those who are fond of sports, at least at the amateur level;
Audience by events. This setting is often used to show videos to those whose interests change due to some event: the birth of a child, marriage, university graduation, etc.;
An audience of interested buyers. A useful tool for finding potential buyers – they are not going to buy a product yet, but at the same time they regularly get acquainted with products included in the same category. Enable this setting if you want to increase sales by selling related products;
Special Intent Audience. The setting allows you to address an advertising message to users who use the specified search phrases.
Demographic groups. Young mothers, pensioners, schoolchildren, adolescents over 16 years old – this is just a small list of possible characteristics for the sample. This type of targeting only works in combination with other audience selections;
Targeting by email list. Using this feature, you can attract customers who have already closed deals with you and are familiar with the quality of the product.
How do I target YouTube?
YouTube is one of Google's services, so all settings are configured in Google Ads.
Advice! To place commercials, you must register a separate channel. In the help section of the service, you can find a description of the actions that need to be taken to do this.
Login is possible through the Google account, which, for example, is used to work with Gmail mail. Once logged in, create a new campaign, then switch to expert mode to set up video ads: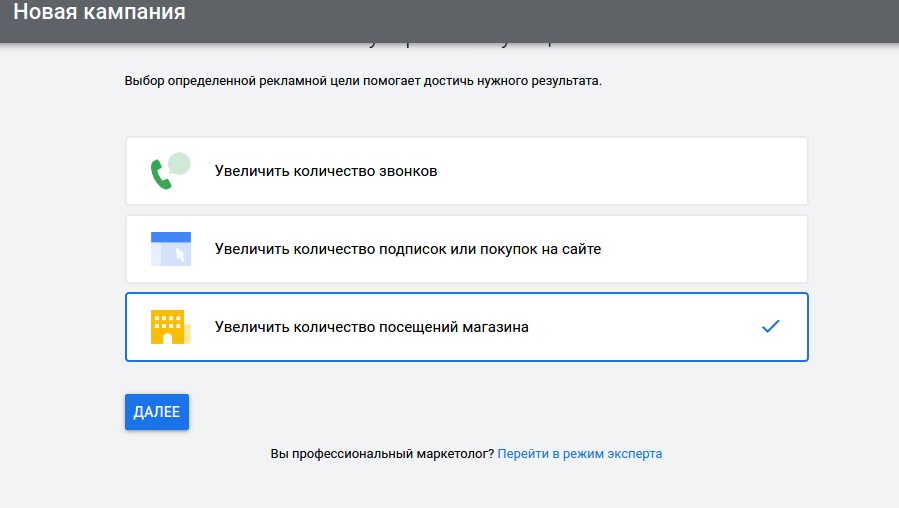 Then click on the line "Create a campaign without specifying a goal" and set the type of campaign: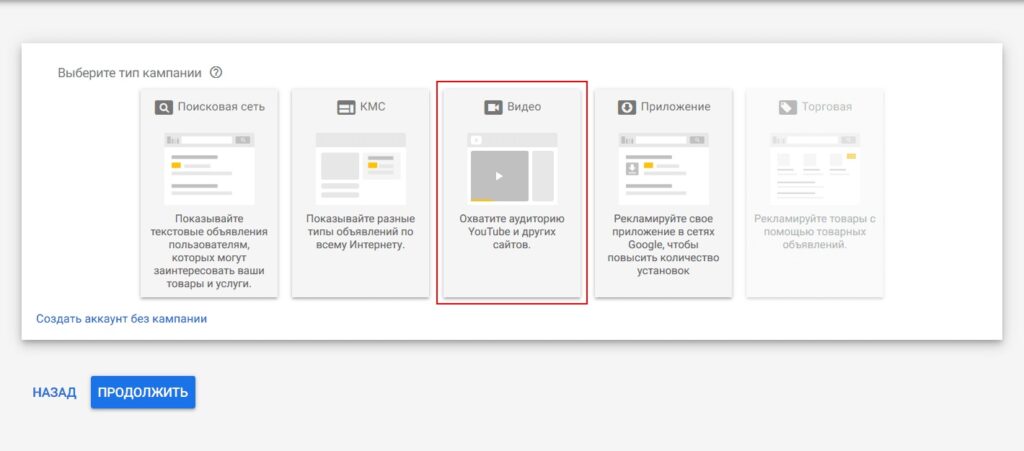 Next, you need to enter the name of the AC, set spending limits and the duration of the campaign. The system offers quite detailed settings – you can limit the display even to one hour or hryvnia.
Next, decide whether you need to take the audience to Google partner sites in the Display Network.
Important! If, in addition to video hosting, other sites are chosen to display ads, then there is no guarantee that the audience visiting them will be interested in the product.
In the next step, user targeting options will become available.
Setting up user targeting
First, you need to set up the location and language. It is possible to set a specific region or country, as well as select an arbitrary area on the map: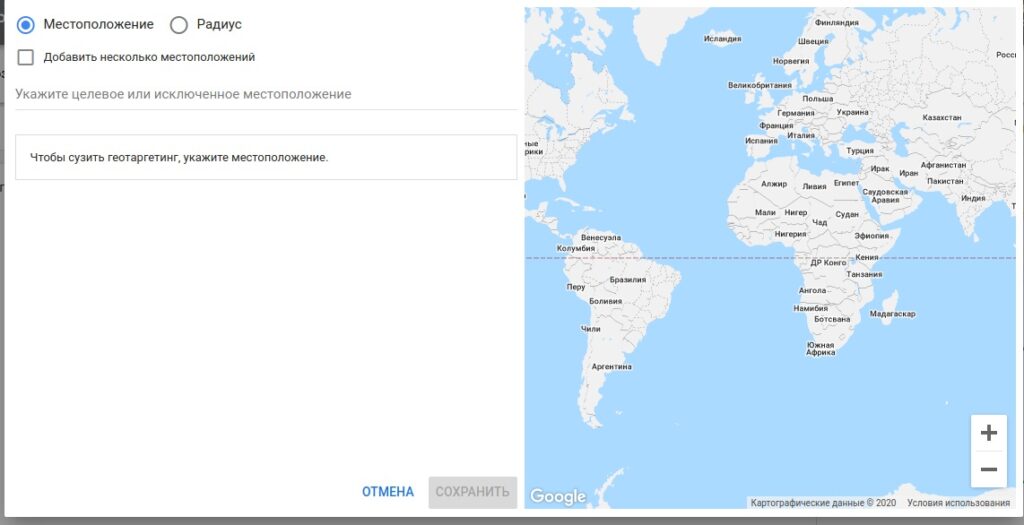 If necessary, specify the operating system, the user's gadget type, and its connection.
Then set the number of times the video is shown to one visitor, and if necessary, limit the period of its demonstration. For example, the day of the week, the exact hours or minutes. You can also leave the settings unchanged.
Advice! The default time zone in the system is the one you have set. Keep this in mind if you're setting up a campaign for other regions.
Choosing audiences
YouTube demographic targeting allows you to describe the target consumer in great detail by setting their income range, gender, the fact of having children and the age group.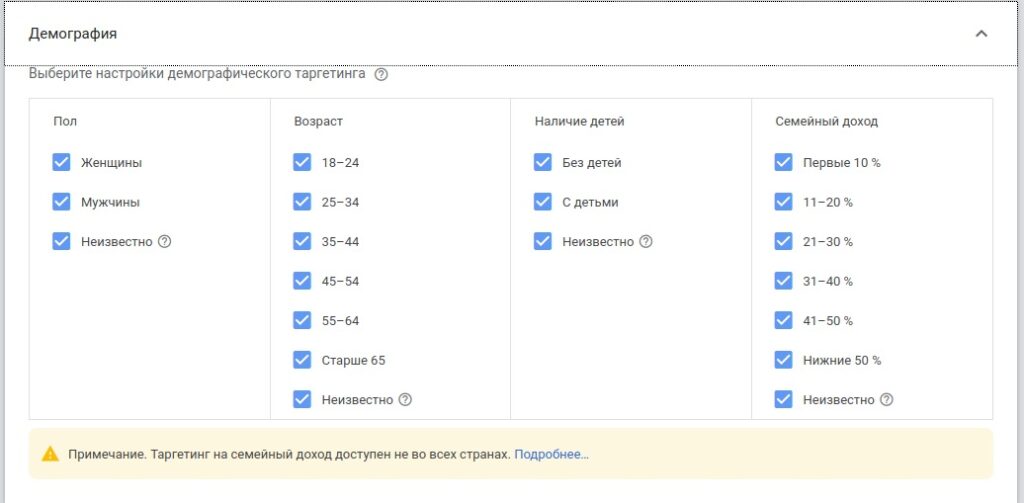 To specify the required parameters, use the "Audiences" form by selecting the "Overview" tab:
Interactions;
Interests;
Interested.
You can combine the selected criteria with each other.
Summary
Accurate audience targeting helps target advertising campaigns to a narrow segment of users and motivate them to buy.
The more thoughtful audience selection criteria are, the more likely such visitors will become real buyers. But we should not forget that each additional feature reduces the group of potential customers, so any custom limit must be justified.
YouTube targeting has different effectiveness for different business areas. In addition, an audience with the same parameters can give different results to different advertisers.
To understand the characteristics of your target audience, test different combinations of settings and carefully analyze the data.