Businesses must now do their best to help users make purchasing decisions. Imagine, only now there are about 5,000 advertisements per person per day on average. And only 100 people can physically process (that is, consciously approach the analysis). Everywhere a person is pursued by advertising in the forehead – buy, sell, and so on. But no one adapts to the user, no one asks the user what he wants.
We believe that the main task of marketers in 2019 is to help the end user buy a product quickly, easily and as profitably as possible.
Let's take a car sale as an example.
In the US, on average, before making a car purchase, a person visits 2 car dealerships. This means that buyers learn most of the information on the Internet.
Dealership owners say that before a customer gets to their showroom, they already know the details of the product, how to buy it, and so on. And he just wants to leave in his car as soon as possible.
Salon Park Place USA. The right site + context. Or just help the user, and he will buy from you
Park Place customers who use the website buy at a price 2 times higher than those users who come from other sources.
Park Place has added a tool to the site to help the customer complete the order and purchase for 80 %.

They have seen a 23% increase in purchases since the launch of this tool.
Also, Park Place marketers found that 60% of all traffic comes through mobile devices. And they created a separate page for the mobile version of the site to optimize its usability. So now you have (if you look at the screen below).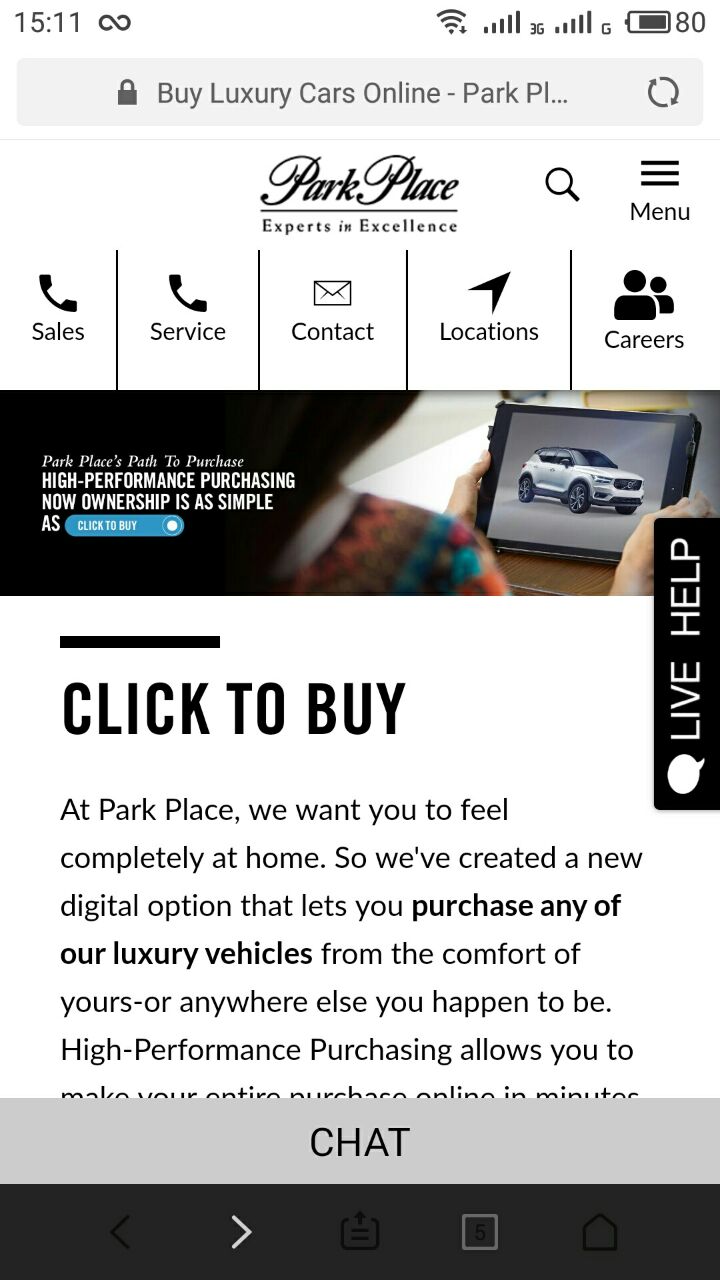 In easy accessibility, you can call, write an e-mail or find out how to get to the nearest auto center.
Currently, auto center has more than 12,000 click-through calls through the new version of the site.
Also, they didn't just stop at optimizing and improving the experience of using the site, they also got smart about paid advertising.
In advertising, they launched search ads, GCM. And also, we made adjustments to bids for mobile devices, plus analyzed what time (by day and time of day) most people call or visit, or look for new cars. This resulted in an increase in calls. So, according to their data, one in five who click on paid ads end up visiting one of the dealerships.
But they didn't stop there.
Which is more important in conversion for a car dealership: a call, a form, or a visit to the center? Of course, the latter. They started tracking conversions from store visits. Thus, they optimized advertising even better, understanding where and how many users really go to the car dealership.
All the actions described above lead to one thing: it simply helps the user to make a purchase decision as quickly and simply as possible.
Until recently, everyone struggled with the question, but how am I different from the rest. Today, this is no longer enough due to high competition.
Today, it is necessary to get as close as possible to the user, to understand the motives of his purchase, how he buys and makes a decision, and simply prompt at each stage how easy it is to do all this.
That's the whole secret of success.
Link to original article 🙂