One of the most popular marketing tools is remarketing, which is essentially a type of targeting. The main criterion for selecting the target audience here is the interaction of the user with the advertiser's web resource. Moreover, the depth of this interaction can be different: from a simple visit to the site to the performance of certain actions.
Remarketing provides an opportunity to remind a potential buyer about yourself and motivate him to return to close a deal. Additional tasks that this tool performs are to increase sales of related products and accessories, as well as brand awareness.
In this article, we will look at what types of remarketing in Google AdWords exist and why they are best used.
What types of remarketing are there in Google Ads?
There are several types of remarketing in Google Ads, and they all have their own characteristics:
Classic display remarketing — the ad catches up with the site visitor and reminds the advertiser of the product.
Look-alike audiences (Look-alike) — the algorithm selects among the users of the GCM those whose behavior is similar to the actions of people from any remarketing list.
Search remarketing — used in search campaigns, for the audience included in the remarketing list, ads are displayed and bids are adjusted.
Customer Match – Matches a list of email addresses.
Dynamic (product) remarketing — the consumer is shown exactly the product, information about which he studied, in the promoted online store.
Video remarketing – allows you to select targeted visitors among users of YouTube video hosting and other partner sites with video content based on viewing the advertiser's videos or visiting the page of his channel.
App remarketing – ads are shown to those who have downloaded the advertiser's app or performed some action (for example, visited a web resource from a mobile gadget).
Information! You can collect data to form a remarketing list by adding a special script to the site pages or by enabling the corresponding function in Analytics.
Let's take a closer look at the main types of Google remarketing
Among the most popular types of remarketing on Google:
Standard Display Network Remarketing
When creating a script for classic remarketing list campaigns, it is convenient to use the logic "Yes, but …". The visitor started moving towards the conversion, but did not reach the goal.
For example, a visitor placed a product in the shopping cart, but for some reason did not complete the ordering process. Another option is that by going to one of the pages "Delivery", "Contacts" or "Methods of payment", the user did not fill out the application form and did not call the contact number.
Setting up remarketing in Display Network:
Publish banners
According to statistics, the cost per action for image ads is usually significantly more attractive than that for text ads. But do not forget that the response to banners becomes less overtime. Having become familiar, they stop working – users subconsciously do not pay attention to already familiar images.
Advice! Use more than one banner per ad group with different designs and calls to action. The process of "burn-in" will slow down due to the constant rotation of images.
Set limits
Set the maximum number of impressions for each banner per user. This will reduce the rate of "burnout". At the initial stage of work in the Display Network, we recommend setting the limit at the level of one impression per day in order to reduce the volume of inappropriate traffic.
After some time, you will be able to analyze the accumulated statistics, exclude the least performing sites and increase the frequency of impressions.
Turn off ineffective sites
Compare the effectiveness of different sites and disable those that perform worse than others. The opinion that the place where advertising is displayed does not matter just because those to whom it is shown have already visited your site and even showed some activity is wrong.
Information! Statistics show that you can increase the return on the campaign several times if you clean the list of sites in a timely manner.
You can block impressions on specific partner resources by going to the Display Network related section and selecting Placements. This report will show exactly where and with what result your ads were displayed. Exclude sites with unsatisfactory conversion rates and cost immediately, provided that the system managed to collect information about a sufficient number of clicks to make a decision: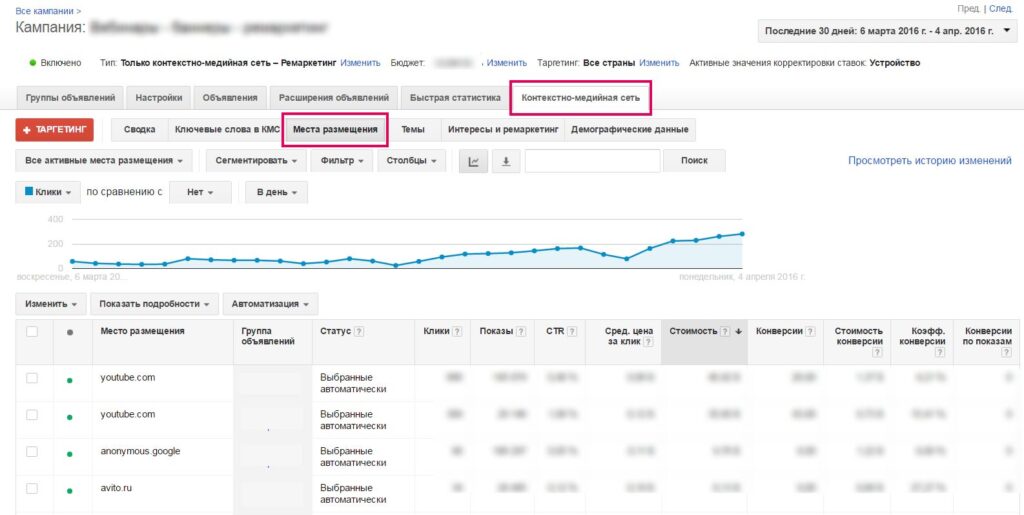 You can upload pre-built lists of unwanted placements below, or block impressions on all resources from a certain category:

Place on High Converting Sites
Over time, in addition to the "black" list, you will also have a "white" list of sites with good conversion rates and low cost. With such a list, you will be able to launch highly effective campaigns, reducing the volume of inappropriate traffic and the cost of advertising.
Enable smart lists
Smart lists are the product of algorithms that determine which user is closest to the time of the deal. Be sure to try this type of Google remarketing, because it quite often shows a good increase in conversion without additional efforts on the part of the advertiser.
Look-alike
The system generates a list of users whose actions are similar to the behavior of the audience collected by the advertiser in the basic remarketing lists. The main drawback of the logic underlying this tool is the fact that similar behavior does not always correspond to the same life circumstances.
For example, even if Sergey, who installed double-glazed windows at home last week, is exploring the same sites as Andrey, who was hooked by their ad, he is unlikely to order new PVC windows after seeing the ad.
Advice! Only use Lookalike Audiences in combination with other types of remarketing. This will allow you to exclude from the list those who are not interested in your offer.
While using the tool:
Include lists of scoring venues. Place ads only on resources that have previously demonstrated their high performance in your niche.
Use keyword targeting. In parallel with similar audiences, use targeting by search phrases that make up your semantic core. So the system will understand that it is necessary to show ads only on thematic sites.
Pick your own audiences. If you have the opportunity to get an audience of resources that are friendly to you, be sure to use them. For example, if a partner has provided you with a list of visitors to their sites, you can target them using remarketing lists from the analytics system.
Search remarketing
There are only two types of remarketing campaigns in SERPs:
Bid Only
In this context, we are talking about adjusting bids for impressions to those who are included in the remarketing list in the classic campaign. If your business is prone to repeat business, it makes sense to increase your bids for users who have made at least one purchase. If this experience turned out to be positive for the client, it is much easier for him to decide on the transaction again.
You should also reduce rates for visitors to your web resource who have not made a deal. Many of them, most likely, are at the stage of searching and making a decision, and that is why they get acquainted with the characteristics of the product in detail. But you also need to remember that your competitors also belong to this group.
The tool is effective in the b2c segment, but in b2b it does not work with such efficiency. It is often very difficult to create the right scenarios that generate audiences that can be influenced by simple bid adjustments in classic campaigns.
Target & Bid
Ads are shown only to users in the relevant remarketing list. This type of targeting is one of the most versatile. It can be used by almost all advertisers, but it is important not to make blunders.
As a guideline for setting Target & Bid, the following should be mentioned:
Audit the semantics. If you plan to use the same list of keywords as in a classic search campaign, you risk getting tiny reach and an unsatisfactory number of clicks and conversions. When using remarketing in search, include medium and low keywords with broad match, and don't be afraid to use high keywords. The list of negative keywords can be reduced to a minimum.
Start a promotion or offer a discount. Search remarketing is aimed at those who have already explored your offer, but for some reason returned to search. You can interest such a client with any special offer or promotion. If you create ads according to the same principle as the classic campaign, then the performance indicators will be almost identical, which is wrong.
Do not overlap remarketing groups in different campaigns. When launching such targeting in search for a specific audience, do not forget to remove it from impressions in the classic campaign. This ensures that there is no competition between multiple declarations.
Remarketing with a list of email addresses
Customer Match or Email Remarketing is only available on Search, YouTube, and Email. Its main advantage is the ability to remind those users who have not visited your web resource for a long time.
Many mistakenly believe that there is no point in such remarketing. After all, why pay for ads to those who have already provided their contact information when you can send them a simple email?
Let's answer this question by listing just a few situations where the tool can be useful:
The visitor has read the contents of the letter, but did not close the deal;
you have created and launched a converting email chain that did not initiate the proper development of events;
user opted out of advertising mailings and stopped reading messages;
In areas where transactions are rare and there is a long time between them, there is no desire to constantly annoy the client, but even less want to miss the moment when he needs your product.
Advice! Remove active buyer contacts from your remarketing lists. Spending an advertising budget on them is unprofitable.
Dynamic Remarketing
Dynamic (also called product) remarketing makes it possible to automatically select for the user certain products, the characteristics of which he studied on your site, and display these names in an ad unit. Selection of products is carried out on the basis of a data feed (a special file containing information about the product).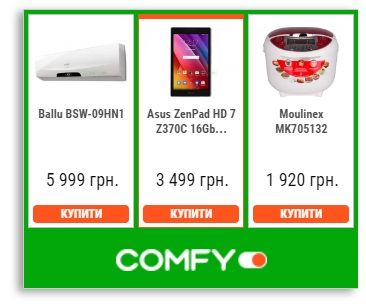 Information! This type of remarketing works well when you need to sell both main products and related products equally effectively.
For example, a consumer on the pages of an online store studied information about several TV models, but did not purchase any of them. After some time, dynamic remarketing catches up with this consumer and reminds them of the products they have watched, thereby motivating them to order TV.