The effectiveness of contextual advertising, site conversion and advertising spending directly depend on how accurately the target search queries for an advertising campaign are selected. The site owner aims to reduce all major costs by minimizing unnecessary clicks, trying to show only targeted ads to the interested user.
To save the budget and cut off non-targeted ad impressions, you need to use negative keywords in contextual advertising. By using negative keywords, you block ads from showing for certain keywords that are not related to a specific business or do not match product characteristics.
When should you use negative keywords?
When are negative keywords used? For clarity, it is better to explain with simple examples for real business:
Sale of furniture (ready-made, buy at the factory) – negative keywords: "to order" (such transitions will not be targeted);
Video game store for X-Box, PS – negative keywords: "download", "free";
Sale of hoverboards – negative keywords: "repair", "spare parts", "rental";
Rental of luxury real estate – stop phrases "cheap", "inexpensive", "sale", "buy";
In order to choose stop words for a campaign, you need not only to conduct such an analysis, but also constantly monitor the current account statistics, because ad impressions can go on the most unexpected requests.
Why do we require negative keywords for contextual advertising?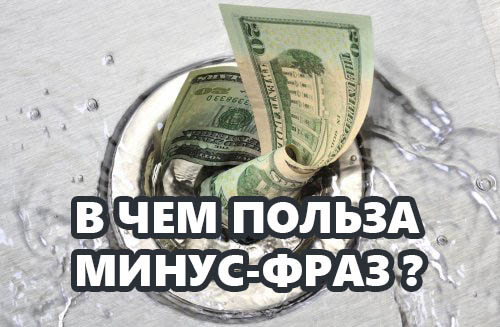 Complete lists of negative keywords for contextual advertising will bring maximum benefit if used as intelligently as possible and constantly improved. Using negative keywords for contextual advertising will help in:
Reducing the cost of an advertising campaign. Ads will not be shown to non-target users, which means that the budget will not be spent on those who are not interested in the services, and you can buy more clicks on more relevant queries;
Increased ad click-through rate. The more non-targeted impressions an ad receives, the lower its Quality Score in Google Ads and the higher its cost per click. Negative phrases remove non-target impressions, which means that the CTR of ads also grows, and the cost of contextual advertising;
No competition between ads or groups within the same campaign. Cross "backing track" will protect ads from competition in search results.
Important! Google AdWords allows you to add a group of negative keywords through a special tab. However, you need to add words in all declensions and word forms (the system does not independently determine them).
Which phrases should I add first?
When compiling a list of negative keywords, be sure to include standard lists that will suit any advertising campaign (download, free, do-it-yourself, instructions, etc.). Such ready-made lists can be downloaded on the Internet and added to your campaign settings.
The next step is to add specialized negative keywords for AdWords that are not related to the characteristics of the offered product/service. It is significant to remember that each topic has its own lists of stop words, so if you decide to use a ready-made list, be sure to check how relevant it is.
How to collect negative keywords for Google Ads?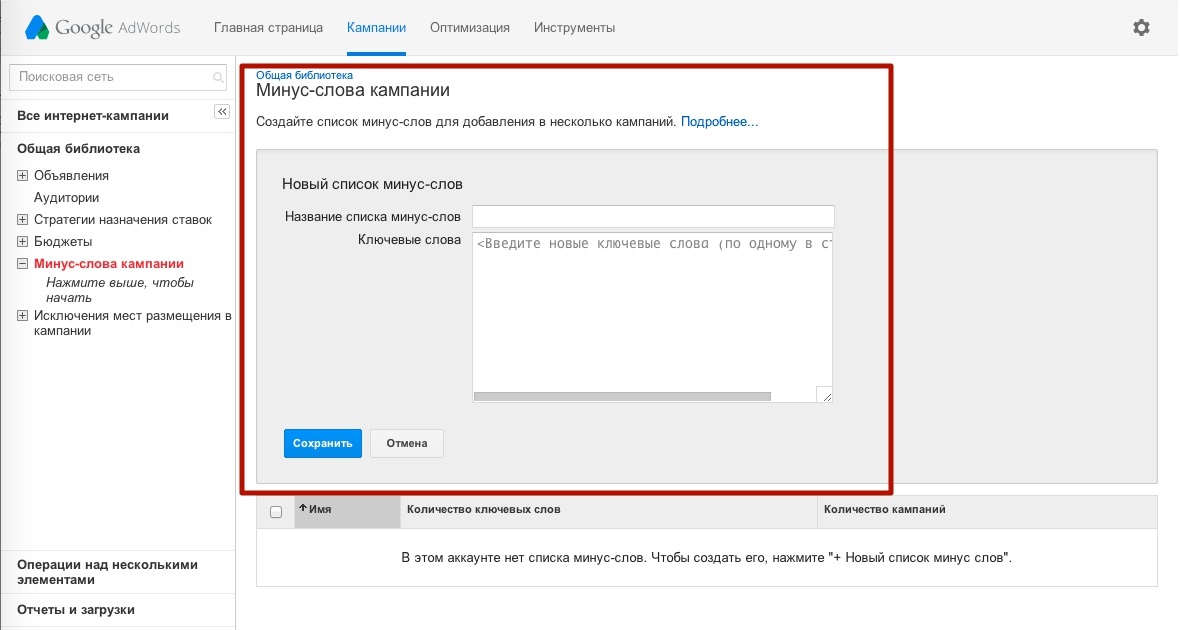 So how do you choose the right negative keywords to perform as effectively as possible? There are several ways that are good, both separately and together.
Negative phrases for Google AdWords can be obtained in this way:
Assemble yourself, thinking logically and knowing your business better than others;
Use standard ready-made lists (they are easy to find on the Internet);
Be guided by search suggestions, as well as similar queries for key phrases from the advertising campaign. You can collect them manually (on the search engine page) or using specialized programs (KeyCollector and others). This method will allow you to get the most complete list of stop words – after all, the search engine has information on the entire range of user requests for all time;
Run broad match ads and manually highlight unnecessary queries. But for this, it will be necessary to drain part of the budget for non-targeted transitions. In addition, during the tests, the CTR of the campaign will decrease, which is also not good. Therefore, this method is not the most effective.
Hint! When setting up advertising on the Display Network, it is better to avoid negative keywords, as in display advertising they can significantly reduce the reach of the campaign.
After the work done, you do not need to stop collecting negative keywords in Google AdWords – this is a continuous work that requires constant attention to get the best result (according to statistics, about 70% of search queries are new and have not been used before, which means there is no way to add them to stopword list campaign and don't adjust it anymore).
Differences in Yandex.Direct
Two sites offer negative keywords and phrases in different ways. Unlike Google Adwords, in Yandex.Direct:
You must manually enter negative keywords/phrases, considering declensions, singular and plural, word forms;
If the user's query consists of more than ten words and the eleventh or further is a negative keyword, then it will not work in this search engine and the ad will be displayed;
Sets the priority of the query higher than stop phrases (if the campaign has a negative keyword "Odessa", then the ad for the query "Buy Xiaomi smartphone Odessa" will not be shown, even if this phrase is added to the list of keywords).
It turns out that the lists of negative keywords for different sites can differ markedly, as well as the algorithms for adding them. This specificity should be studied before setting up an advertising account.
Helpful tips for creating lists of negative keywords
So, when compiling a list of negative keywords for AdWords, you should use a scrupulous and pedantic approach. This is the only way to bring contextual advertising to a new level, which will bring maximum profit.
When choosing negative keywords, consider the following tips:
Always think, modify ready-made solutions for yourself. Do not mindlessly copy ready-made lists, correlate them with your own product or business. Refine the list regularly using reports on ad impressions, if irrelevant impressions come across there, you need to block them. Always keep a balance – an excessive abundance of negative keywords will greatly reduce your audience reach;
Be mindful of negative keyword levels. Phrases that are definitely not relevant for your business need to be added at the level of the entire campaign. Stop words that may not be relevant for all ad groups – only at the group level;
Avoid key phrase conflicts. Often the same words can be found as plus and minus words within the same campaign, in which case ads will not be shown, and you risk losing targeted impressions. Use different negative lists for different campaigns, as stop words can vary depending on specific ad groups. Don't mix specific group negative keywords with the account-level list.
In a word, collecting a list of negative keywords and phrases and implementing it requires serious knowledge and time. You should not let things take their course, because this is fraught not only with the loss of money, but also with the failure to obtain the desired results.