Do you still think what else to do good in your account and use its potential to the maximum? To make your advertising campaigns more effective, you should use the power of Google Ads towards smart solutions.
Try a few options to better manage your Google ad accounts.
#1 Attribution Models
Having reached your site, the user does not always immediately perform a useful action, sometimes he needs to contact two or more times in order to decide on a call or request. The attribution model allows you to specify the value of each of the clicks in the decision chain. Attribution models make it easier to analyze ad performance and optimize ad campaigns. It's worth thinking about changing the model if your account structure is built correctly.
There are several attribution models available in Google Ads, which you can read more about here.
In the subject of simulators, we applied a linear strategy, which allowed us to consider the role of contextual advertising in the entire chain. According to the results of two weeks, we received an increase in the number of conversions by 29% and a decrease in their cost by 7%. Also, the change in the attribution model led to an improvement in the work of automatic conversion strategies, as the system began to receive more accurate data.
When changing attribution, it is worth integrating the new model into reporting. You should also actively engage in optimization, as new data will appear. After introducing a new model and making adjustments to it, it is worth evaluating its result.

#2 Smart Bidding in Google Ads
Using this bidding option allows you to use fairly large and unique data in terms of its user characteristics. This is done by the system in order to find the most optimal combination for placing bets.
To find the necessary combinations, the system uses the following data array: signals from the user, signals from Google, signals from you.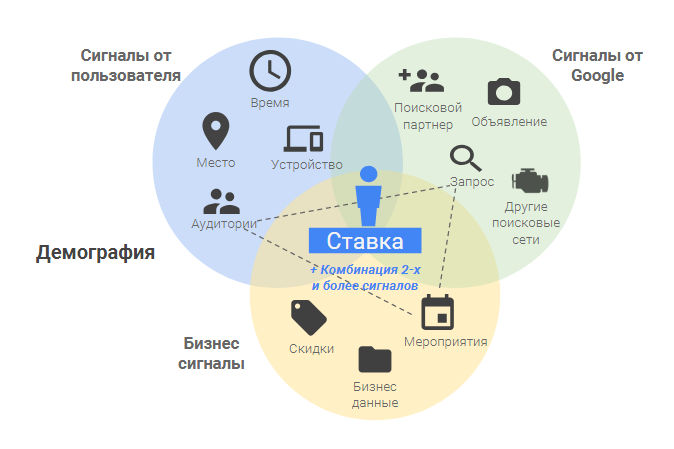 Based on these indicators, the optimal bid for each specific auction is calculated. To calculate this bid, the algorithm considers over 70 million possible actions: pages visited, content viewed, interruptions, age, gender, location, keywords, ad formats, creative performance, products viewed, etc.
Google Ads currently has 4 smart bidding options: CPA Optimizer, Max Conversions, Target CPA, Target ROAS.
Using this tool will help you save time and increase the effectiveness of your ads.
#3 Dynamic Search Ads
This tool allows you to show the most relevant ads to potential users by choosing the semantics that are contained on your site.
On average, such a campaign brings 15% more clicks, has a 30% higher CTR, and CPC, respectively, also decreases by 30%. As a result, we get more conversions with a 35% lower CPA. In addition, dynamic search ads will help you complete your list of keywords.
This campaign is easy to optimize as ads are updated regularly and automatically, titles are always relevant, and display URLs are generated automatically based on the domain name of the final URL.
In the field of beauty and health, the launch of such a campaign in a month brought 21 conversions of 50 UAH each, although over the same period, search campaigns had an average cost per conversion of 102 UAH.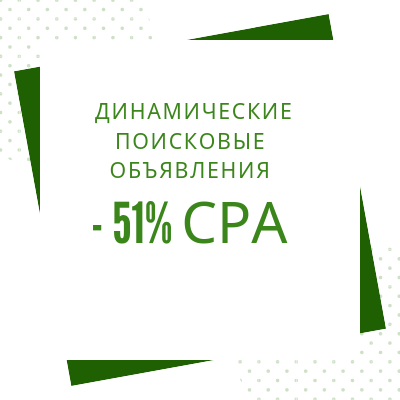 This tool is suitable for large online stores, hotels with a large selection of rooms, travel agencies and news portals.
#4 Responsive Search Ads
This is an ad format when for each user the system will select the most successful combination, according to its calculations, for a particular user from the set of options you specified earlier.
That is, the system combines your titles and descriptions in random order, choosing the most effective ones. So, the proposed option matches the search query as much as possible, which increases the likelihood of attracting a client.
Responsive search ads have 3 titles and 1-2 description lines. You can use up to 15 titles and description lines for one such ad.
To evaluate the effectiveness of this format, you should wait at least 14 days for the algorithm to be trained.
When creating, you should pay attention to the fact that all the elements that you add will blend well with each other. If there is a need for some elements to be shown only at a certain position, then you can fix them.
#5 Smart Campaigns
One of the new tools is Smart Display Campaigns. The main difference between these campaigns is that all processes in them will be automated. So, setting bids, choosing targeting and generating ads will happen automatically.
Bidding will be based on the specified target price and for each auction separately, depending on the likelihood of a purchase. As for targeting, the system will show ads more often on those sites where they are potentially more attractive. Ads will also be generated automatically: the system will generate ads from the array of data that you add to the campaign when creating it.
When starting this type of AC it says:
– check if the site has a remarketing tag and that it works correctly;
– check the volume of conversions: there must be more than 50 conversions from the Display Network in the last 30 days or more than 100 in the last 30 days from search campaigns;
– you should consider only those conversions that are the most targeted for your business. В
It's important to note that your daily budget should be several times higher than your target CPA.
#6 Responsive Display Ads
Responsive display ads have replaced regular responsive display ads. They are more flexible and mobile.
This ad type is generated automatically based on the objects you add.
Pros of this format:
ad optimization – the system generates the optimal combination of objects for each ad slot;
Wider coverage as text, image and native ads can be displayed;
can be used with dynamic remarketing by adding a feed to the campaign.
Also, after some time, you can see the effectiveness of each of the elements separately.
We use responsive display campaigns in many accounts. The main advantage is that you can track the effectiveness of each individual element and use this information in subsequent optimization.
#7 Smart Shopping Campaigns
Smart Shopping Campaigns are a "pumped up" version of Shopping campaigns.
Ads from Smart Shopping Campaigns may appear in search, Display Network, in search partners, Google Shopping, YouTube, Gmail.
This campaign automatically creates ads, manages targeting, bidding, and budget allocation. It also automatically maximizes total conversion value within a given budget, using machine learning to optimize and adjust bids.
In a month, we received 5 times more conversions for the online store using the Smart Shopping campaign than in a regular shopping campaign, and their cost is 2 times less than the average for the account.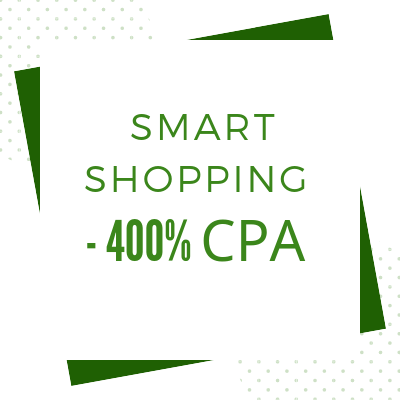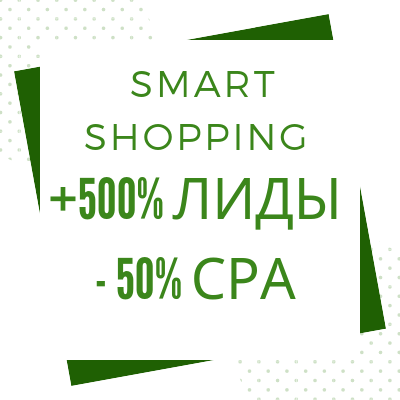 #8 TrueView for action
This type of ad aims to increase purchase intent by encouraging users to explore your offer, leave contact details, and take other actions that are useful to you.
TrueView for action is only available in In-Stream format, meaning it can be skipped after 5 seconds. An ad for this format consists of a call to action (up to 10 characters) and a title.
What does your audience look like?
In the theme of fireplaces and stoves, 49 were received in two weeks of work, which accounted for 6 of all conversions, and their cost was 4 times less than the average for the account, and 2 times less than for a regular shopping campaign.
To run this campaign, you must meet a few conditions:
At least 20 conversions from a regular shopping campaign in the last 45 days;
use gtag on the site;
have a remarketing list reaching at least 100 users;
Comply with shopping campaign requirements and rules.
At launch, it is recommended to set a budget equal to the cost of shopping campaigns and remarketing for the last period, as well as set a target ROAS (= number of conversions / advertising costs * 100%).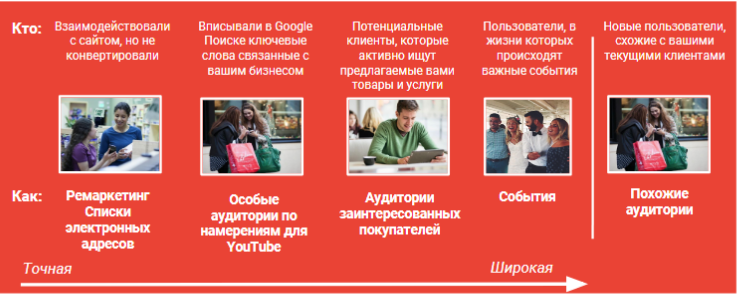 In our experience, the TrueView for action campaign in the automotive field did not bring results for a long time (more than a month) and was constantly amenable to adjustments. After the campaign received enough statistics, we received 6 conversions in three weeks.
#9 YouTube Custom Intent Audiences
According to statistics, 85% of users who use Google search also visit YouTube. This tool allows you to interact with your interested audience on YouTube.
With Custom Intent Audiences, you can be shown on YouTube to users who searched for your keywords.
When it comes to keywords to use, it's best to choose at least 50 and no more than 400. It's also a good idea to start with converting words that perform well in search. It is recommended to separate branded, general and competitor requests into different groups.
Reach out to users who are about to make a purchase decision by finding them by keywords in Google Search. This feature is designed specifically for results-driven advertisers.
As you can see, there are a lot of options for testing, so test and upgrade your AC.
Do you want a customized Google Ads strategy for your sales funnel? Call us, and we will tell you what we can be useful in 🙂