The essence of one of the automatic bidding strategies in Google Ads, "target cost per conversion", is to get the maximum number of conversions at the cost set by the advertiser.
It is based on intelligent machine learning technology that performs a series of tasks aimed at optimizing and selecting a bid for each auction automatically. In the article, we will consider the algorithm of this strategy and dwell on how to set it up correctly.
How does the target CPA bidding strategy work?
Let's say you manufacture and sell a certain product. Your costs for its manufacture and transportation, as well as staff salaries, amount to 1,000 hryvnias. The product can be sold for 1500 hryvnias. So, in order not to go into the red, you can spend no more than 500 hryvnias to attract a new buyer. This is the maximum cost per conversion at which it is profitable to pay for advertising.
In accordance with the target CPA bidding strategy, the system analyzes the collected statistical information over a long period of time.
It captures contextual criteria — presence in the remarketing list, geographic location, type of gadget and browser installed on it, time — so that based on these data, you can then select an audience loyal to your product and ready to make a deal. Such statistics help to evaluate the best opportunities for displaying ads.
If conversion monitoring is set up correctly, Google will provide information about how many buyers the ad attracted and the amount of revenue from transactions with these clients.
What does it take to make Target CPA work effectively?
Target CPA is effective when enough information is collected to optimize. And the more statistics accumulated, the higher the return on investment in advertising.
Advice! Before switching to a new strategy, make sure that the system has accumulated enough information for its correct operation — at least 30 conversions over the past month. It is important that their distribution over time be uniform, and no sharp jumps have been recorded in recent days.
You can get a preview of your strategy before it even starts with a handy tool that AdWords calls the Campaign Bid Simulator. To launch it, look for the following icon in the system:

If you need to collect additional information on any campaign or ad group, a strike through simulator icon will be displayed:

How do I set up a Target CPA strategy in Google Ads?
To start setting up the "Target CPA" strategy in Google Ads, check the box next to the required campaign, then in the list of actions that appears, click on "Change Bid Strategy":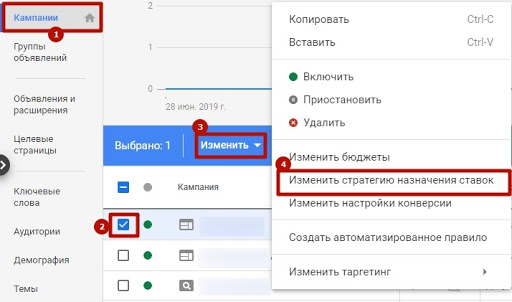 Check the "Target CPA" strategy from the drop-down list: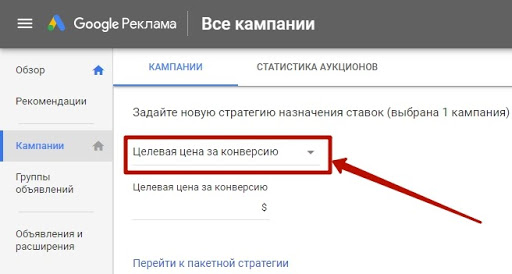 If all changes are correct, save them.