In the past few years, hyperlocal targeting has been gaining popularity. Many specialists working in the field of Internet marketing call this tool one of the main advertising trends of 2021.
Hyperlocal targeting in advertising makes it possible to form an audience whose sphere of vital interests is geographically close to your company. This allows you to direct the marketing budget funds pointwise, only to those users who can get to the advertised organization.
Important! Setting up hyperlocal targeting is not an easy task. It requires taking into account a large number of features.
What is hyperlocal targeting?
Hyper-local targeting (or super-geo-targeting) is a restriction of the display of advertising in a given territory. The target audience is created based on location. Advertising can be shown, for example, to residents of a certain house, area, or to those who are often and for a long time within a kilometer radius from your restaurant or store. This mechanism is most in demand for offline business.
Information! Ads are shown only to the group that is physically present or has recently been in the given territory.
How does hyperlocal targeting work in contextual advertising?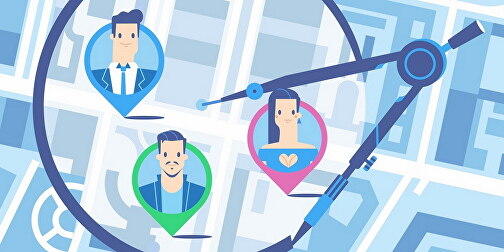 Let's consider an example when a person visited a bistro in the area of Shevchenko Park. If there is consent to the processing of personal data in the settings of his phone, the exact location will be transmitted to the system, after which the client will begin to receive promotional messages about services provided nearby. These can be coffee shops, gas stations, pharmacies or shops.
There is a need for entrepreneurs who own small businesses to find potential customers within the territorial scope of their organization and broadcast their offers to them. Hyperlocal targeting in contextual advertising helps to cope with this. Consumers rarely refine their query on their own, trying to find a product or service as close to their location as possible. Local advertising comes to the rescue.
A small business owner who sells flowers at a kiosk can waste their advertising budget by showing ads to people who are too far away. When setting up such a campaign, to determine the target audience, you should specify the preferred geolocation – a specific street, block, or distance to a given point. By analyzing this information, search engines will be able to display ads only to users who are close to the desired location.
The benefits of using supergeotargeting
The advantages of hyperlocation targeting are:
The ability to increase both up-selling and cross-selling by attracting "hot" buyers located nearby;
The ability to choose the most appropriate and effective ad formats using segmentation based on geolocation;
Reducing advertising costs by limiting ad impressions to those who never visit a given location;
Because the geolocation attribute is taken into account when displaying ads, relevance increases, and, consequently, conversion increases;
The ability to use additional settings to increase the target audience, "similar" to customers who constantly visit certain places and companies;
The ability to manage bids by setting lower and higher coefficients, as well as to get an additional effect from advertising networks;
The ability to combine multiple targeting conditions. For example, hyperlocation works well with goal retargeting or sociodemographic targeting. For marketing specialists, there are almost unlimited possibilities for combining the features of selecting an audience for advertising.
Who is Google Ads hyperlocal targeting good for?
Hyperlocal targeting in Google Ads is a relatively new tool for setting up an advertising campaign, so it is not always possible to evaluate the benefits of using it in each specific case. Let's take a look at the areas of business where hyperlocal targeting works most effectively.
Local Companies
It is impractical to advertise local-scale organizations throughout the city, and sometimes even in one district. Hyperlocal targeting is optimal for beauty salons, hairdressers, flower shops, pharmacies, dental offices, small bistros and cafes, service stations and other organizations operating offline in the b2c sector.
Potential clients of such organizations can be people with significantly different sociodemographic characteristics, which means that limiting the audience by age, interests or social status is not always effective. The key characteristic that unites them all is geolocation.
Companies with a narrow target audience
Niche products or services that are of interest to a specific target audience visiting certain places can be promoted using hyperlocal targeting. Sports merchandise ads can be shown to football fans when they are watching a match with their favorite team at the stadium. And future newlyweds are likely to be interested in the announcement of the services of a wedding salon after they visit the registry office to apply for marriage.
Sometimes you can use less obvious location references. For example, a health food store might show ads to visitors to a fitness center. And residents of an elite residential complex who were interested in repairs will most likely be interested in the offer of a salon that sells expensive parquet.
Peculiarities of hyperlocal targeting in Google Ads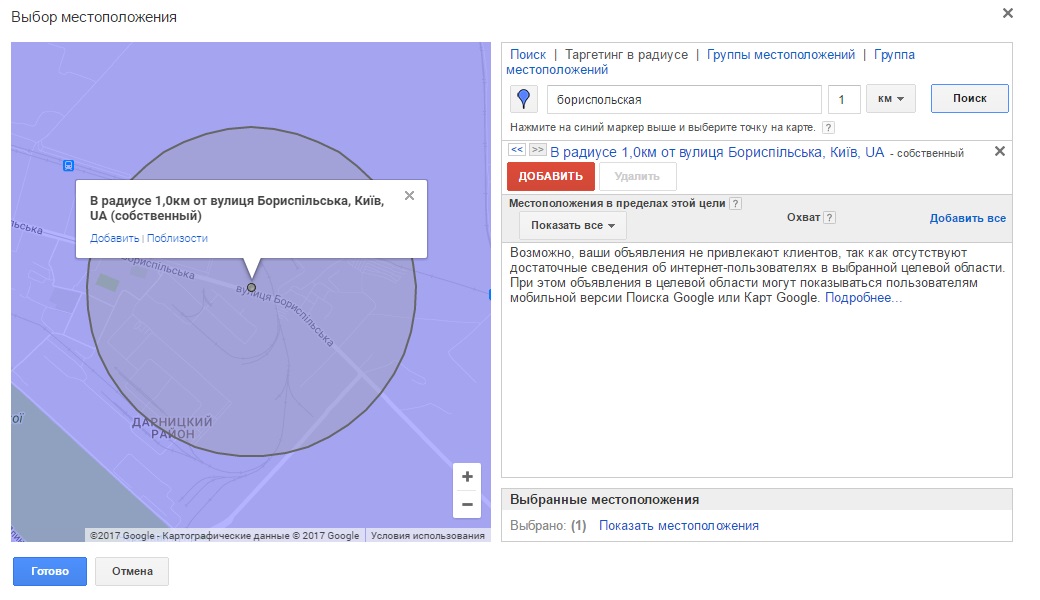 You can set up hyper-local targeting in Google Ads for both new and existing campaigns. To enter information about targeting within a radius, you need to go to the "Locations" settings menu.
Important! In Google Ads, it is not possible to set a radius less than 1 km. At the same time, it is possible to add and exclude point addresses and objects.
Your ad will be more visible in search results if you add the organization's physical address to it. It will also help customers find the company faster and estimate the time it takes to get to it.
The address should be written in the Google My Business card, and then linked to your Google AdWords account. You can also put phone numbers there. For each outlet, if there are several, separate cards must be created in Google My Business.
Clicking on the line with information about the address of the business redirects the user to the Google Maps application, where he has the opportunity to build a route and see the details of the Google My Business account. The mechanism works the same for both mobile devices and desktops. However, an additional advantage is available on phones – a button to make a call right in the ad.
Hyperlocal Targeting Tips
Limit your target audience. Setting up hyperlocal targeting makes it possible to show ads to everyone who is nearby. But most likely, not every person from this group is a potential client. To increase the effectiveness of advertising, you should set the parameters by which additional audience selection will be carried out: interests, age, financial capabilities;
Track ad performance at different times of the day. For example, business lunches are relevant only from noon to 16:00;
Test different formats. Determine the context in which your audience consumes advertising information: reading an ad on the run looking for a quick bite to eat, or choosing the best place from several options while sitting in the comfort of their homes or offices. The format and content of an effective advertising message depends on this. When there is free time, users are interested in videos, but if you need to make a quick decision, a banner ad works best;
Mention in the announcement of places whose names are well-known. Referring to well-known and popular objects or places located nearby helps the audience quickly navigate, understand and remember exactly where the company is located. These can be monuments, parks, large shops, sports complexes, etc.;
Show landmarks along the route. Visual content ads should show what the company's office looks like from the street. If potential customers often pass by, then a photo of a door, a house or the surrounding landscape will help them focus on a familiar place and remember the route faster;
Use a small radius. The recommended maximum distance is 2.5 km. When setting up geolocation, there are numerous factors to consider. If the business is related to essential goods, as is the case with a convenience store, the radius should be kept to a minimum. If we are talking about advertising a restaurant or cafe, then it is better to increase the targeting area;
Experiment with rates. You can reduce the number of ineffective impressions by adjusting your bids. This makes it possible to exclude non-target audience by time, gender, age and other parameters.
An example! To promote business lunches, you should use a boost factor in the morning when potential customers decide where to go for lunch, and turn off advertising altogether at night and in the evening. When advertising a women's beauty salon, it is better to turn off advertisements to men. It is also advisable to set low rates for very young audiences and older people.