It's quite easy to take into account conversion actions when a buyer goes to the website of an online store through an advertising link and places an order on its page. In reality, everything is not so clear. The user can make a purchase by phone or make a deal at an offline point, making a positive decision only after talking with the manager.
The very moment of purchase may come after a fairly long period of time after clicking on the ad. But this does not at all deprive you of the opportunity to evaluate the effectiveness of traffic channels and determine which advertising campaigns brought you a client.
Analyzing what consumers are doing offline is just as important as understanding what's going on online. To do this, relying on up-to-date numbers and data, you should set up offline conversion tracking in Google Ads.
What are offline conversions in Google Ads?
The concept of offline conversion in Google advertising refers to the targeted actions performed offline by visitors after they have read a website or an advertising message.
Such an event is usually recorded in the CRM system. All information is transmitted to the AdWords account when a transaction enters a certain status (sale, shipment of goods, etc.) This entry in the database is an offline conversion.
What are the benefits of offline conversion tracking?
Tracking Google Ads offline conversions helps PPC specialist:
Understand the audience. Offline conversion monitoring allows you to find out what factors stimulate buyers to close deals with you.
Estimate the sources of traffic to the site. You will be able to more accurately determine the effectiveness of a particular advertising channel.
Track the client path. Before the conversion, the user could have come to the site using a Google Ads ad, follow you on social networks, and then make an offline purchase at a point of sale. If you track only online orders, such a visitor will be perceived by the marketer as a potential conversion, to which a certain strategy should be applied – include in remarketing lists, offer promotions, etc. But since we know that the purchase has already been made, the best solution is not to waste resources on motivating this user. It may be more appropriate to offer him related products or accessories.
Find new keywords. Monitoring popular terms and questions that customers ask in an offline store or by phone helps to select new key phrases for contextual advertising settings.
Optimize advertising spend. If most of the company's customers call the call center, it may be worth allocating a larger budget for advertisements with a phone number. Conversely, if all orders are received exclusively online, it is inappropriate to increase the cost of promoting the company's offline outlets.
Make targeting more precise. This helps to increase revenue, which leads to an increase in the return on investment in advertising.
How does offline conversion work in Google Ads?
Offline conversions in AdWords can be tracked by both clicks and calls. The second option involves sending a phone number to Google for forwarding. It is not yet available in Ukraine.
The offline conversion mechanism looks like this:
Ad navigation. For each potential buyer who clicks on an ad, visits any page of the site and studies information about the product on it, the algorithm generates a unique GCLID.
Fixing information in CRM. After a visitor completes an offline conversion action, you manually enter his ID into the system.
Export data from CRM to AdWords. The CRM system transmits all conversion information to Google Ads.
Setting up offline Google Ads conversion tracking
The first step in setting up offline conversion tracking in Google Ads is to "import from another system" in your ad account: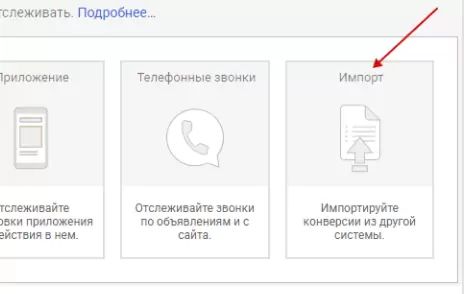 Specify whether you plan to track referrals or phone calls: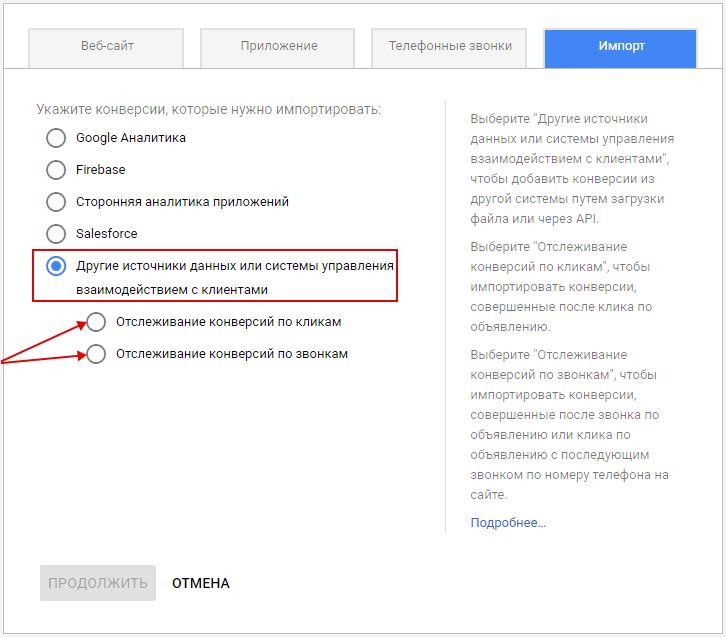 After that, proceed as follows:
Add code to the site
On all pages where the user has the option to fill out a form, place a custom code snippet to pass GCLIDs to your lead tracking system.
On each page of the web resource, place a script that saves GCLIDs.
Ensure that GCLIDs are stored alongside customer information in your system.
Advice! Such a case can be solved much faster by setting the corresponding task to the programmer.
Google Spreadsheet Upload Settings
Completing this step allows you to correctly import data from CRM into Google's Spreadsheets service. You must provide the following information for all offline conversions:
Google Click ID (jump ID);
Conversion Name (conversion name);
Conversion Time (exact time of the conversion action);
Conversion Value. If we leave this field empty during configuration, the default value will be written to it;
Conversion Currency (selected currency).
Google Spreadsheet Integration with Ads Account
Integration takes place using the Zapier system, which allows you to link data from various services.
Create an email (or log in to an existing account) with the rights required to manage your Google Ads account. From the same mail, you need to work with Zapier. Integrate Spreadsheets and AdWords: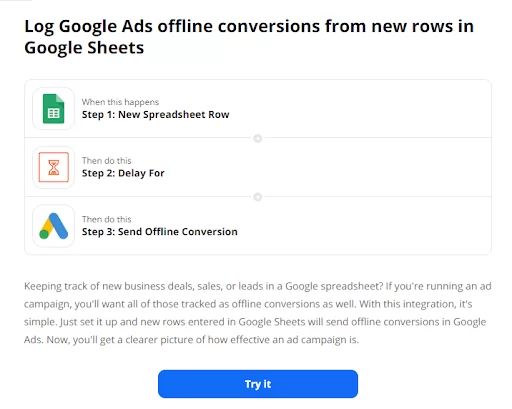 After the integration is completed, you should enable offline conversion tracking in Google Ads:

Now, a PPC specialist has the opportunity to use a convenient tool to increase sales and qualify leads.