YouTube ranks second in the ranking of the most popular resources on the World Wide Web. Today, video hosting advertising is 85% more effective than television promotional content. Therefore, if you still do not use this site, you are likely to deprive yourself of many opportunities.
Advertising on YouTube is done through Google Ads. However, this progress is significantly different from other options for contextual campaigns.
Important! The vast majority of YouTube content is represented by videos of varying lengths, so marketing activity on this platform has its own characteristics and allows you to realize unique opportunities.
This article will help you if you are planning to run an ad on YouTube, but do not know where to start. Here you will find a step-by-step algorithm for creating and launching video campaigns. We'll explain in detail how to set up YouTube advertising and maximize its effectiveness.
Instructions for setting up a YouTube advertising campaign
As part of setting up an advertising campaign on YouTube, a video is created and then posted on the advertiser's channel. You then set your impression preferences in your Google Ads account, limit your targeting, and adjust your statistics collection.
Let's look at the site algorithm in more detail in our YouTube Ad Setup Guide.
Create your YouTube channel
The first step in setting up YouTube advertising is to launch a channel where you can later upload promotional videos. Sign in to YouTube by using your Google Account login and password and selecting "Your Channel":

You can use either the name listed in your Google Account or another option associated with the brand being promoted. After following this step of the instructions, you will be able to download promotional videos.
There are several ways to publish video content on YouTube:
Open Video – Anyone can watch it.
Videos hidden in search or on the channel, but available for viewing with a direct hyperlink.
Restricted video provided with a special invitation.
Videos that are accessed at a time chosen by the author.
When publishing promotional videos used for advertising purposes, make public or make the video available by following the link.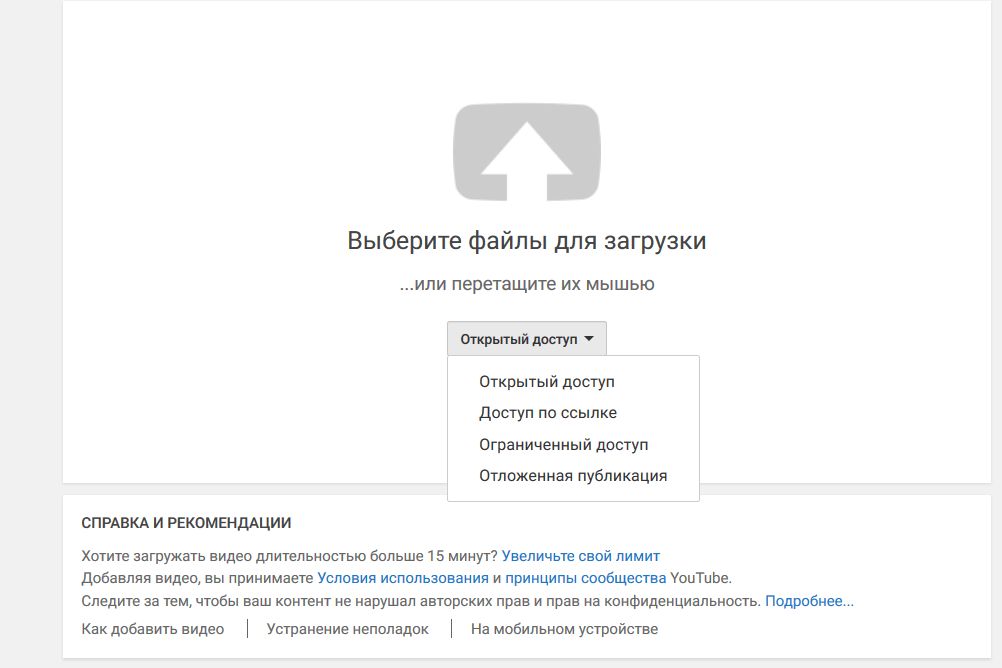 Create an advertising campaign on YouTube via Google Ads
YouTube advertising settings are installed in Google Ads. Make the Video type active in the AdWords interface: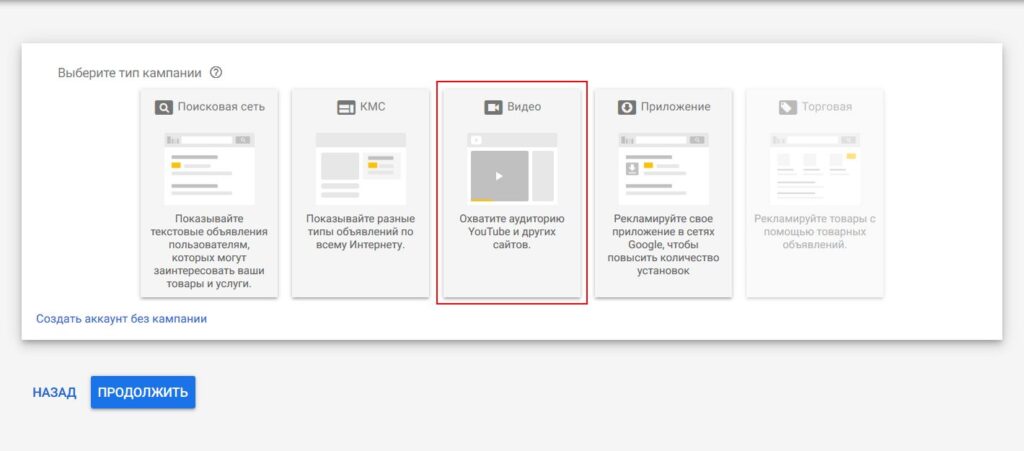 Determine if your campaign has a marketing goal and check the box.
Rada! Campaign without a specified goal, allows a more flexible approach to setting up advertising. If you do not have enough experience with the platform, we recommend choosing the second, simpler option.
The system proposes to specify one of four goals:
brand promotion and outreach;
increase interest in the brand or product;
Web resource traffic;
potential buyers.
You can choose the type of campaign from the following options:
Custom. Here you can access the change of any parameter, based on the tasks. If you have enough experience with AdWords, you can stop at this point and omit the remaining 5 subtypes.
Increase conversions. Increases audience interaction.
In-Stream Invalid Ads. The user cannot skip the promo video.
Out-Stream. Used to launch a mobile-targeted campaign if needed.
Ad sequence. If your plans include publishing a series of content-related commercials, opt for this option.
Shopping. Suitable for those who want to promote their product among the "warm" audience, ready to sign a deal.
Next step, determine your budget, come up with a name for your campaign, and specify start and end dates.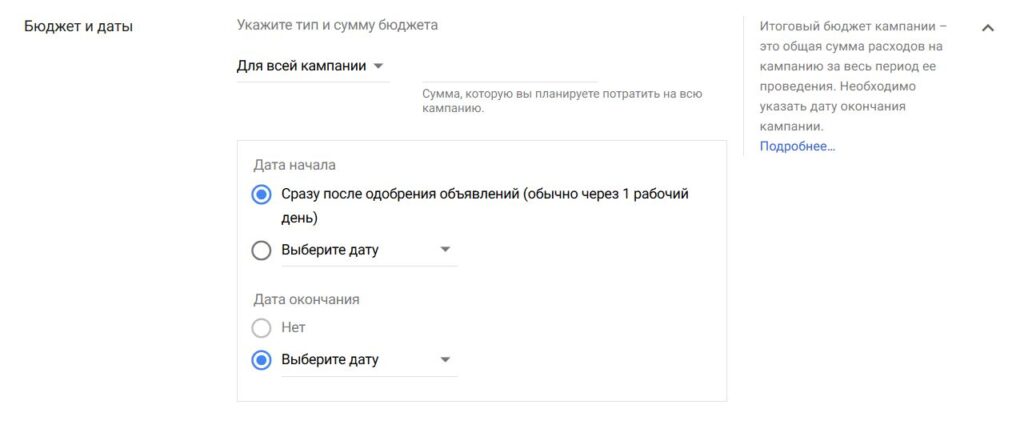 If a custom subtype is selected, the system will ask you to specify the most appropriate strategy from the following list:
Maximum cost of viewing (CPV). Calculate the maximum amount you are willing to spend per view and record it. This clause is usually used to promote within a clearly limited target audience, which is located in the last stages of the sales funnel.
Target cost-per-thousand impressions (CPM). Determine how much you're willing to spend on average per thousand impressions. This format is used when the goal of the campaign is to increase visibility.

Having established geographical and linguistic criteria, it is necessary to determine where the shows are planned. Options include YouTube search engine, video content on the platform and / or other sites in the Google Display Network.

Let's move on to the next step, where we will select the resources that are appropriate for the content. The system offers to use the standard version. Simply put, in this step you can censor the display context of your ad by limiting it, just as it does when determining movie age ratings.
By selecting 'Advanced Resources', be prepared for the ad to appear when you show some videos with a delicate video. Coverage is likely to increase, but it is possible that consumers will begin to associate your product with outspoken topics.
The third option – "Precise Resource Settings" – not only blocks the display of delicate videos, but also allows you to exclude videos only on a given topic, which is unacceptable to you. This greatly narrows the reach, but this choice is often justified for some brands.
Information! Google is opting out of this feature.
The next step is to name the ad group and set targeting and content preferences to show video ads: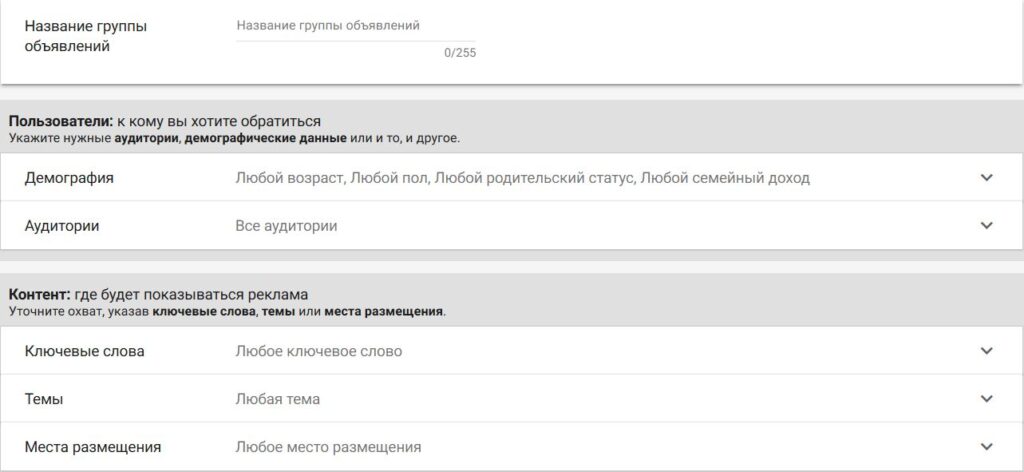 Finally, determine the maximum cost of viewing and provide a link to the video:

Select your target audience
Today, contextualists rarely turn to broad targeting, preferring those selected according to strict CA criteria. This is due to the fact that personalization of the advertising message is impossible with a poorly detailed sample. And working with a narrow segment allows you to increase the conversion rate and reduce the cost of conversion (CPC).
Consider segments that allow you to detail your sample to improve the effectiveness of your targeted advertising.
Special audiences on purpose
This is a segmentation of the ad groups by queries and landing pages that you want to target.
The system allows you to add automatically collected audience segments, and create special audiences on purpose. To create them, click on the "+" sign next to the appropriate item in the campaign audience settings block.
Write down key phrases, links, programs or thematic resources associated with the product being promoted. This will allow you to get a CA interested in viewing your ad.
For example, if you're launching a travel channel that publishes content about places of interest, use key queries related to those regions or links to the most popular travel resources.
Important! Don't forget to monitor your conversions when you choose to automatically target special audiences.
This allows the system to analyze what a person is trying to find or view when interacting with an ad. Then the algorithm will form and complement the audience based on user actions.
Which way is better?
The first option works great when the advertiser already has an exhaustive list of key phrases and links to thematic resources. You need at least a dozen ready-made positions to improve your audience.
Auto mode shows good results when enough traffic and conversions are collected for analysis.
Interested users
This mechanism allows you to segment users who are researching topics and considering purchasing a product similar to what you are promoting.
If you look at such an audience from the perspective of positioning in the sales funnel, it is at the lowest level. The service allows you to choose from a large list of subcategories. New items that are regularly added to this list must be tested.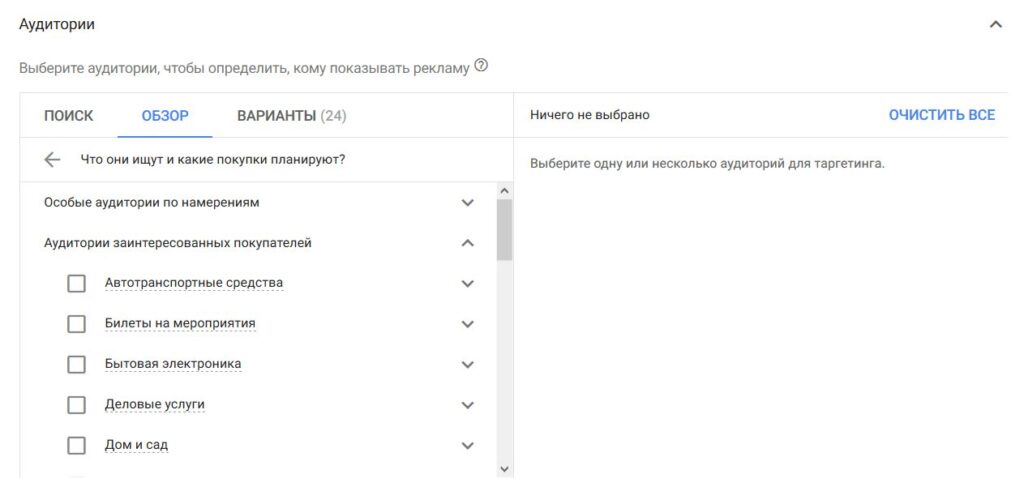 Information! Interested audiences can be combined with remarketing.
Remarketing Audiences
Google Remarketing is a tool to help bring advertising links to people who have already visited your website, used the program, or watched videos on YouTube. Remarketing solves the problem of improving brand awareness and encouraging users to make a previously deferred agreement.
For video ads, you can choose from four types of remarketing CAs:
Standard. Ads will be visible to anyone who has previously visited the app or web resource.
Dynamic remarketing. The basic content of the ad varies depending on which product the prospect has previously searched for and explored.
Video remarketing. The campaign is targeted to people who have visited your channel or watched videos.
Remarketing Client List. This is your own mode of adding information. You can download the data yourself and then run a video ad targeted to the users in this list.
Google's algorithms automatically generate customizable remarketing audiences. All information about users who interacted with the video is stored on the system, provided that your channel is associated with a Google Ads account.
Google accumulates data on:
View all videos posted on the channel;
view the selected video;
user likes;
channel subscription facts;
visit the channel page;
add videos to the playlist posted on the channel;
content comments;
facts about using the opportunity to share a video.
Targeting is later built on this information. To view or edit your lists, use the AdWords Library Audience Manager:
The main difference between the remarketing audience and the interested audience is that the first tool reminds visitors about your product over a long sales cycle, and the second selects to show those who are just getting ready to make a deal. Additionally, remarketing helps to communicate with customers who may contact you again.
Connect Analytics
One of the most difficult tasks of managing YouTube campaigns is to evaluate the return on investment. Most likely, you will not see an increase in the number of transactions in the first stage of launching advertising, if it is aimed at the top or middle of the sales funnel.
Important! The video can initiate the sale itself, even if the user did not click on the ad unit. Therefore, by relying solely on interaction, you are more likely to underestimate the impact that reviews have on the decision-making process.
The following attribution models are implemented in the system:
Any advertising interactions are associated with any conversions within a 30-day interval.
Watching a video for 10 seconds or more in the absence of interaction is correlated with any conversion made within 3 days of watching it.
The attribution period can be reduced or increased by the advertiser in the tool settings.
Information! Basic YouTube Ad Conversion Reports are available in Google Ads, but their data is recorded solely on a "Last Click" basis.
In the Reports module, click on the link of the same name, use the "Conversions" section to go to their sources. Filter conversions from YouTube videos: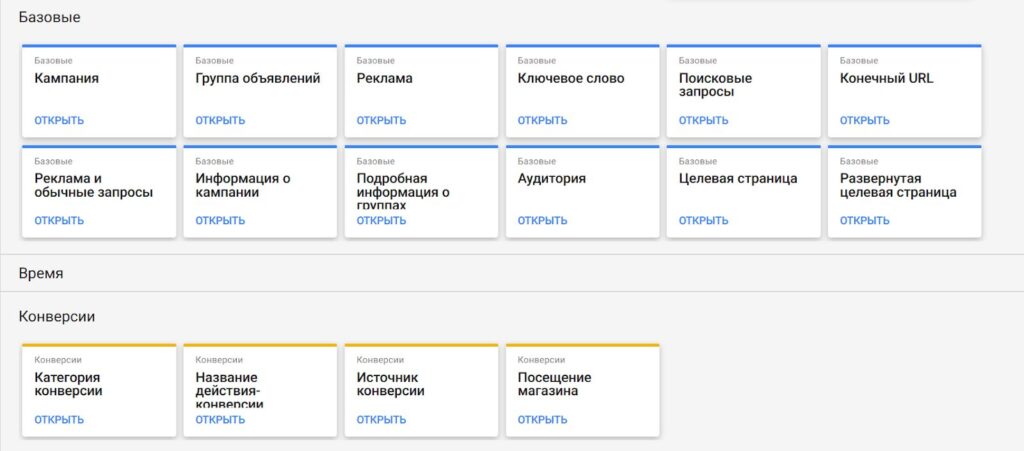 You can use YouTube Studio to monitor not only commercials but also other videos. This is a handy tool to evaluate the correlation of different settings (device types, final screensavers, etc.) with the number of views.
What to consider when setting up advertising on YouTube?
Use the subtype of the campaign that most fully reflects its goals. If you sell goods, the trading campaign will work best. Select a video ad for the service.
Make videos short but memorable. Remember that visitors are interested in content, not advertising, which is a distraction. That's why it's important to hook the viewer in the first few seconds.
Adjust your targeting carefully. Excessive restrictions sometimes lead to no impressions. As a guide, you can take the values of the coverage calculated at the start.
Don't jump to conclusions. Once launched, don't change your campaign settings for several days. Allow the system to accumulate statistical information and optimize. The analysis and conclusions should be made only after that.
Use YouTube in parallel with advertising tools. Conversions will be minimal if you opt out of remarketing.
Build a strategy based on the stages of the sales funnel. The ideal "come and buy" situation will be the exception rather than the rule. So think about how to set up advertising on YouTube to guide the user through the conversion chain.
Remember the importance of the first "5 seconds". It is during this time that the user decides whether to continue watching the video.
Add a call to action. Tell your potential customer what to do next: go to the website, register for the promotion, download the program, visit the store, etc.
Formulate hypotheses and test them. Test different creatives on one segment or one creative on multiple samples, compare the performance of different formats.