To start selling and show a stable financial result, it is not enough to create a website and place it on the network. It is necessary to achieve a certain level of attendance and popularity of a web resource. At the same time, it is important to control the budget so as not to go into negative territory, as well as monitor the quality of the attracted traffic.
Determining which methods of attracting visitors to the site are right for your business is not always quick and easy. However, in every niche there are definitely such ways. In this article, you can read how to increase traffic to your online store and choose a traffic source that suits your needs.
How to prepare for increasing online store traffic?
Even before launching marketing activities aimed at increasing traffic to the online store, be sure to audit the site and correct all identified shortcomings. Otherwise, resources will be wasted.
Before you increase your online store traffic:
Analyze the download speed. If pages load slowly, even the highest quality traffic is not converted into sales. Only the bounce rate will grow, because most visitors will close the page without waiting for it to fully load. Attract traffic to the site only after making sure that all the shortcomings are fixed and the download speed is consistently high;
Improve usability. The lack of an adaptive version, poorly structured content, illogical navigation, program errors – all this forms a user experience, therefore, negatively affects site traffic;
Make your offer understandable. List the benefits a visitor receives by placing an order with you. He should not search and delve into the details, but understand from the first page why your offer wins in comparison with others;
Remove annoying ads. A large number of animated banners and pop-ups are viewed negatively by visitors. Intrusive advertising can scare them away, and then the investment in marketing activities will not pay off;
Use a reliable hosting provider. If you expect traffic to increase significantly, make sure your ISP provides quality hosting. After all, the load on the server hosting the site will increase.
How to increase traffic to the online store?
The increase in the number of visitors is not always accompanied by a proportional increase in sales. Some companies, whose online store audience numbers in the thousands, close fewer than a dozen transactions per day. Others can boast of fifty orders with up to 250 visitors per day. The reason for such a significant difference is related to the difference in traffic quality.
In order to increase traffic to the online store and at the same time achieve the required level of sales, concentrate your efforts on the target audience – on those people who will be interested in your offer. To do this, use one or more sources:
Contextual advertising
The fastest way to increase traffic to an online store is with paid traffic. Even a small business today has the opportunity to effectively use the advertising tools of Google Ads: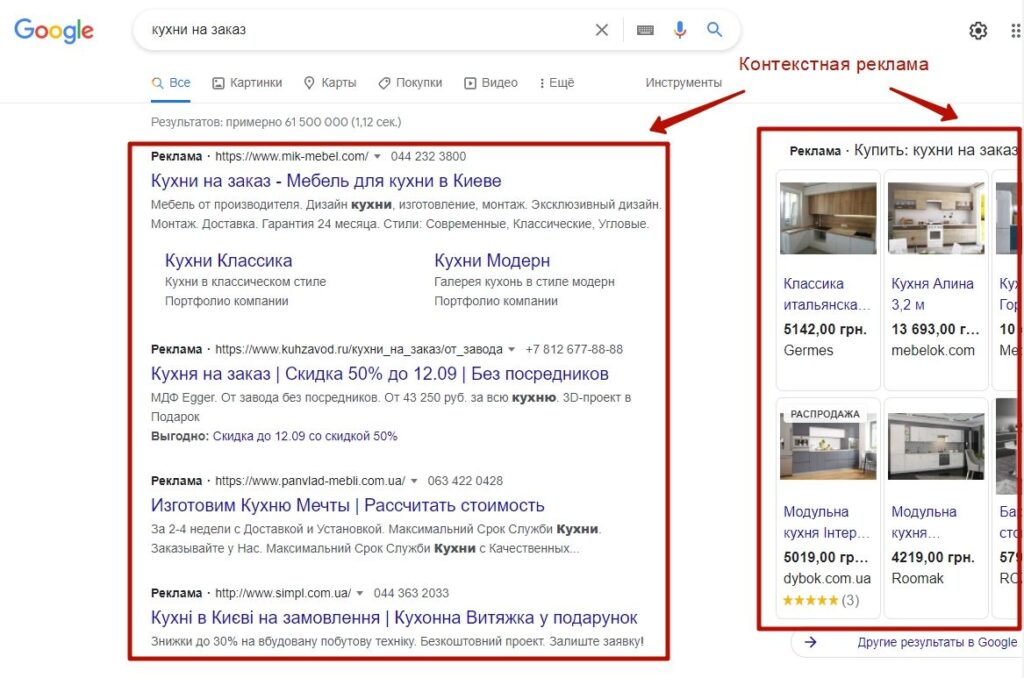 Contextual advertising is displayed as a highlighted block above the main Google search results. The visitor immediately sees the offer, while being a potential buyer, because he entered the target query.
Information! This type of advertising is based on the PPC model – only clicks, calls or video views are paid.
An advertising campaign can be organized in one of three ways:
Ads in search results. The relevant link to the advertiser's website is displayed in a dedicated block located above the organic issue. These ads have the highest conversion rate. It helps not only to attract traffic, but also to increase sales;
Display Network. Advertiser's banners, videos and links are placed on partner sites. Using this option, you can effectively convey information about the company or offer to the target audience;
Remarketing. Advertising is shown to those who are already interested in your products or store. In terms of conversion rate, this method of driving traffic is second only to classic search ads.
Important! To increase the return on investment in advertising, it is necessary to monitor the performance indicators of campaigns and optimize them regularly.
If contextual advertising is a new direction for you and there is no previous experience in this area, then you will need to make a lot of effort and spend time on learning to set up a campaign well. Remember that gaining experience for a beginner can be worth the wasted advertising budget.
Because if you have never worked with Google Ads, take a training course on contextual advertising or sign an agreement with professional agency.
Google Shopping
If the niche you work in is highly competitive, and you offer products at an attractive price, use Shopping ads in Google search. In this case, this is the most effective way to increase the number of visitors and orders.
Trading ads are quite informative and attract attention. Ad clicks are quite cheap and have good conversion rates. The service allows you to create ads in automatic mode and uses the contents of your online platform for this. All you need to do is add the appropriate product feed to your Google Merchant Center account.
SEO optimization
In order for users to come to the site from organic search results, it must be optimized taking into account certain requirements.
It is important to keep track of these positions:
Uniqueness. Any descriptions, characteristics of products or categories, articles and texts must be unique. There are many services for checking the site according to this criterion. If the uniqueness of the content is at a low level, you will not be able to advance to the first positions in the search;
Semantics. Text content, meta-data and other elements of a web resource should be created taking into account the semantic core, which is a systematic list of key queries. In the process of its collection, information from different databases is used, which is then checked for relevance and sorted. If there is no distribution of requests across pages, full website promotion is impossible;
Meta data. All pages of a web resource, whether it is the main page, a page of a certain product category or a product card, must have meta tags (title, description);
Key phrases. Articles, descriptions, metadata and headings should include words and phrases from the semantic core, which should be divided into clusters. Don't forget about images as well, filling in the alt tag for them;
Logical structure. The structure of an online store should be thought out to the smallest detail, each product should correspond to a certain category. If the products on the site differ from each other due to certain characteristics, make convenient filters for them. For example, for a furniture store, you can create a "white sofas" filter. On a page with such a filter, the user will see only white sofas, which is very convenient if he is looking for just that.
Targeted advertising in social networks
Popular social networks are visited by millions of users who can be motivated to complete a conversion action by highlighting groups that correspond to almost any portrait of a potential buyer.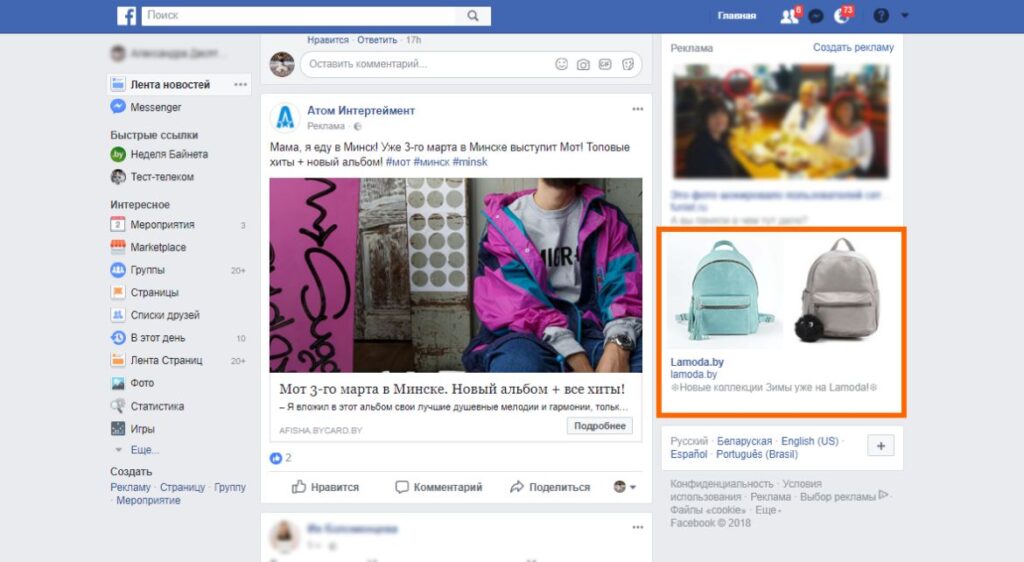 The success of such an advertising campaign directly depends on how competently the audience is selected (by gender, age, marital status, location, participation in communities, interests, language proficiency, etc.). In addition, the creatives used are also important – whether they will be positively perceived by the selected user groups.
Advice! It is unlikely that you will be able to hit the target right away, therefore, in order to find the most effective combinations, you need to test several formats, CTAs, and landings. This is sure to be done even by professional marketers with extensive experience.
Services such as Facebook and Instagram have a self-learning mechanism. They optimize active campaigns on an ongoing basis. Nevertheless, at the first stage, it is necessary to install a pixel (an analytics system) on the website pages, set goals and allocate a certain budget for traffic testing.
E-mail newsletters
Sending emails is considered obsolete by many sources. However, with its help, you can still successfully attract traffic to the site and convert it into sales. To start an email marketing campaign:
Specify the purpose of the mailing. Inform potential customers about a promotion or tell about a new collection of goods on sale – the mailing list must have a clear goal;
Select a service to launch a mailing list. For example, simple platforms with custom MailChimp or Unisender templates;
Set a theme. It is on the basis of how concise, interesting and convincing it is that the user decides whether he should read the offer in more detail;
Think about the content. It is important to put useful data in the letter, it should catch attention and motivate the user to go to the site;
Use calls to action. Link the text and images to the advertised web resource, you should also place a highly visible call button;
Grow your mailing list. To encourage the user to tell you the address of his mailbox, offer him a discount on the purchase;
Visualize information. Buyers do not like to choose blindly, so use a photo of the product, illustrate the text to attract the attention of a potential customer.
Price Aggregators
Price aggregators accumulate data about goods from different sellers. Using these services, buyers can compare prices, check product availability and delivery terms, and read reviews. Price aggregators help owners of online stores to attract additional traffic.
Consumers using such systems usually know exactly what they want to buy. They are already prepared for the purchase and plan to make it. It is only required to determine the place for the transaction, that is, to find a suitable seller.
Freemarket, Hotline, Nadavi, Price.ua, E-katalog, etc. systems are popular in Ukraine. By posting information about your product on them, you will get the maximum coverage of price aggregator users.
Advice! Not all such systems will provide you with the same effect. Sales through some of them may not even cover the funds that were spent on placement in the database. In this regard, it is recommended to evaluate the intermediate result some time after the start of work with the site.
Number of clicks and conversion are the most informative indicators, but it is important to consider the cost of a click. Calculate how much it costs to acquire a single client in each system, and compare the figures to determine the sites that work best.
Message boards
It is not possible to provide high-quality traffic from bulletin boards with all products. However, for online catalogs of furniture, plumbing equipment or building materials, Olx.ua or Izi.ua resources can be a good source of new targeted visitors: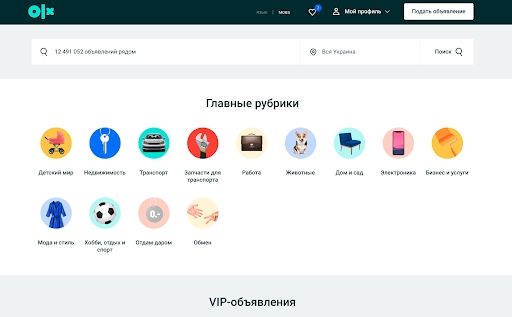 In some cases, online stores use such platforms by publishing paid advertisements for a product. It is difficult to determine how effective such placement will be, but it is worth trying out the channel.