Discovery Ads is a relatively new ad format announced by Google in mid-2020. Many companies in Ukraine are already actively using it, and report excellent performance of such advertising.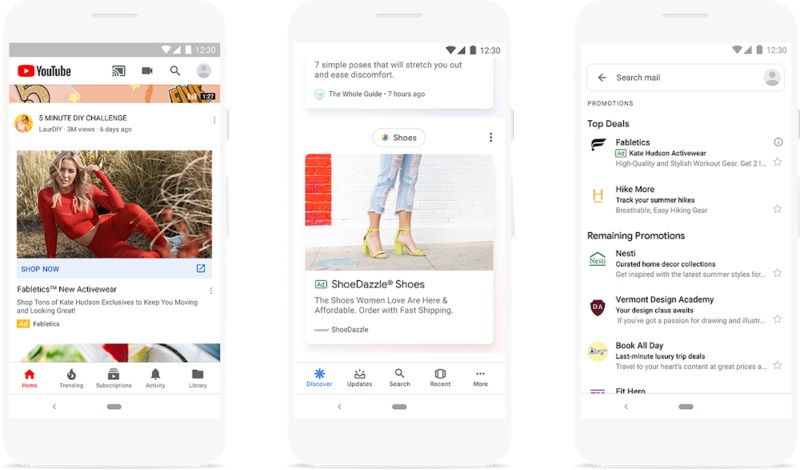 The Discovery Ads advertising campaign allows you to attract an audience that has not previously planned to purchase the promoted product. Based on a deep analysis of behavioral factors, the algorithm selects those users who might be really interested in your product.
An important advantage of the format is that it takes into account not only user behavior, but also a whole range of information about him, including interests, preferences, etc.
What is Google Discovery Ads?
Google Discovery Ads is contextual advertising in graphical format, shown to those who have not yet attempted to find the promoted product.
The visitor sees such ads when just surfing the Internet. The algorithm for deciding whether to show an offer to a specific user processes information about user intentions, which is accumulated by the system, taking into account data on visits to certain sites, applications used, videos viewed and work with maps.
Unlike other formats of contextual advertising, the new option involves targeting a rather "cold" audience. This segment includes those who are not directly looking for a specific product, but are willing to try something new, for example, products with similar characteristics.
The purpose of such advertising is to interact with a potential client to promote the product he needs, even before he realizes the existence of such a need.
Information! How does the algorithm select an audience? The system stores and analyzes information about user behavior on YouTube, Google Play Market, sites included in the CCM.
Thus, taking into account both interest data and user behavior, Discovery Ads directly generates demand, and not just provides answers to existing requests.
How are Discovery Ads different from Display Ads?
In general, the Discovery Ads ad format is similar to display ads – it is an ad unit, a significant space of which is allocated for a graphic element. It is also used in remarketing campaigns. But this format also has certain features.
Ad posting
The ad block is located:
on the start page of Chrome for mobile gadgets in the news recommendation module;
in the "Promotions" and "Social networks" sections of the Gmail mail service;
on the start page and in the recommendation feed of YouTube video hosting.
Selecting the target audience
The algorithm for selecting the audience to which ads are shown is also significantly different. The CCM uses a principle based on the user's interest in a particular topic or product. In the new format, a deeper analysis of the array of user characteristics is carried out.
It takes into account not only which sites were previously viewed, but also the list of applications used, the history of watching videos and searching on maps. That is, the service captures any indirect signals indicating the user's potential interest in a particular topic.
Working with a cold audience
Product promotion is carried out among a rather cold audience. Let's say more, it is less hot than even in the case of KMS. The main advantage of such an audience is that, with a high degree of probability, your competitors have not yet interacted with it. Such potential buyers are quite receptive to advertising, are not overloaded with information, and want to try new things.
Benefits of Google Discovery Advertising Campaigns
Google Discovery campaigns are similar to display ads, but this unique format has a number of advantages:
Saving both time and money. It is enough to create just one campaign to reach an audience consisting of several million users of three services at once – Discover, YouTube and Gmail.
Potentially convertible into orders interaction with interested users whose need has not yet been fully formed. This allows you to get ahead of your competitors and introduce your audience to your product before anyone else.
High efficiency. Despite the rather cold audience, the CTR of the new ad format is usually registered at a fairly high level. The duration of lead conversion increases, but the conversion itself is also usually higher. And the cost of attraction with Discovery Ads is lower than in classic search campaigns.
The Discovery Ads format allows you to show the product from its best side, using interesting creatives, which is especially important when promoting everyday goods – wardrobe items, cosmetics, etc. But this tool is also of interest to the SaaS and B2B segment.< /p>
What ad formats are available?
Google offers two formats for Discovery Ads:
Standard Discovery ads
Their working principle is similar to the mechanism implemented for responsive search and display ads. It is enough for an advertiser to set up several ad formats in his account, set headings and generate creatives, after which the system itself will test different ad options, choosing the most effective ones for each segment of the target audience.
It is allowed to use up to 15 images, while the potential buyer will see only one of them – the one that the system determines as the most effective during the testing process. Upload images with different aspect ratios (for example, 1.91:1 or 1:1) to get the widest possible coverage.
The following are examples of single ads implemented in the Discovery format.
YouTube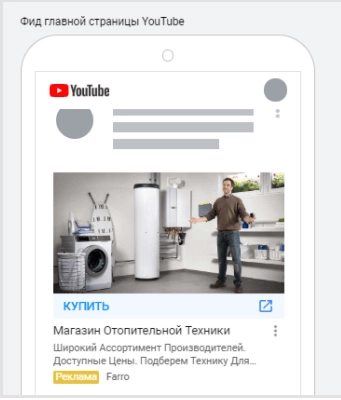 Gmail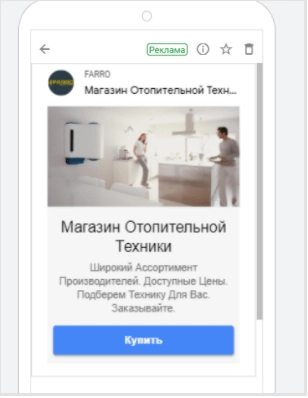 Discover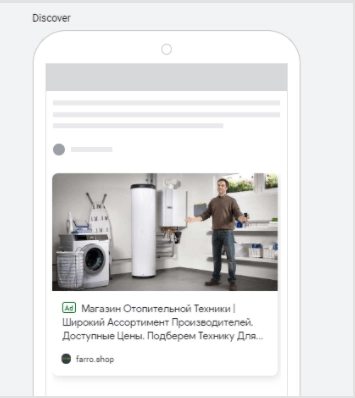 Discovery Carousel Format
This option differs from the previous one in that the user can view all the images provided by the advertiser. There must be at least two such cards, arranged by the system in the same order in which they were loaded. The maximum number is 10.
Important! Only two aspect ratios are allowed – square (1:1) or horizontally oriented image (1.91:1). But all cards belonging to the same ad must have the same proportions.
Next, let's look at examples of ads implemented in Discovery Carousel:
YouTube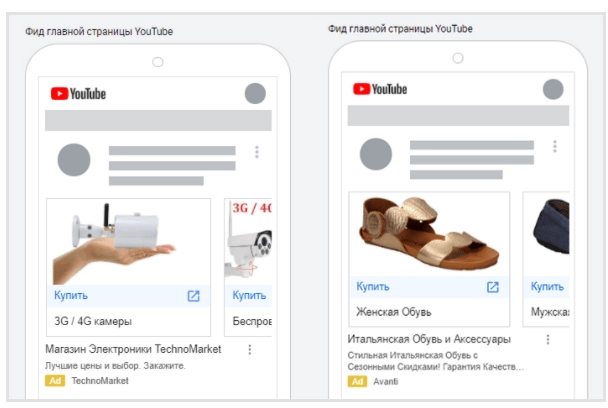 Gmail
Discover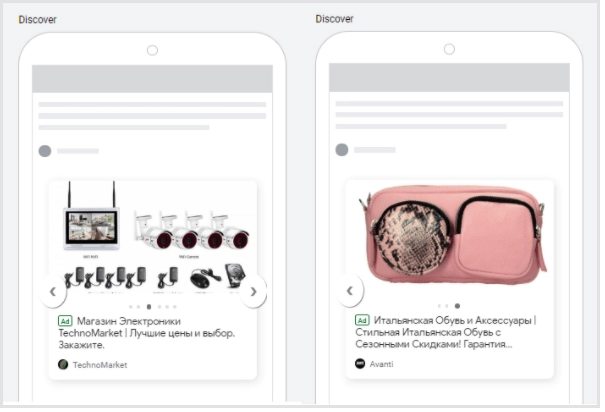 What to look for when setting up Discovery Ads?
Feed accuracy. The image in the Discovery Ads ad format takes up most of the ad unit, so it should be as informative as possible. This recommendation also applies to text formulations, for which only 90 characters are allocated. The message should be simple and clear, but at the same time catchy. If you force the user to make an effort to figure out what is at stake, most likely he will not become your client.
The presence of restrictions. Settings do not support dynamic text snippets, and the Gallery is not available in Google Editor. It is impossible to set the method and limit the frequency of display, to target by device type. Setting a strategy with manual bid setting will also fail, as well as blocking the display of ads on inefficient sites.
Unobvious effect. The effectiveness of such campaigns cannot always be determined explicitly. A user who has never clicked on an advertising link can be guided by the information obtained from the ad when making a decision. Most likely, you will see assisted conversions or even register the result only after a certain time has passed since the start of the Google Discovery campaign.
How do you set up a Google Discovery campaign?
In order to set up a Discovery campaign, you will need several options for text messages, headlines, logos, and other images:
Text descriptions. Within the limit of 90 characters, formulate no more than five meaningful and most fully reflecting your proposal messages.
Headings. Come up with catchy phrases up to 40 characters long. The title is located above the text description and is in bold. The maximum number of heading options is 5.
Logos. The following restrictions apply to them: aspect ratio – 1:1; format – any, except GIF; the minimum size is 128×128 (we recommend using logos 1200×1200), no more than 1 MB. The logo will not be displayed in ad preview mode.
Images. It is allowed to use no more than 15 pictures with an aspect ratio of 1:1 or 1.91:1. You can pick them up in social networks, on specialized sites or on your own web resource.
Company name. The user will see it next to the ad. Use the name that is most likely to appear in the search. Length limit – no more than 25 characters.
A call to action. You can register as one of the common calls (for example, "Order online" or "Find out the cost"), or stop at the automatic mode, in which the system will test several formulations and select the most effective of them. According to the rules of the service, you cannot place a CTA button directly on a graphic element.
When you have prepared all the necessary elements for setting up Google Discovery Ads, log in to your Google Ads account and create a new campaign in the appropriate section. When choosing a goal, remember that only these options work in Discovery Ads:

Specify a type for your campaign: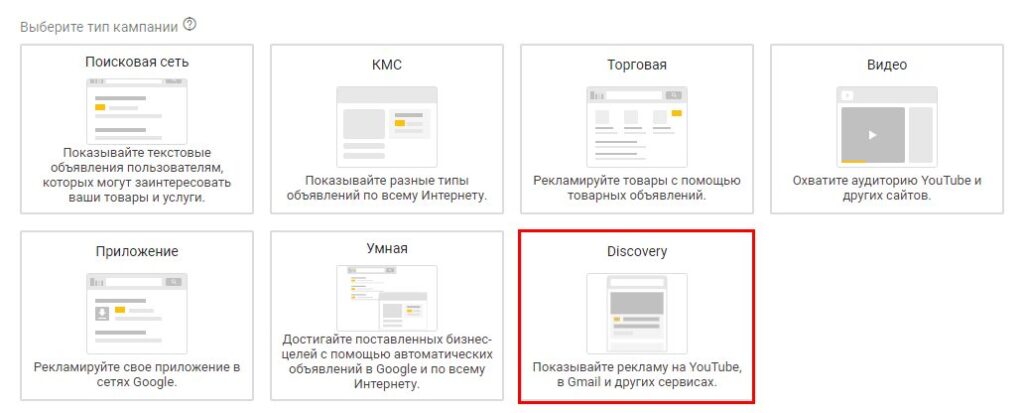 Enter the campaign name, location, and add all the languages used by your potential customers: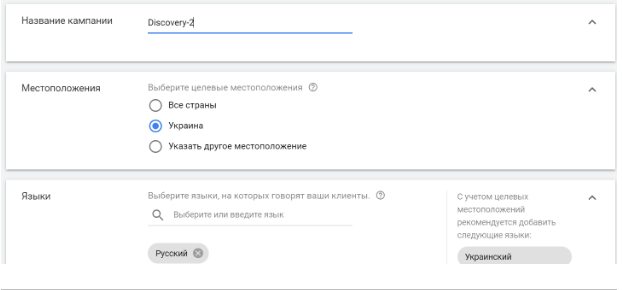 The next block of settings is choosing a bidding strategy and specifying the cost of a conversion.
Attention! You can only select automatic strategies when working with Discovery. These include maximum conversions and target cost per conversion.
The cost of a conversion in standard settings is ten times higher than the actual cost. Google offers this option for more efficient system training. But if spending a significant part of the budget on conducting experiments is not included in your plans, then indicate the conversion cost that is closer to reality: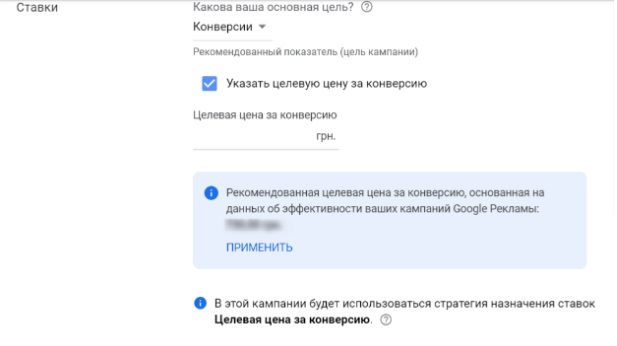 Determine which audience is preferable for this case. For the Discovery format, the choice is made from three options: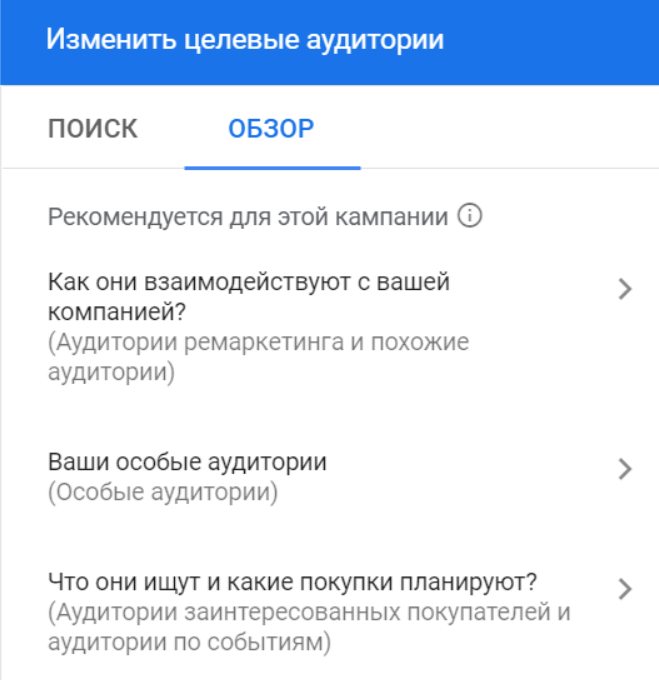 Advice! Within the same ad group, use audiences with identical goals. This will speed up the learning process of the system.
The next step is to set up the ad. At this stage, you should decide whether you will use the standard one-image option or whether a carousel is better for your campaign goals.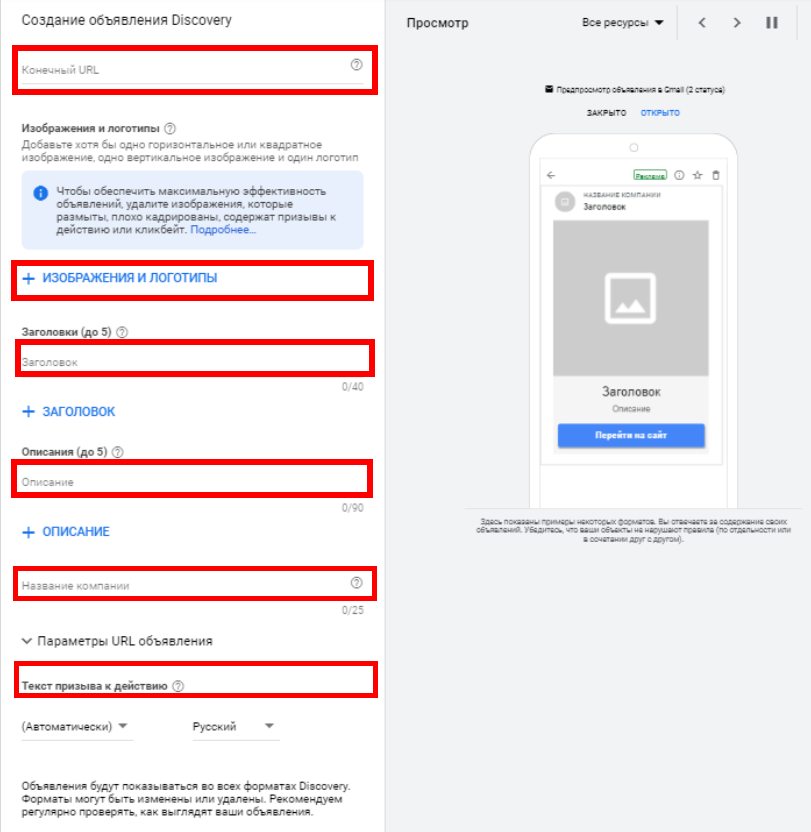 Remember that if the carousel format is selected, the cards will be displayed strictly in the order chosen when they were loaded. The system allows you to set a separate title and register your landing page for any of them.
Create a list of keywords for all segments of potential customers. This is necessary to refine the targeting:
Now everything is ready to run the ad. You can analyze its first results, evaluate associated and direct conversions, and track the growth of leads.