During the pre-New Year period, the demand for goods and services is traditionally very high. This is the longest period of sales in the year – the hype begins in the first days of December and does not fall until around Orthodox Christmas.
A marketer should be thoughtful about setting up an advertising campaign for the New Year, because it can bring the business owner a profit equivalent to his earnings for 3, and sometimes 6 regular months.
How does the contextual advertising market change during the New Year holidays?
A number of changes are taking place on the contextual advertising market during the New Year holidays:
Traffic is increasing. People are actively looking for gifts for the upcoming holidays. The most growing traffic is from smartphones;
Conversion and average check are growing. Before the New Year, many companies hold sales, reduce prices, offer some bonuses, favorable conditions for buying, so the conversion, as well as sales, increase dramatically;
Competition and bid-per-click increase. Advertisers during the festive period are especially zealously fighting for the client. This leads to an increase in the cost of the transition to the site. It should be remembered that most often the costs of contextual advertising during the New Year holidays pay off and bring additional profit due to the buyer's willingness to spend more money than usual.
How to prepare for the New Year's advertising campaign?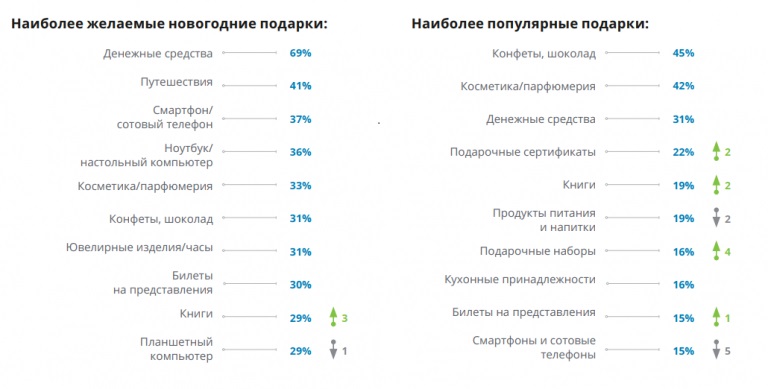 It is necessary to prepare especially carefully for the New Year's advertising campaign. Here are some tips to help you make the most of the holiday hype:
Analyze the assortment and highlight the goods and services that will be most relevant to potential buyers at this time. Compare your offers with those of other companies. Price, prompt delivery, convenient payment are important factors influencing the decision-making process. We advise you to focus on products that will bring good profits even with big discounts;
Follow industry consumer trends. This can be done using the free Google Trends service or statistics for past periods in the Google Ads account. Based on these data, select individual products from the assortment that are most suitable for a gift or make gift sets;
Segment the audience and prepare individual New Year gifts for each segment. Ask yourself two questions: who is a particular product for, and who is willing to buy it. Formulate promotional offers based on the responses received;
Prepare landing pages: check loading speed, mobile optimization, interface usability. Shorten the user's path to purchases: simplify navigation, checkout. Make sure your server can handle the influx of customers and increasing traffic;
If you have scheduled the launch of an advertising campaign for a certain date, it is better to set it up in advance. The fact is that ads must be moderated before being posted. Often, ads can be rejected, and it will take time to find out the reason and go through a re-verification. Also, due to the influx of advertisers, the moderation period on New Year's Eve is usually longer;
Plan your advertising budget. Don't forget about tough competition and increased CPC at this time. Reallocate your advertising budget to those products that are most suitable as a gift.
What changes should I make to contextual advertising for the New Year?

When setting up contextual advertising for the New Year, do not forget:
Add Christmas requests to the campaign. Using Google Trends data, analyze which categories of your products were in demand before the last New Year. Add holiday clarifications "+ gift + for New Year + for Christmas" to regular queries. Many people may be looking for the same product, but as a "Christmas gift";
Increase your bid per click. On the eve of the holidays, there is a growing demand for goods that are usually bought as a gift: cosmetics, clothing, smartphones and gadgets, household appliances, toys, etc. For these categories, you need to increase your bid per click to drive as much traffic to your site as possible. Higher ad spend will pay off with a higher-than-usual conversion rate;
Add promotions and discounts to the ad. Make adjustments to the text of all advertisements. Add the words to them: "A gift for each order in honor of the New Year!" or "New Year discounts up to 40%!" Use call-to-action headlines such as "Order this deal" or "Surprise your loved ones."
What to do with advertising during the January holidays?
A fall in sales in the first days of January is a common situation that occurs year after year. However, this is not at all a reason to refuse advertising during this period. To make the most of the holiday lull, take the following steps.
Disable December AC
As obvious as it may seem, make sure you turn off all pre-Christmas announcements before January 1st. An easy way to waste your budget is to show ads for a bygone holiday.
Important! To avoid this, set an end date for your creatives while setting up your campaign. If you have not done this, then probably the time has come.
Set up remarketing for New Year buyers
Remind yourself to customers who made purchases in your online store at the end of the year. Offer them exclusive prices and conditions – they can be presented as a holiday gift.
Offer different accessories and add-ons for the items they purchased in December. Separately set up remarketing ads for those who abandoned the cart without making an order. Offer them a promo code or free shipping.
Remember Orthodox Christmas
The fact that Ukraine celebrates both Christmases, both Catholic and Orthodox, means that some users are still looking for gifts for loved ones with the onset of January.
In addition, these may be those who celebrated the New Year away from home and want to congratulate their loved ones on the next holiday.
Have a sale on products left after December. And don't forget to include Christmas keywords in your ad text. You can check what gifts users are looking for in January using Google Trends.