I'm Yana Lyashenko – Google Logistics. I am engaged in the delivery of the target audience to businesses with the necessary parameters. In today's video, I would like to give the most detailed feedback on Ukrainian-language feeds for online stores in Ukraine. A Ukrainian-language feed is something that is now acute for many projects. A law has been passed, according to which there should be sites in Ukrainian, service in Ukrainian and advertising, respectively, in Ukrainian to a greater extent.
The coverage, traffic to the site and, accordingly, sales depend on the correctness and correctness of loading the Ukrainian-language feed. What I am now observing, what they are doing on the market, is not correct from the point of view of the logically correct development of advertising campaigns. Now I mean about Smart Shopping. If you are running Smart Shopping campaigns, this video is a must-watch.
The need for a full language translation of the site
Well, let's get started. To download the Ukrainian version of the Merchant Center feed or in some other, completely different language, you need to have a fully translated version of the site into this language. Got it? Some of the sites are not translated to the end. They download the Ukrainian-language version of the feed, thinking, well, let it spin, advertise, but for now I'm translating the site, thereby running into the blocking of the Merchant Center.
Two classically standard statuses are usually set – distortions of facts and profanity. Why it happens? For example, we go to the Ukrainian-language card of a product, heading. Everything is beautifully painted in Ukrainian. Fine. Super. Then we click on another page – the conditions for the exchange of returns, payment for delivery, contacts – they are in Russian. It will be blocking. Remember – poor English, poor Russian, poor Ukrainian – this will testify in the eyes of Google about not serious intentions in advertising commodity items.
Don't ask me why. Having vast experience of passing through moderation of various platforms in different countries, I say this – it must be correctly translated so that there are no typos, any errors, competent language, in principle, a well-written sentence. This is the base. Otherwise blocking the Merchant Center. Got it sorted out. There should be a Ukrainian-language version of the site. If it is not there, it is better to wait until you translate it. Only then load the feed version.
How to correctly load the feed in Ukrainian. Option 1
The next option. How to correctly upload a feed in Ukrainian to the Merchant Center system, where it is already in Russian? There are several download options. First, you can upload the feed with the same product IDs that are in the Russian feed. Be sure to apply the transformation rule for the Merchant Center feed. Add some alphabetic or numeric value to the ID, which would modify the identifiers. It turns out two commodity items. This method is now very widespread on the Internet and is quite actively imposed by many specialists and agencies. I will say this. Do not do this, in any case, if you intend to or are already using a Smart Shopping company. I'll tell you why.
To work out a Smart Shopping company, if you read the terms of the requirements for its launch, you need a remarketing list. It will be written there, in addition to the general remarketing list – the system recommends using the event tags that are inherent in the dynamic remarketing code. In order for dynamic remarketing lists to be collected correctly, the item ID located in the Merchant Center feed must match the product item ID located on the site.
When in one version of a feed you transform using transformation rules, you do it in such a way that the identifiers do not match at all. This means that you will not be able to use the data that dynamic remarketing collects directly. This means, in direct proportion, what the efficiency of Smart shopping will be, what to do? This is what I'm showing. This is not a guarantee in all projects, but it is in most of the ones I notice. By adding dynamic remarketing event tags, it becomes easier for Smart to achieve conversions. With this moment fixed. I do not recommend this option, under any circumstances.
How to correctly load the feed in Ukrainian. Option 2
The second way. Create completely different identifiers for Ukrainian-language versions of all product cards. On many platforms of the site, a similar opportunity has now opened. In fact, there are two feeds in the Merchant Center. One is Russian-speaking. The second one is Ukrainian-speaking. All products are the same. Let's take the same vegetable cutters. Do you agree? There and there is a vegetable cutter. Simple, in Russian and Ukrainian with different identifiers.
There is a significant disadvantage in this method of loading data. We launch Smart Shopping into one Smart, supposedly two different commodity items, but with the same description. I will say right away that in Smart Shopping you will not be able to set the display language. Separate goods into Ukrainian or Russian.
If you try to separate them into two smarts by filtering the goods inside the shopping – two smarts will begin to compete strongly for impressions. In one smart there are two headings that are essentially the same – I don't know how it will be shown. In what form it will start to be shown, whether there will be competition, whether Smart will work normally. This way is possible. I don't recommend using it. Now I will tell you about the most universal method for the territory of Ukraine. The simplest, most common, easily implemented for everyone. First, I'll tell you one way.

We read the Google help, you can use this method if you are proficient. In the Google help, it is written about this situation, when in the country of sale to which you want to advertise, the language, currency, currency code in which the Merchant Center feed was loaded is different. Google help says that you can modify the feed using an additional feed or transformation rules. Quite a painful, dreary process. You need to figure out how to connect them and combine them. To actually work. I think the information is relevant for those who go more to the bourgeois markets, where you can fool around. The version of the feed with other identifiers is the coolest, most versatile. We communicate with Google-rams, how to organize everything more correctly. As soon as it rolls out, at least a more or less normal adequate option, I will post it on Youtube channel for everyone.
The most optimal way to implement the Ukrainian feed
The final version is the easiest to implement, the easiest and will not affect the efficiency of Smart Shopping companies, the effectiveness of shopping advertising campaigns, dynamic remarketing and will not contradict the legislation of Ukraine – this is to choose as a base feed – Ukrainian. Ask, Yana, God, how, why Ukrainian-speaking? How about a Russian speaker? Simply, they cling to the Russian-language feed, as if they were some kind of base, the basis without which they cannot exist. Units think that for so much, let's put it differently, they don't think, but simply regularly analyze search queries. Now Google has modified the match types. Many parameter changes.
Google for so many years of changes has learned to understand errors, typos, transliteration, Russian, Ukrainian. There is no difference in what language you show goods for the territory of Ukraine – Russian or Ukrainian. Now they want all advertising, websites, services to be in Ukrainian – load the initial Ukrainian version of the feed.
Will it hurt my reach if I'm using Smart Shopping? No. Will it hurt your reach if you use standard shopping ad campaigns? No. Google understands them. "Get a vegetable cutter" and "Buy a vegetable cutter" are two identical queries for Google. We must understand it, realize it, accept it. In shopping ad campaigns, don't set keywords. The system itself selects them and associates them with a specific audience, selects search queries. In smart, you do not see search queries. There may be requests "What accessories to buy for the kitchen" or "What to buy for the kitchen", or "Top products for Aliexpress", I take a vegetable cutter. Hit it now, literally, pause the video.
Type in some Ukrainian-language queries. You will see several variations of feeds in the trading results: Russian – Ukrainian – Russian – Ukrainian – Russian – Ukrainian – Russian. When to Ukrainian-language feeds. There was an opinion that if the feed is in Russian, we can only show it for Russian-language queries. Feed in Ukrainian – only for Ukrainian-language requests. Forgot what is written in Google help. Please read the help again. Fill in the requests and you'll see. The versions of the feeds on which you are shown are quite critical – use the Ukrainian ones as a base.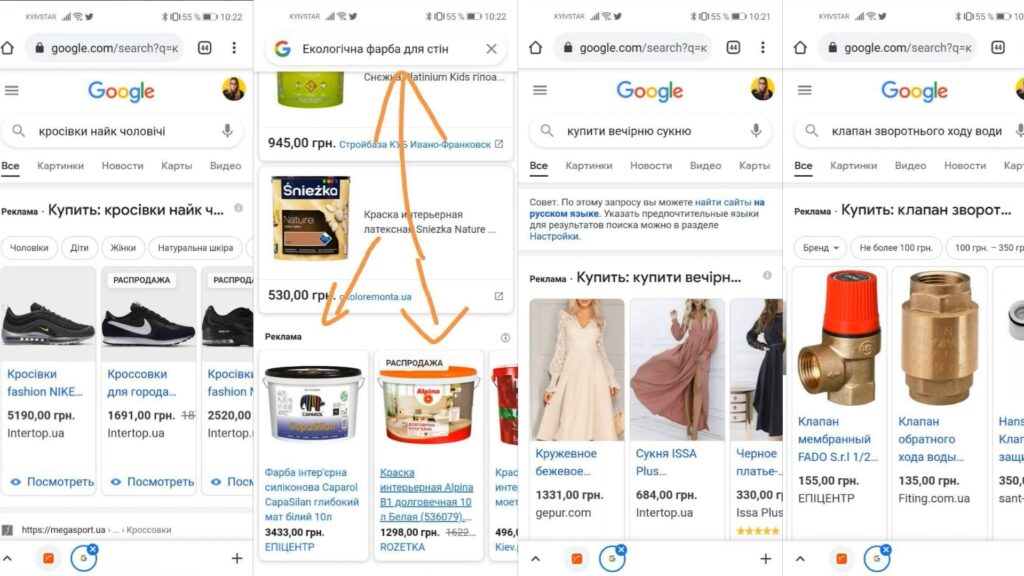 At least test it, at least as one of the options, for a couple of days. See the result. Of course, with smarts for a couple of days, this will not work, unfortunately. It won't get worse.
One important trend. If the legislation has already been implemented, and it is normal for the country of Ukraine, that the main base was Ukrainian everywhere.
Sooner or later, we will come to a situation where the Russian-language feed will fall into second place. The number of search queries in Ukrainian will increase. There are more and more of them. There are a lot of them now. There will be even more and Google will select Ukrainian-language queries, a priori, from feeds. Plus, do not violate the laws of Ukraine if the advertisement is in the Russian version.
Well, how are these options for getting out of this situation? Don't cling to things that are not so important. Now you start spinning on the Russian-language feed – it's not scary. Not scary. It's just that there is a percentage of people who, in principle, directly relate to the Ukrainian language. Must be in Ukrainian and does not click in Russian. In this case, you can just do everything in Ukrainian.
It's just that puzzles have formed in my head that, if Russian, we put Russian – Ukraine in the feed settings. Google tells us where we are. Display geography. I've been searching for a long time, I understand for a long time – voice / non-voice, all searches. If you don't want to bother, you can leave the Russian-speaking one for now. Then gradually switch to the Ukrainian-language feed. Initially, load if you have not yet loaded the Ukrainian-language feed and work with it. Of course, this will not lose effectiveness.
One important point. I will find a more elegant, individual, beautiful solution for downloading both versions of feeds – I will post it on the Youtube channel. That's it.
If the video is helpful, don't forget to give it a thumbs up. See you in new releases. I'm waiting in the comments. Share the video with your friends so that they know about such a thing that you do not need to bathe. Stop, as they say.