Audience targeting is used to search for potential buyers who are similar in certain criteria to existing customers of the company, among those who have not yet interacted with it, as well as to select an audience among visitors to the web resource.
This tool helps to minimize inappropriate visits to the site, which is very useful for some areas of activity. For example, in situations where a very expensive, narrowly focused or age-appropriate product is being promoted.
By segmenting the audience showing interest in a product or service, you can select groups of users who are most likely to make a deal.
What is audience targeting in Google Ads?
Audience targeting in Google Ads is an intelligent feature that will help you select the target audience for product promotion in search results or display networks. Google Customer Matching service allows advertisers to interact with them again or attract similar users based on the accumulated information about customers.
In this article, we will consider the features and varieties of audience targeting for a better understanding of the principles of its operation and the logic of algorithms. This will allow you to more accurately select segments of potential customers, taking into account strategic goals.
How does audience targeting work in search advertising?
In general, how audience targeting works in search is no different from how audience targeting works in display networks. But here, for a more accurate hit in the target group, targeting algorithms for key queries at the advertising campaign level are used.
The advertisement appears only to the user who has entered the required search phrase and at the same time meets certain criteria. Such an additional filter allows you to cut off those who are not faced with the task of completing the order.
The system will give priority to visitors who are interested in purchasing the product. At the same time, the degree of interest is determined not so much by the fact of entering a search query, but by the history and behavior of the user on the network.
Regardless of the type of audience targeting chosen, it is further limited to keywords. However, you need to be extremely careful when combining two types of targeting.
Use tweeters, so you don't limit your audience too much. At the same time, block obvious non-target segments by applying negative keyword lists or bid adjustments. This may be relevant if, for example, the product name has a homonym.
What types of audience targeting are used in Google Ads?
Before using audience targeting in Google Ads, check out the most popular types of audience targeting. Most of them are universal and can be used for both search ads and display ads, and YouTube:
Detailed demographics
This type of targeting lets you segment users based on their marital status, whether they have children, their level of education, or whether they own real estate.
The potential audience can be divided into groups in order to personalize the proposals. For example, for those who, according to the criterion of having children, correspond to the status of "Parents", you can also specify the age range of the child. When promoting products from the children's assortment, where age segmentation is pronounced, this is very important.
Advice! Mentioning the age in the title of an advertisement, as a rule, has a positive effect on CTR even when promoting a generic product.
Affinity Audiences
In this case, the selection is carried out on the basis of permanent interests and habits. The system analyzes the search traffic of users, the thematic sites they visit, and the range of goods they buy. There are more than three dozen category options in the Google list, and each of them has subcategories.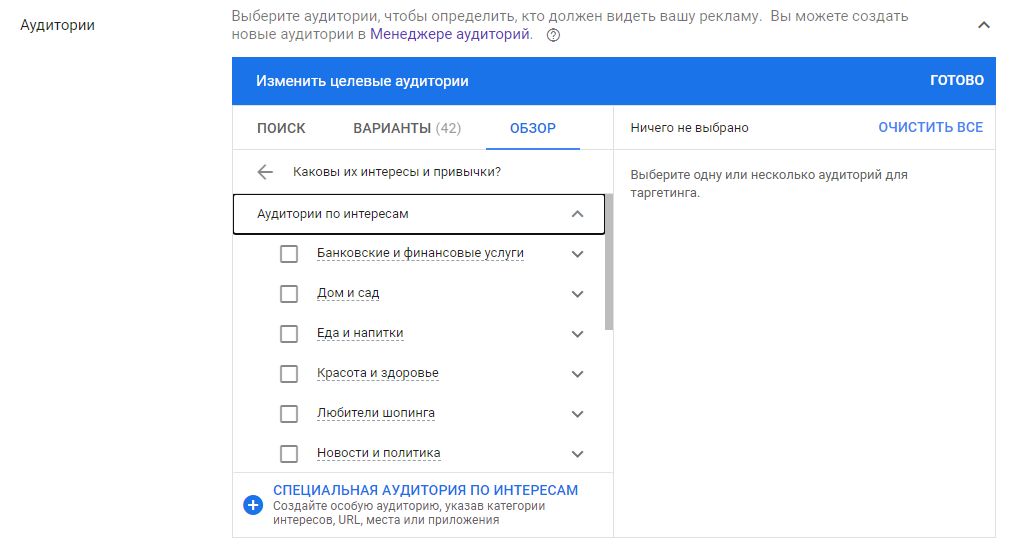 The interface of the service also allows you to set special audiences by interests, highlighting certain sites as a guide. Using this tool, you can intercept the clients of a competing company. But there is one "but". Such sites are also visited by its employees, who are unlikely to be your target audience.
It is advisable to use a mechanism based on interest sampling when working with complex topics, where it takes time and a large amount of information to make a decision on a deal. So you can constantly flicker on the screen of a potential buyer. He will see your ad if he was interested in similar offers on other web resources.
Interested buyers
Here we are talking about those who are considering the possibility of purchasing a product, and are at the final stage of making a decision to conclude a deal. This is the most valuable group of consumers for the business, as they are the most likely to make a purchase.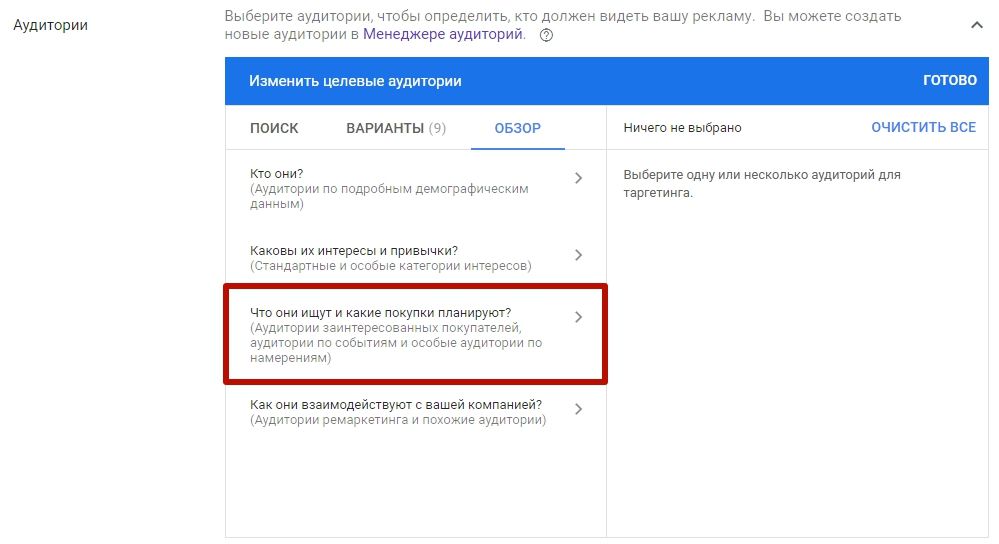 Users who:
Followed ads in the same category.
We went to web resources corresponding to thematically related queries.
Remarketing
Remarketing is one of the most popular audience targeting options in Google Ads. Users who have already interacted with the advertiser are selected as target users. Moreover, the form of this communication can be different:
visiting a website;
interaction with YouTube channel;
presence in the list of buyers;
using the mobile application.
You can upload your own list of target users to your Google Ads account. Based on it, the system will create a rule according to which you will start showing ads specifically for this audience.
The list of remarketing can be limited by using different levels of detail on user behavior and actions.
Important! You cannot create lists based on personal information. Even if such lists are moderated at the initial stage, the algorithm will detect them later and block them. Moreover, for such actions, Google can punish the advertiser by blocking the entire account.
Similar Audiences
In this case, remarketing lists are also used to form an audience, but not visitors from this list as such, but users similar to them, fall into the field of view of the algorithm. Moreover, people from the original list are automatically excluded from consideration.
Information! It takes up to 48 hours to create a look-alike list and at least 500 positions in the original list.
It is advisable to use this mechanism when it is necessary to attract a narrow segment of potential buyers, which can be identified by specific characteristics.
If, for example, almost everyone buys household appliances or shoes of popular brands, regardless of hobbies, then only a professional cook will be interested in specialized kitchen utensils, and those who lead an active lifestyle will be interested in trekking boots.
Audience targeting for YouTube and GCM
There are also types of audience targeting that can only be used for video or Display Network ads:
Events
The reason for making a purchase is often certain events in the life of the client. For example, the purchase of furniture and appliances frequently accompanies the process of moving to a new home, and the search for the services of a photographer almost always goes hand in hand with a wedding or the birth of a first child.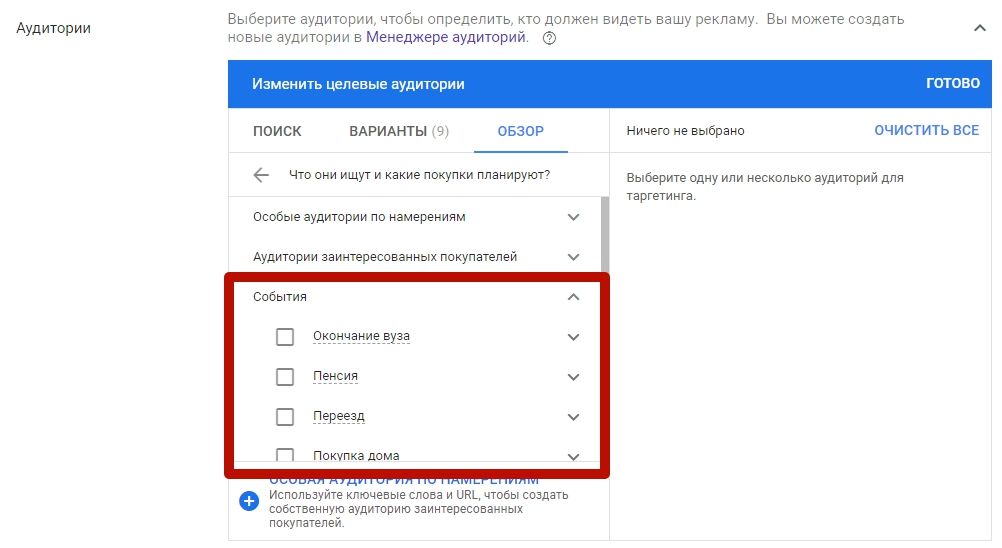 As a rule, such events occur infrequently in the life of a consumer, but they allow you to set up the most targeted ad impressions for those who are definitely ready to close a deal.
Special Intent Audiences
The main criterion for the system is not only the user's interest and the study of resources on a given topic, but also his inclination to purchase the advertiser's product.
The algorithm identifies such consumers by analyzing behavioral markers:
clicks on advertisements of a certain category of goods or services;
The conversion rate of these ads for a particular consumer;
content of recently visited web resources;
frequency of visits to these resources.
However, Google does not disclose all selection criteria. You immediately get ready-made audiences without detailing the composition. You cannot change them.
Likewise, you can create audiences by intent using this button: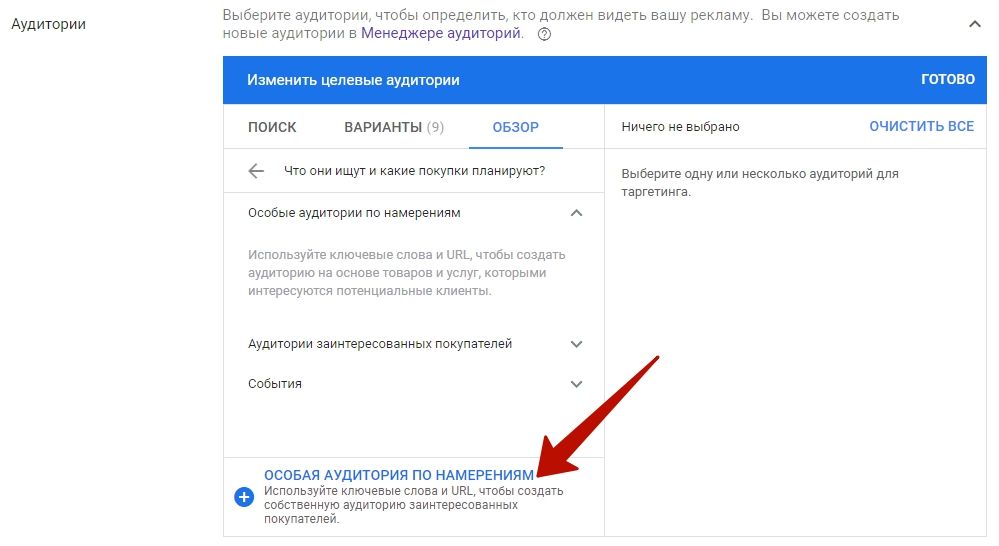 Then the system will offer to formulate key queries and set sites, on the basis of which the algorithm will search for potential customers.
Search only targeting
This type of targeting only works for search ads. With its help, in one group, you can combine segments of users selected according to completely different criteria.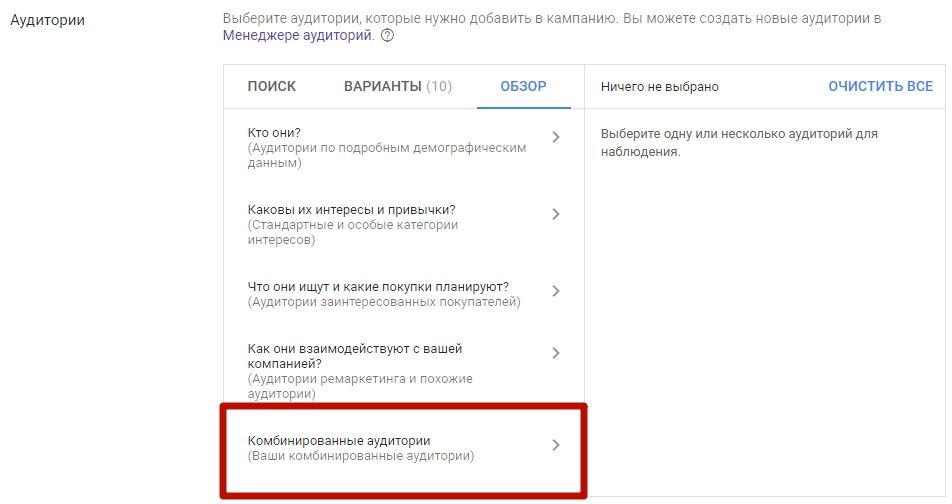 The advantage of special audience combinations is the selection of consumers that most closely match the portrait of a potential buyer. Even if their number is small, it is advisable to use the tool when it is not coverage that is important, but an aimed hit according to certain criteria.
To combine multiple groups, use the following operators:
narrowing operator "AND" – segments of consumers that meet all specified criteria are combined;
expansion operator "OR" – combines segments of consumers that meet at least one of the specified criteria;
Exclusion operator "NOT" – consumers are selected according to a given attribute and excluded from the audience of the advertising campaign.
How do I set up audience targeting in Google Ads?
Audience targeting in Google Ads is configured in the "Targeting and Audiences" module.

Log in to the campaign or ad group you want to customize, and then follow the instructions:
Use the Audiences section.
Determine how the audience will be added – at the campaign or ad group level. Within the same campaign, targeting cannot be set simultaneously for different levels.
Set the targeting method for search ads. You need to choose from two options: you limit the reach by specific criteria and show ads to this sample, or you only accumulate information about a specific audience, but do not limit the reach.
Set the markers near the required audiences, and commit the changes.
If, after completing the first step of this list, you use the "Exceptions" section, you will be able to block impressions to certain users that fall under certain criteria.